Meghan Markle is 'very excited' about Nick Jonas and Priyanka Chopra's engagement, report says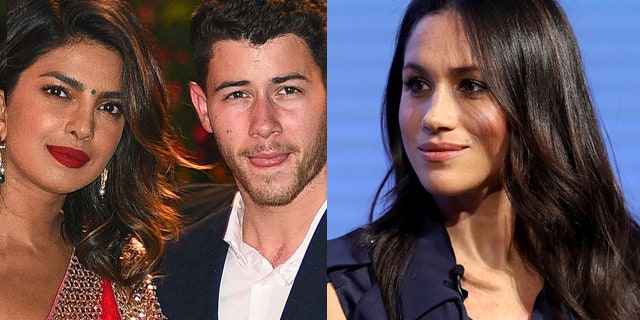 Former "Suits" star Meghan Markle is reportedly "very excited" about the news of her friend Priyanka Chopra and Nick Jonas' engagement.
A source revealed to E! News that the Duchess of Sussex has approved her good friend's relationship with the youngest Jonas brother.
"Everyone is very happy and they are definitely a great match," the insider said.
Jonas and the "Quantico" actress were first seen together shortly after Chopra flew across the pond to attend Markle's wedding to Prince Harry at Britain's Windsor Castle. The 36-year-old shared several photos from the royal wedding event but didn't seem to have attended the big day with a special date.
Serena Williams, another close friend of the duchess, also attended the royal wedding, but Prince Harry's new wife was unable to attend Williams' festive New Orleans wedding ceremony back in November 2017. But at the time of the famous tennis pro's nuptials, Markle and Harry were not yet engaged.
Now that the newlyweds are officially Duke and Duchess, fans can't help but wonder if Markle will attend Chopra and Jonas' soon-to-be wedding.
Chopra recently opened up about her friendship with the fellow actress on "The Jenny McCarthy Show" and praised her for how she has been handling her new life as a royal.
"She's always been someone who's so just aware and interested in the world," she said. "I met her three or four years ago and that's what we bonded on — was how much we feel like we contribute to that as public people. I really feel like that's what she was born to do and I hope this gives her the opportunity to do that."
Jonas, 25, nearly tens years Chopra's junior, reportedly proposed to his girlfriend of two months last week during the actress' birthday celebration in London, according to People.
The outlet also reported that the "Jealous" singer shut down a Tiffany & Co. store in New York City to buy the engagement bling.
"They are so happy," the insider revealed.
Since May, the TV star and crooner were spotted on dates in New York City and Los Angeles. Chopra attended Jonas' cousin's wedding on June 9 where she met his family, People reported. Jonas then reportedly traveled to India to meet the star's mother last month.
Wedding bells will soon be ringing for another Jonas brother, too.
In October 2017, older brother Joe Jonas, 28, announced he and "Game of Thrones" star Sophie Turner were engaged.
Fox New's Kathleen Joyce contributed to this report.