Matt Lauer fired from 'Today' for 'inappropriate sexual behavior' after accuser comes forward in secret meeting
On the same day the giant Christmas tree was to be lit outside the NBC studios at Rockefeller Center in New York City, the network dumped one of its biggest stars.
Matt Lauer was axed on Wednesday just hours after a secret meeting where his alleged victim and her lawyer told NBC brass her story of inappropriate sexual behavior from the long-time "Today Show" host. The alleged incident took place at the 2014 Sochi Olympics, the "Today" show reported via its website.
NBC News confirmed that the accusation also noted the alleged behavior continued in the workplace after the games.
"Over the course of several hours, my client detailed egregious acts of sexual harassment and misconduct by Mr. Lauer," Ari Wilkenfeld of Wilkenfeld, Herendeen & Atkinson told Fox News in an emailed statement. "In fewer than than 35 hours, NBC investigated and removed Mr. Lauer...It is our hope that NBC will continue to do what it can to repair the damage done to my client—their employee—and any other women who may come forward."
Garrison Keilor dumped by MPR after sexual misconduct inquiry
Lauer's co-anchor Savannah Guthrie and "Today" colleague Hoda Kotb were given the rough task of breaking the news to viewers.
"This is a sad morning here at 'Today' and at NBC News," Guthrie said before reading a note from NBC News Chairman Andy Lack.
"Dear colleagues, on Monday night, we received a detailed complaint from a colleague about inappropriate sexual behavior in the workplace by Matt Lauer," Lack's statement read. "It represented, after serious review, a clear violation of our company's standards. As a result, we've decided to terminate his employment."
The statement said this is the first complaint regarding Lauer's behavior the company has received "in the over 20 years he's been at NBC News."
"I'm heartbroken for the brave colleague who came forward to tell her story and any other women who have their own stories to tell."
"We were also presented with reason to believe this may not have been an isolated incident," the statement said.
Matt Lauer's firing from NBC unleashes Twitter torrent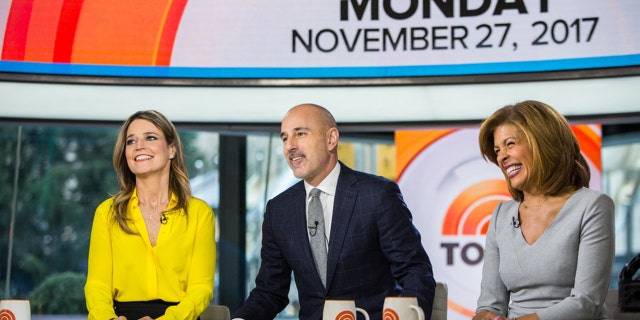 Lack said NBC's "highest priority is to create a workplace environment where everyone feels safe and protected, and to ensure that any actions that run counter to our core values are met with consequences, no matter who the offender. We are deeply saddened by this turn of events."
Since the news broke, NBC has removed Lauer's image from all of its social media properties including Twitter, Facebook and Instagram. Now, hosts Guthrie, Kotb, Kathy Lee Gifford, Carson Daly, Megyn Kelly and Al Roker are more heavily featured.
An emotional Guthrie admitted "we just learned this moments ago" and said the "Today" team is "devastated and we are still processing all of this."
Katie Couric: Matt Lauer pinched her 'on the ass a lot'
"All we can say is that we are heartbroken. I'm heartbroken for Matt. He is my dear, dear friend and my partner and he is beloved by many, many people here. And I'm heartbroken for the brave colleague who came forward to tell her story and any other women who have their own stories to tell."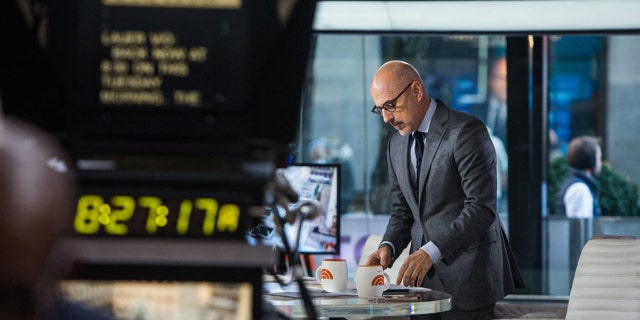 Kotb said she and and Guthrie "were both woken up with the news, kind of predawn, and we're trying to process it and trying to make sense of it."
Guthrie said NBC will be "covering this story as reporters" and will share more details "in the hours and days to come."
Lauer firing puts harsh new focus on NBC News boss Andy Lack after Trump tweet
The "Today" show anchors weren't the only ones reacting to the surprising development. President Trump also chimed in on Lauer's firing on Twitter as the news broke.
Lauer, 59, had a $20 million/year contract that would have taken him into 2018. Lauer's firing comes just days after "CBS This Morning" host Charlie Rose was canned for his behavior towards women, which included showering naked in front of them at his home. That leaves just "Good Morning America" host George Stephanopoulos as the remaining male anchor of the big three network morning shows.
Allegations of sexual misconduct have rocked several media companies over the past year, including Disney, NPR, and Fox News.
NBC fires senior executive, who was Matt Lauer's booker, for 'inappropriate conduct' with women
Lauer married Annette Roque in 1998. She filed for divorce in 2006 and accused the anchor of "cruel and inhumane" behavior before withdrawing her petition one month later after reaching a private agreement. They have three children.
According to Page Six, Lauer and Roque live separate lives.
Fox News' Diana Falzone contributed to this report.