KISS cover band member catches fire during live show, doesn't stop playing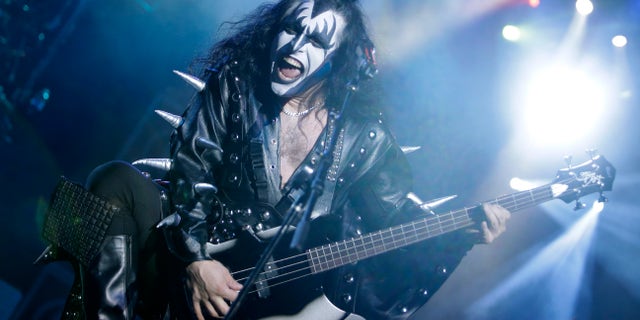 The members of a KISS tribute band took the mission to be the hottest band on the planet to new heights over the weekend when one of its members caught fire during a live performance.
Hairball guitarist Bobby Jenson was captured on video performing in full Paul Stanley makeup and attire at a recent show in Sioux City, Iowa. As he began playing "Detroit Rock City," a spark from the band's pyrotechnics hit him in the back of the head, igniting his long hair almost immediately.
ACE FREHLEY WORKED WITH GENE SIMMONS ON 'SPACEMAN,' WOULD 'DEFINITELY GO BACK WITH KISS'
In the video, a band member can be seen quickly trying to douse the flames before calmly calling on stagehands to do something. Two men quickly run out and manage to extinguish the blaze. Remarkably, Jenson didn't stop singing or miss a single chord during the whole ordeal. When the fire was finally out, he simply continued with the show as if nothing had happened.
"I live an Evil Knievel kind of life, so if I'm on fire a little bit, I don't care, that's just part of the fun," the rocker told Ultimate Classic Rock. "I knew I was on fire right away, and that wasn't a wig, that's my hair. It was really nice and foofy before the show, now I have a much better Alice Cooper cut."
Jensen claims that the real-life KISS reached out to him shortly after the video was posted to ask if he was OK, which he says he is. Fortunately, the band has been playing for nearly roughly 15 years and are professionals when it comes to live performing. In the moment, Jensen said that he knew his crew would take good care of him, so there was no need to stop the show.
"We always prepare for it. That's why you didn't see me freak out. I have 100 percent faith in my guys that they'll get to me and put me out. So I just thought, 'I'll sing to everybody while I'm on fire.'"
Hairball does a lot more than just KISS covers. The band boasts itself as a rock and roll experience that prides itself on doing identical homages to bands like Van Halen, Motley Crue, Queen, Journey, Aerosmith and more.
CLICK HERE TO GET THE FOX NEWS APP
You can watch the video here.