Jay Leno's Ratings Dip Below Conan O'Brien's on 'Tonight Show'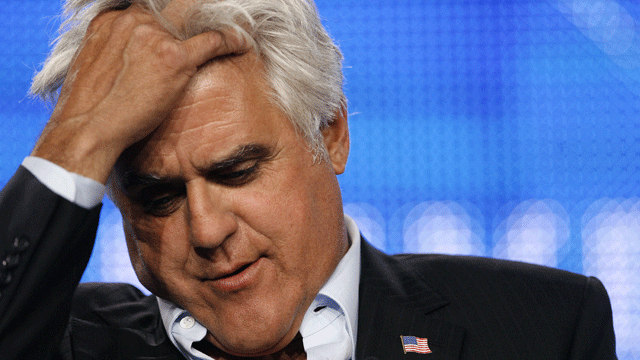 Jay Leno could be looking over his shoulder again at NBC, the New York Post reported Friday.
Four months after taking back the "Tonight Show," Leno's ratings are behind those of the man he replaced, Conan O'Brien.
According to ratings website tvbythenumbers.com, in the four weeks that Jay Leno's "Tonight Show" overlapped with Conan's (2010 vs. 2009), he has finished behind Conan.
One caveat: this was during the "premiere" phase for Conan. Conan ended up settling on a ratings level of between a 1.0 and 1.1 adults 18-49 rating.
That's exactly what Leno got last week.
Which is still better than David Letterman, who lags in third behind Leno and ratings-winner Nightline.
But there's more.
Apparently Leno is not only getting equal-to-fewer viewers than the freakishly tall redhead, his show costs NBC $10-15 million more a year than O'Brien's show did.
Leno's higher salary -- $30 million per year, compared to O'Brien's $15 million -- plus the cost of his bigger production staff could even be pushing the show into the red, according to insiders.
"It's got the potential to be a huge embarrassment," said the source.
NBC is about to be taken over in a $28 billion deal with cable giant Comcast.
"You can't figure they're happy about this," the insider said.
Leno has at least two more years to go on his NBC deal.
But, as Leno himself joked at the height of the late-night mess last January, "NBC stands for 'Never Believe your Contract.'"