Hatin' On The Haters: 'The Bachelor' Juan Pablo Galavis Gives Critics A Piece Of His Mind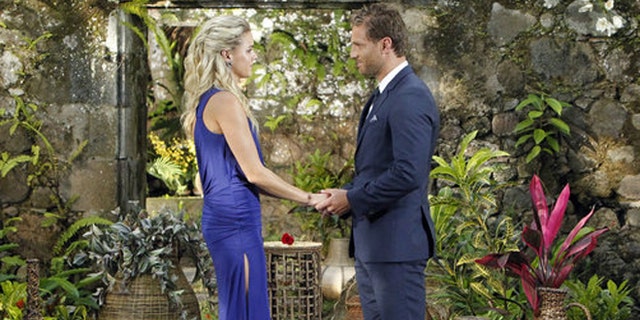 NEWYou can now listen to Fox News articles!
The most talked about "Bachelor" season is over. A final rose was given, but it does not mean that controversy surrounding season 18 of ABC's hit reality show has gone away.
Looking back at the highlights – and major low points of the season – can explain why many people are calling the show's first Latino bachelor Juan Pablo Galavis the worst since the show started.
The former Venezuelan soccer, actually born in Ithaca, N.Y., player has been on the receiving end of major criticism all season for his off-camera comments and on-camera shenanigans – from being called homophobic to "a**hole" and "jerk" by some of the contestants.
The Daily Beast described Galavis as "a special kind of mean [person] disguised as a nice guy."
Juan Pablo did not make friends with fans early on in the season when he made some controversial anti-gay comments. He told the website The TV Page that he didn't think a gay or bisexual bachelor would set a good example for kids, saying they were more "pervert, in a sense."
After an uproar, Juan Pablo gave a swift apology, saying his comments were taken out of context and that his message was lost in translation. While some defended him following the controversy, others did not feel his apology was sincere enough.
Kate Dries chimed in, writing in Jezebel: "He's totally ruined himself as a sexy and viable life partner … Juan Pablo might not be the most hated Bachelor in the show's history, but he could be the first to have so much negative attention focused on him so early on. Usually, Bachelors are disliked after they make a decision during the Final Rose Ceremony."
Juan Pablo's actions shown on screen Monday night did not help him gain more fans – even among the women he was trying to woo. Two of them dumped him and left the show.
Then came his most off-screen recent controversy – just days before the finale, mind you. Juan Pablo retweet someone apparently poking fun at the mentally disabled and who called mentally ill people "retard."
The full tweet went thusly: "Not every flower can save love, but a rose can," said the tweet. "Not every plant survives thirst, but a cactus can. Not every retard can read, but look at you go, little buddy!"
After tremendous backlash, Juan Pablo brushed it off and blamed cultural and linguistic differences and his poor choice of words on the fact that English is his second language. Though born in New York, his family moved to Venezuela when was two years old.
"In Venezuela the R word is USED commonly and by NO means is to OFFEND anyone… #Relax #DifferentCulture #Respect," he tweeted.
That did not sit well with many people, including a Latina mother who has two children with Down Syndrome. In an open letter to Juan Pablo posted on Babble.com, she wrote:
"I know this is a show! Something that wasn´t part of the broadcast but made you look bad, and something that made me and every other Latino look like insensitive people, is your tasteless comment after making fun of a biased joke that victimizes people with a disability," she wrote.
"Discúlpame querido! But there isn't a place in the world, including Venezuela, where the R word doesn't offend. Yes, it's used commonly but you know perfectly well that its only goal is to offend and diminish people's dignity. I'm taking a stand to say how dare you?!" she continued.
The writer, who did not give her name, said with his "apology" Juan Pablo was using Latino culture as an excuse to justify his mistakes.
"Like it or not, putting yourself on television as the Latin Bachelor made you the representation of us all, and you have wronged us," she wrote.
Alex Nogales, president and CEO of the National Hispanic Media Coalition, told Fox News Latino in a statement that, with Latinos underrepresented in the media, it's unfortunate that a Bachelor that would not foster awareness or a deeper understanding of Latinos was chosen.
"That said, it would be irresponsible to suggest that his prejudices are a result of being Latino," Nogales continued. "The reality is that we as a country still have a long way towards becoming inclusive and respectful of women, LGBT people and people with disabilities."
After Finale, Juan Pablo Fights Back Haters
Despite the onslaught, Galavis has not backed down to critics. He took to social media, writing in an Instagram snapshot that he and leading lady Nikki Ferrell are now "free."
In an exclusive interview with PEOPLE magazine following the season finale, the single father said he wanted to set the record straight about the kind of man he is and how the public now perceives him.
"It's hard because (they) saw a character on TV," he said. "A lot of things about me were not shown. I'm not a bad guy. People who know me, know who I am."
He's also making public in his own words that he and Nikki are happily in a loving relationship, releasing a video montage on Tuesday, saying on Twitter: "Amor @Nikki_Ferrell, glad that we stay TRUE to ourselves and we are REAL… This is for YOU."
)
Apparently, according to Us Magazine Galavis is also not being shy about showing his dissatisfaction with the show's producers and apparently ready to cut all ties with anyone involved with it.
"He had major tension with them since right when he got back from filming," a source told the gossip magazine. "Juan said they gave him no privacy and wanted to know too much about his personal like and what he doing all the time."
The source continued: "[Monday] night he was so fed up with everyone on staff there. He said he wasn't going to do anything they said anymore."
Aside from the interview with PEOPLE following the season finale, Galavis and Ferrell have refused further interviews — starting with bailing on the traditional GMA (Good Morning America) appearance the morning after the season finale.
Fox News Latino reached out to the show's producers, who confirmed Galavis was not doing interviews.
Whether they loved or hated him, viewers still turned out to watch the drama, though the total amount of eyeballs actually dipped from last year. According to Nielsen ratings, an average of 9.2 million people watched the show's weekly episode this season, down from 9.5 million last year.
Follow us on twitter.com/foxnewslatino
Like us at facebook.com/foxnewslatino