'Fixer Upper' star Chip Gaines shuts down divorce rumors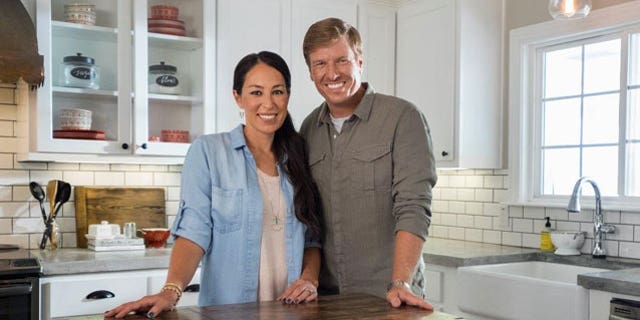 Don't count on the "Fixer Upper" stars to break up anytime soon despite the rumors.
Chip Gaines responded to a concerned fan's Twitter post on Friday, addressing rumors Gaines and his wife, Joanna Gaines, were splitting.
"I'm so sick of these 'stories' claiming @joannagaines and @chippergaines breaking up. Leave this couple alone they are wonderful together," Twitter user @Liason_TRTN wrote Friday night.
Gaines responded minutes later, saying: "Won't ever happen..you can take that to the bank! #LoveOfMyLife"
'FIXER UPPER' STARS CHIP AND JOANNA GAINES: MAJOR MOMENTS YOU SHOULD KNOW
It's unclear what breakup rumors the fan was referencing. The couple on the HGTV show opened up to People magazine in July about their relationship, saying, "Nothing has come easy."
"We've worked so hard to have this beautiful family and this farm — it really does seem like the American Dream you heard about growing up," Gaines said.
'FIXER UPPER' STAR JOANNA GAINES SAYS SKIN CARE LINE RUMORS ARE 'A SCAM!'
"Jo and I both made a commitment pretty early on that the two of us are the most important variable," Gaines said. "If we can figure out how to be right as a couple, then obviously we a have a lot better opportunity to be right for our kids."
Joanna Gaines also shot down rumors in July she was leaving "Fixer Upper" to start her own skin care line.
"I wanted to take a minute to let y'all know that it's simply not true. This is a SCAM! We have nothing to do with it and have been trying to stop it for some time," she wrote on Instagram.