LOS ANGELES – After a frenzied few hours in which federal authorities made several high profile arrests -- and outlined a top-secret investigation into an alleged scam involving rich and famous clients paying millions to a network of counselors and coaches to ensure their privileged children be granted admission to some of the country's most prestigious colleges -- a judge said on Tuesday that jailed actress Felicity Huffman, accused of paying a bribe to help get her daughter into a top school, was eligible for release on $250,000 bond.
A magistrate judge also ordered on Tuesday that the "Desperate Housewives" alum restrict her travel to the continental United States.
Court documents said Huffman, 54, paid $15,000, which she disguised as a charitable donation, so her daughter could take part in the college entrance-exam cheating scam.
LORI LOUGHLIN'S KID SAID SHE DIDN'T 'REALLY CARE ABOUT SCHOOL' IN VID RESURFACED AMID COLLEGE SCAM CHARGES
The documents stated that a cooperating witness met with Huffman and her husband, actor William H. Macy, at their Los Angeles home and explained to them that he "controlled" a testing center and could have someone secretly change her daughter's answers. The person told investigators the couple agreed to the plan.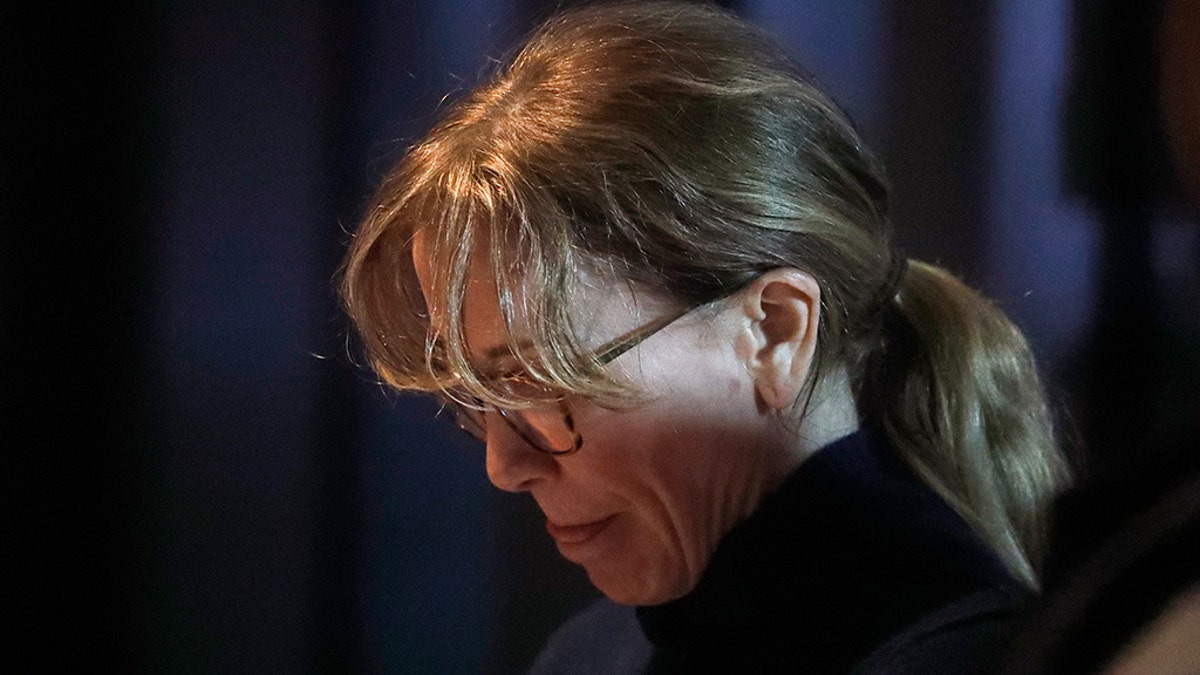 The judge asked Huffman: "I'm not asking you to admit or deny the charges against you but do you understand what the government claims you did?" She replied: "Yes."
The court appearance came hours after it was revealed that Huffman and fellow Hollywood actress Lori Loughlin were among the boldfaced names in a veritable who's who of the rich and powerful charged in the case.
The actress, dressed in a black sweatshirt, glasses, and her hair pulled back into a ponytail, looked visibly tired in court on Tuesday as her lawyer argued for her release on her own recognizance because "she is not the kind of person who is going to become an international fugitive over this matter." The prosecution would not accept that, citing her net worth. Fox News has learned that Huffman and Macy have real estate assets in excess of $20 million dollars and stocks worth around $4 million.
FELICITY HUFFMAN, LORI LOUGHLIN AMONG 50 SNARED IN ELITE COLLEGE CHEATING SCAM, AUTHORITIES SAY
Macy, 69, dressed in a gray jacket and blue jeans, took notes during his wife's hearing. He looked engaged and focused on the terms of Huffman's release as they were being read aloud.
Huffman's defense pushed back after the prosecution requested that the actress not be able to communicate with her husband since he's a witness in the case. The judge balked at the request and excluded him from known witnesses or subjects with whom she may not be in contact.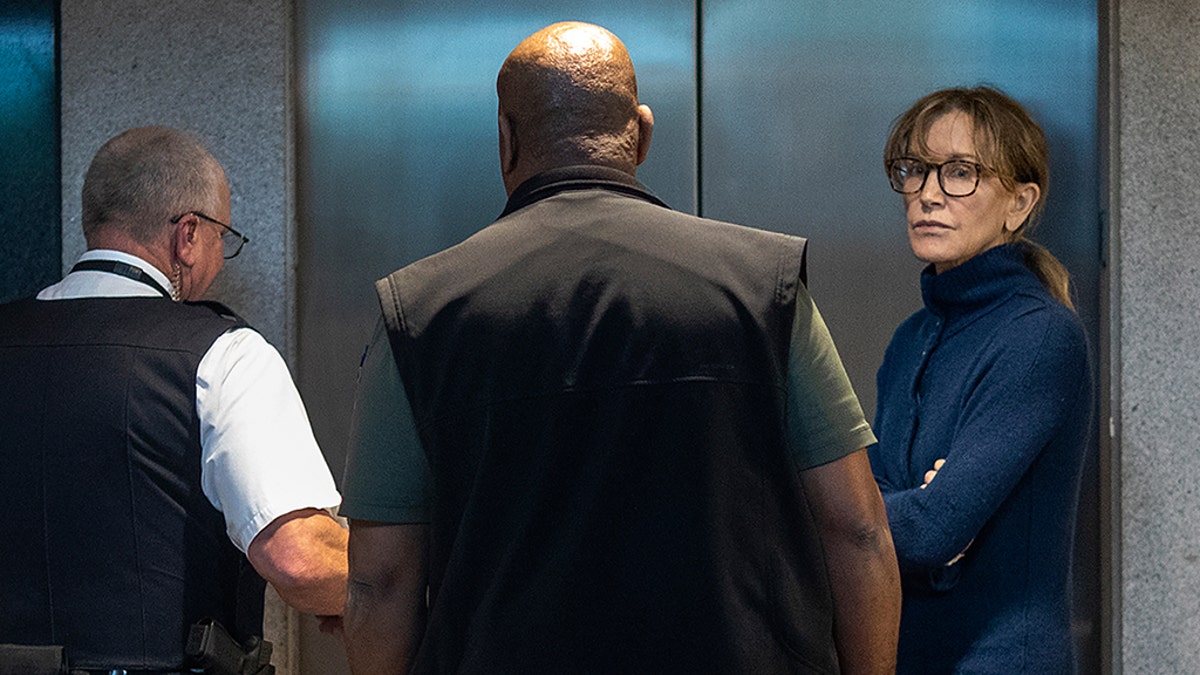 Also among the 13 defendants appearing in court on Tuesday was "Fuller House" star Loughlin's famed fashion designer husband, Mossimo Giannulli.
WILLIAM H. MACY ADDRESSED DAUGHTER'S 'STRESSFUL' COLLEGE APPLICATION PROCESS BEFORE WIFE FELICITY HUFFMAN'S ARREST
The judge ruled Giannulli will be released on a $1 million dollar bond, securing the couple's home as bond. Giannulli's attorney said part of the reason they came to this agreement was with the hopes that Loughlin, also indicted in the case, would receive the same bond deal as well as be allowed to travel to Vancouver. The judge also ordered that Giannulli restrict his travel to the continental United States.
Loughlin, who did not appear in court on Tuesday, reportedly has been filming a movie in Vancouver. According to multiple reports, the actress landed at LAX on Tuesday during the court hearing.
A rep for Loughlin did not respond to Fox News' request for comment.
Federal authorities have also charged college coaches and others in the case.
LORI LOUGHLIN RESPONDS TO JOHN STAMOS CALLING HER 'THE ONE THAT GOT AWAY'
The racketeering conspiracy charges ensnared coaches at schools such as Wake Forest University, Georgetown and the University of Southern California. Investigators said the coaches accepted bribes in exchange for admitting students as athletes, regardless of their ability.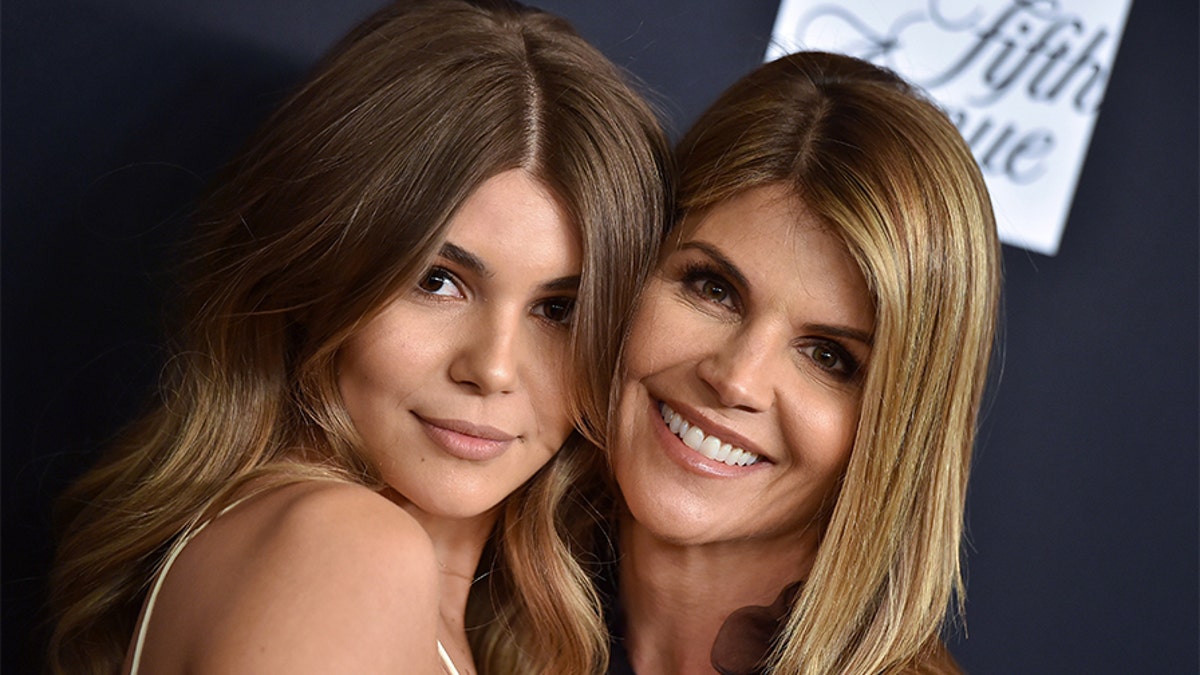 TV CELEBRITIES, COACHES CHARGED IN COLLEGE BRIBERY SCHEME: THE FULL LIST
Investigators said parents would pay a predetermined amount to college entrance consultant William Rick Singer, who then would give the funds to coaches, SAT or ACT administrators.
The alleged fund amounts ranged from several thousand dollars to $6 million.
The documents alleged that Loughlin and Giannulli "agreed to pay bribes totaling $500,000 in exchange for having their two daughters designated as recruits to the USC crew team – despite the fact that they did not participate in crew – thereby facilitating their admission to USC."
EMILY RATAJKOWSKI ACCUSED OF BEING A 'NIGHTMARE' NEIGHBOR, SKIPPING RENT
Officials claimed to have obtained emails from Loughlin supporting their case.
Loughlin's daughter, the YouTube sensation Olivia Jade, attends USC. It was not immediately clear if Loughlin's other daughter, Isabella, attended the university.
WHY FREE EDUCATION IS NOT THE ANSWER TO THE STUDENT DEBT CRISIS
Investigators claimed Huffman and Macy "made a purported charitable contribution of $15,000 ... to participate in the college entrance exam cheating scheme on behalf of her eldest daughter. Huffman later made arrangements to pursue the scheme a second time, for her younger daughter, before deciding not to do so."
Huffman and Macy's daughter reportedly had twice the normal amount of time to take the SAT, and her proctor was paid to correct her answers after she completed the test.
PRESIDENT DONALD TRUMP VOWS TO SIGN EXECUTIVE ORDER GUARANTEEING FREE SPEECH AT COLLEGES
Prosecutors explained in a news conference Tuesday morning that many parents linked to the scheme obtained letters from their children's therapists explaining that they needed more time for the standardized tests as a way for their children to take the exams privately with paid proctors who would correct the students' errors. They specified that Huffman allegedly participated in the SAT scheme.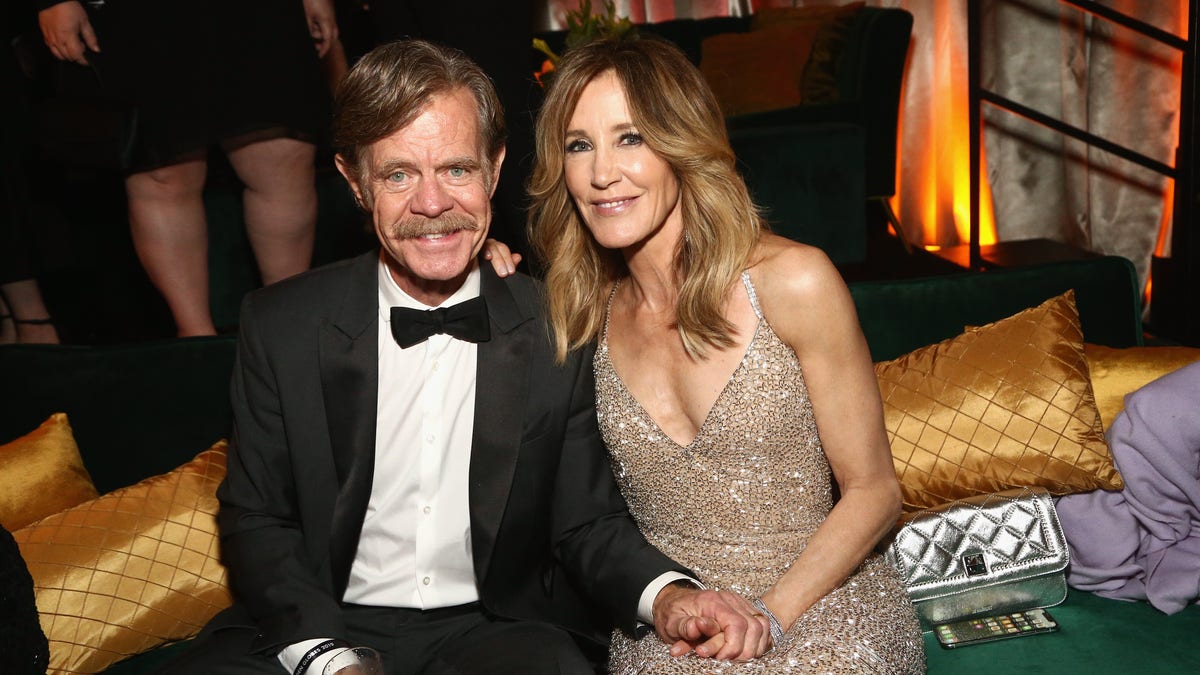 When Macy was asked by Fox News on Tuesday if he wanted to comment on his wife's case, the 68-year-old "Shameless" star replied, simply, "No."
In January, Macy told Parade his and Huffman's eldest daughter, Sofia Grace, was in the college application process and that he hoped she'd take a year off of school before starting. He didn't specify where she applied.
Prosecutors said that in addition to "two famous actresses," the parents charged were "a catalog of wealth and privilege," including CEOs and a co-chairman of a global law firm, as well as real estate and securities investors.
CLICK HERE TO GET THE FOX NEWS APP
Parents chose to "corrupt and illegally manipulate" the system for their benefit using "deception and fraud," prosecutors said.
No students have been charged in the case; prosecutors claimed that in most cases the children involved didn't know of the scam, though some were informed.
A rep for Huffman, who U.S. Attorney Andrew Lelling said in a news conference had been arrested by federal agents, did not return multiple requests for comment. An attorney for Giannulli did not respond to Fox News' request for comment.
The Associated Press contributed to this report.