Ex-FBI agent lands at CNN after blaming bureau departure on political attacks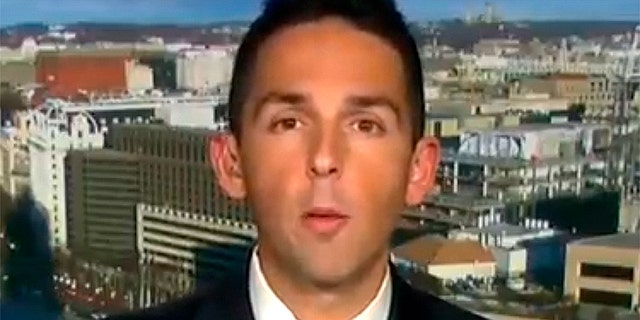 Josh Campbell penned a New York Times Op-Ed on Friday, claiming he was leaving the FBI because of "relentless attacks on the bureau," but on Monday he proved his column was disingenuous by quickly signing with CNN.
CNN named Campbell the network's new law enforcement analyst, according to TVNewser, and he will reportedly start immediately. However, industry insiders are quick to point out that deals with on-air analysts don't simply appear out of thin air, especially over a weekend, so CNN and Campbell were presumably in cahoots before he tried to pin his departure from the FBI on attacks that "undermine not just America's premier law enforcement agency but also the nation's security."
"I am reluctantly turning in my badge and leaving an organization I love."
Campbell, who was special assistant to former FBI Director James Comey, penned his essay amid increased scrutiny on the FBI from Republicans following the release of Rep. Devin Nunes', R-Calif., memo.
"I am reluctantly turning in my badge and leaving an organization I love," Campbell wrote in the Op-Ed. "A small number of my current and retired colleagues have said that we should simply keep our heads down until the storm passes. I say this with the greatest respect: They are wrong."
It's safe to assume that most of his "current and retired colleagues" don't have cushy gigs as a CNN commentator waiting for them. He now joins a significant number of outspoken Trump critics employed by CNN Worldwide President Jeff Zucker.
CNN did not respond to a request for comment.
Campbell was a hero of the liberal media after he claimed his "resignation is painful" but necessary because "the alternative of remaining quiet while the bureau is tarnished for political gain is impossible." He blamed "political attacks on the bureau" for his resignation but never mentioned that he was going to sign with CNN, or take a media job in general.
The polarizing Nunes memo has been mocked by Comey, while President Trump and his supporters feel it vindicates him in the Russia probe. The FBI fought the release of the memo, which details alleged surveillance abuse by the FBI and Justice Department.
Campbell appeared on CNN on Friday to explain why he was leaving the FBI -- but failed to mention he would soon be an employee of the network.
While Campbell most likely had agreed to join CNN before he was even aware of the memo's content, the now-former FBI employee had no problem using the document as a factor in his decision when he penned his Op-Ed in the Times. Comey may have even hinted at the move, tweeting that Campbell will be "an important addition to the national conversation" on Friday afternoon.
Dozens of news organizations covered Campbell's resignation, painting him as a man of integrity for leaving the bureau over reasons of principle, as opposed to bolting for a high-profile TV gig.
Pro-Campbell headlines that have been published since his Op-Ed appeared include "Special assistant to Comey quits FBI with powerful message against GOP attacks" and "FBI agent in Op-Ed says he's leaving over 'relentless attacks on the bureau.'"
It's safe to assume Campbell wouldn't have gotten so much free publicity if he simply announced he was quitting the FBI to join CNN. He will provide punditry about crime, justice, breaking news and national security issues, according to TVNewser.