ESPN's Bonnie-Jill Laflin Mixes Sports with Support of Soldiers Overseas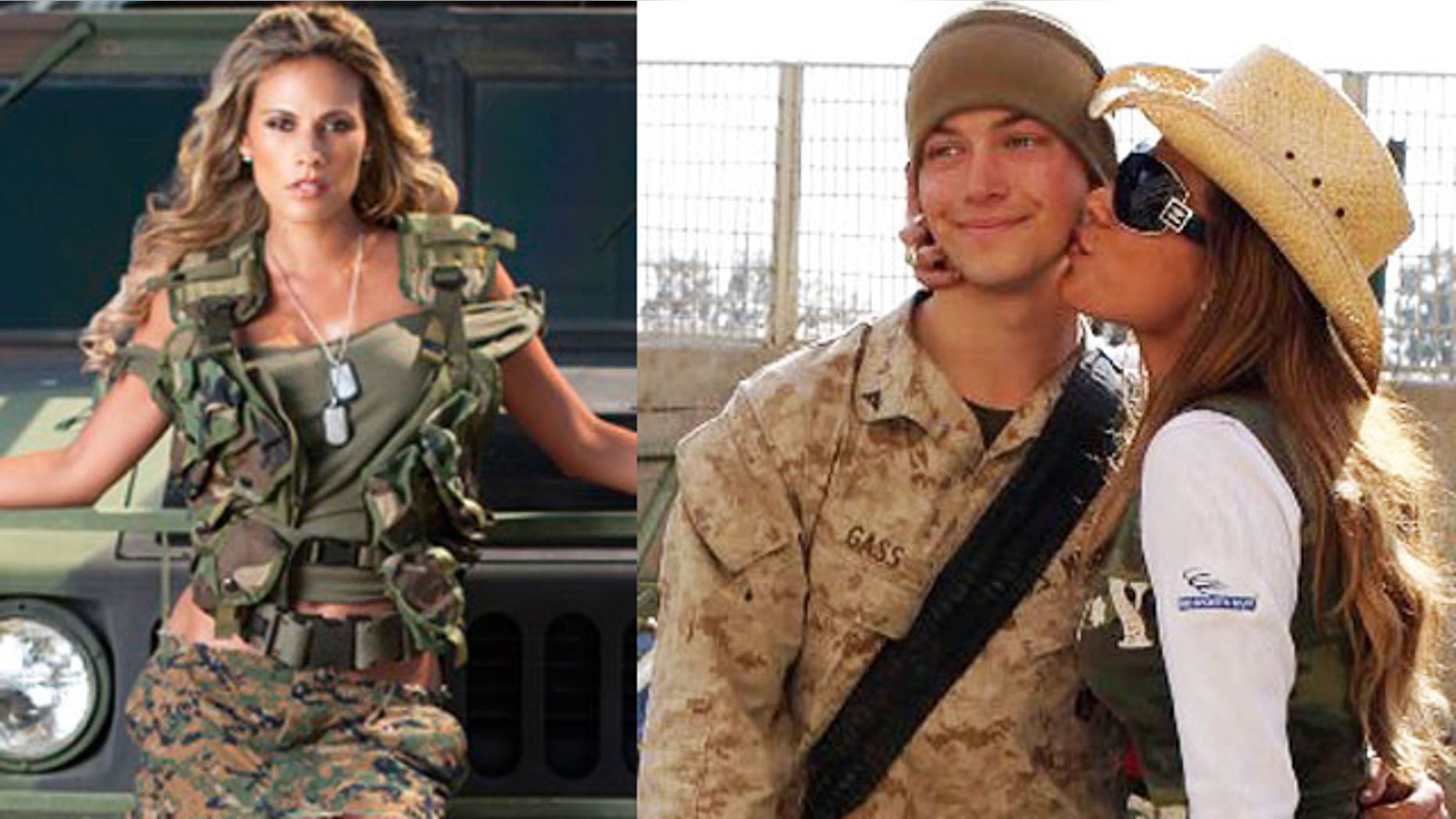 Move over, Erin Andrews – there's another smart, sassy sportscaster talking touchdowns and Triple Crowns. And when Bonnie-Jill Laflin isn't hosting ESPN2's "SpeedWorld" or chiming in on ESPN's morning show "Cold Pizza," the first and only female scout for the NBA and Dallas Cowboys Cheerleader alumnus is engaging in another passion – visiting troops stationed overseas.
Laflin has traveled to Afghanistan, Iraq and other countries on 17 Goodwill and USO tours, and recently returned from her seventh Goodwill tour in Iraq, while also being featured on the cover of the 2011 "Battlefield Babes Calendar" with proceeds going to the Wounded Warriors Project.
HOT SHOTS: Bonnie-Jill Laflin.
"I'm leaving for my 18th tour to Iraq and the Middle East, Kuwait, and we're going to Afghanistan, all over the whole Middle East for Christmas to boost morale and entertain the troops. Obviously the holidays is when the guys really need it the most," Laflin told FOX411's Pop Tarts column.  "I actually feel like I get more out of it than them sometimes. I grew up in a military family. Both my grandfathers served in World War II. One was a Silver Star recipient and the other one was a Purple Heart. My uncle was a Clear Marine who served in Vietnam, and my father is a policeman. so my whole family has been in the military or law enforcement so it's always been something very close to my heart. They (the troops) love to see that there are people in Hollywood that actually support them, because sometimes there is that image that celebrities are against war and against them."
Laflin isn't afraid to give her two cents to stars who don't show the same passion for supporting soldiers overseas.
"First of all, I understand they're nervous or there's security issues about going, especially to a country where there's a war going on, so I understand that. But then there's a ton of people who you can tell, it's not a priority," she continued. "For me, it should be a priority. The reason we have the freedom that we have today and the reason you're able to be successful at anything you do, is because of what our military has done for us."
As an avowed conservative, Laflin admitted she has become pretty accustomed to butting heads with industry types who oppose her political point of view.
"I'm all about people having their own opinion, but just be educated on that opinion and don't bash me because of what I believe in," Laflin said.
Being a woman in a male-dominated arena hasn't exactly been smooth sailing for the sports aficionado, either.  She's determined to shed more light on what the industry is really like by creating a reality show on the hot button issue.
"It happens all the time, where people basically think because you're an attractive woman that you don't have brains, or you're just there because you're maybe trying to meet a husband. People question or doubt my knowledge in sports and all of a sudden, real quick, they stop," Laflin added. "There's been many times when someone will say, 'Oh, you're a scout for the cheerleaders?' making fun, like there's no way she's scouting basketball players. Then they start seeing my championship rings on, and start hearing me talk the game, and suddenly hush up because they're like, 'Wait, this girl knows more than me.'"
- Deidre Behar contributed to this report.