Chef Adam Perry Lang arrested at Jimmy Kimmel's rental home after alleged bomb threat call, cops say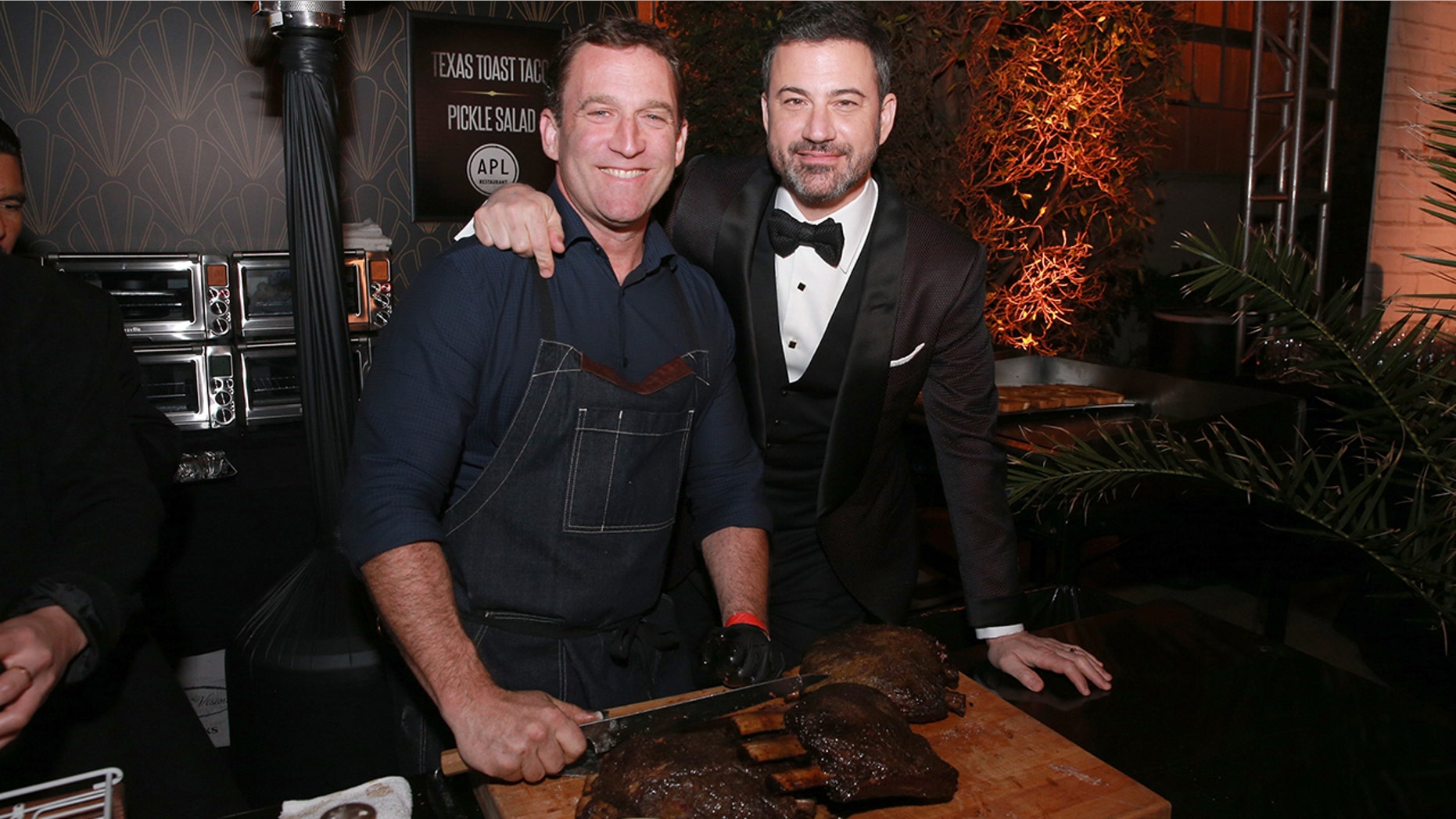 Chef Adam Perry Lang was arrested at friend Jimmy Kimmel's rental home this weekend for allegedly making violent threats, Fox News has learned. Lang vehemently denies any wrongdoing.
BARBRA STREISAND BAILED ON 'JIMMY KIMMEL LIVE' WHEN THEY REFUSED TO SHOOT HER 'GOOD SIDE'
Police told Fox News on Monday that officers responded to a call on Saturday at 11:53 p.m., from a male who claimed to have shot his girlfriend with a high-powered rifle and alleged that he had planted two bombs in and around Kimmel's rental home in Hermosa Beach, Calif., and was waiting for officers to show up.
Hermosa Beach police said they arrived to find an idling, unoccupied pickup truck in the driveway and "in an abundance of caution" squared the area off and evacuated neighbors.
CLICK HERE TO GET THE FOX NEWS APP
Officers claimed they attempted to contact the person allegedly staying in the house, chef and Kimmel's pal Lang, for several hours, but couldn't get a hold of him.
When they finally got him on the phone, he reportedly exited the property and was taken into custody without incident.
Police assure that no explosives, weapons or any evidence of a shooting were found at the residence.
JIMMY KIMMEL OPENS UP ABOUT BEING FRIENDS WITH EX SARAH SILVERMAN: 'IT TOOK SOME TIME'
A rep for Kimmel told TMZ that they believed the incident was an extreme case of swatting, and Lang's lawyer refuted all claims of his client's alleged wrongdoing. Reps for Kimmel and Lang did not immediately return Fox News' requests for comment.
"The 'male' that called 911 was absolutely not Adam Perry Lang," attorney Glen T. Jonas told TMZ. "Mr. Lang will be cleared of any wrongdoing. He was fast asleep with his ringer off. He immediately cooperated once he was notified of the commotion."
The commotion allegedly included police helicopters and drones around the residence and police reportedly took eight hours to establish contact with Lang.
JIMMY KIMMEL ON 'BABY SHARK' SONG: 'IT FEELS LIKE IT GOES ON LONGER THAN SHARK WEEK'
Kimmel reportedly bailed his pal out for $50,000.