'Bachelor' star Colton Underwood claims he was groped at charity event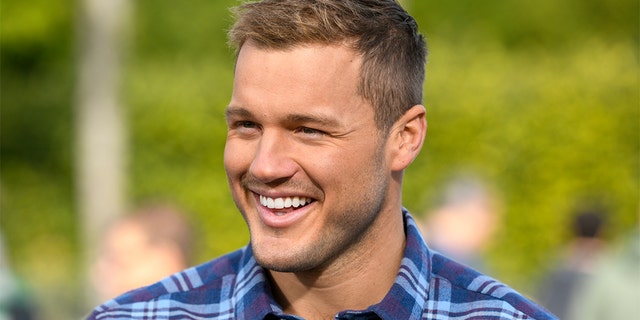 Colton Underwood, the current star of ABC's "The Bachelor," claims he was groped at his charity event on Wednesday.
Underwood, 27, took to his Instagram story to allege he was "grabbed and touched inappropriately while people were throwing cameras in my face."
COLTON UNDERWOOD NAMED THE NEW 'BACHELOR': 'HOPEFULLY I'LL COME OUT OF IT ENGAGED'
The former NFL player was in San Diego, California attending an event for his charity, Legacy Foundation, that benefits people with cystic fibrosis. An online page for the 21 and older event boasted $25-$35 tickets to obtain access, with proceeds to benefit the foundation.
Underwood, who has been open about his virginity, apologized to guests who weren't able to take a photo with him but said that as soon as he was "grabbed," he left.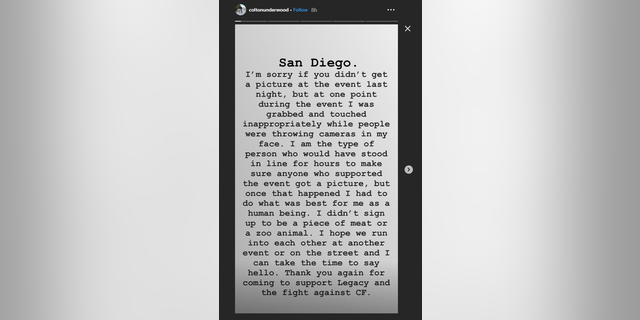 "I am the type of person who would have stood in line for hours to make sure anyone who supported the event got a picture," he wrote. "But once that happened I had to do what was best for me as a human being."
CLICK HERE TO GET THE FOX NEWS APP
Underwood, who recently opened up with Olympic gold medalist Aly Raisman being his "first love" and "worst heartbreak," continued: "I didn't sign up to be a piece of meat or a zoo animal."
"I hope we run into each other at another event or on the street and I can take the time to say hello," the former linebacker wrote, thanking those who supported the event and the "fight against CF."