Alyssa Milano extends 'olive branch' to Trump supporters after months of scathing rebukes
The actress has derided Trump and his supporters in the past
After months of condemnations of President Trump and his administration, Alyssa Milano says she's extending an "olive branch" to his supporters.
The left-leaning activist and actress, who voiced an exorbitant amount of support for President-elect Joe Biden leading up to the 2020 election, took to Twitter on Tuesday with her peace offering.
"I'd like to extend an olive branch to Trump supporters. I am ready to move #ForwardTogether," the "Charmed" alum tweeted to her 3.7 million followers.
"There's so much work to do to heal the nation. Let's be a part of the solution and not add to the problems we face. My comments are open. Please reply with #ForwardTogether," she added with a heart emoji.
ALYSSA MILANO SAYS VOTERS WILL CHOOSE BETWEEN 'AMERICA OR TRUMP' IN 2020 ELECTION: 'YOU CAN'T LOVE BOTH'
In a follow-up tweet, Milano said Americans are "going to need a lot of humility and compassion right now. Anger and triumphalism is less helpful."
It's a drastic change of course for the actress, following months of her public deriding of Trump, and essentially the entire Republican Party.
Trump supporters were quick to react to Milano's offering on Monday, and a majority did not meet her with kind words in return. Several balked at the star's approach, calling it a "joke" after her several outcries for Trump to be ripped from office.
"I remember you. You were the one glaring at Justice Brett Kavanaugh during his hearings. You were the one that called conservatives every name in the book and didn't sensor your words in the least. No way you'd be offering an olive branch had your party lost ... How about NO," one person reacted.
Another wrote: "I'm too lazy to read the comments but I suspect this yielded exactly zero Trump supporters to take your olive branch."
JOE BIDEN'S ELECTION UPDATE SPEECH DRAWS CELEBRITY REACTIONS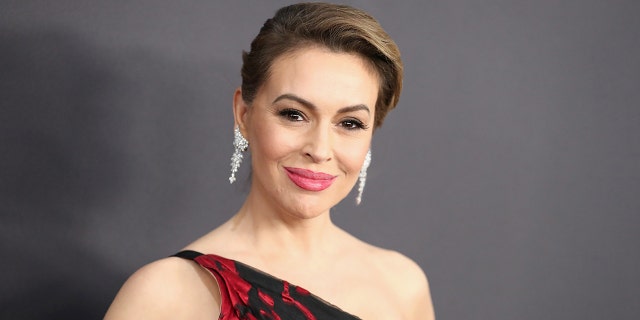 Several Twitter users suggested the peace offering came only because Biden won the election.
"This has to be another sick joke what has happened to you? four years of the most insane sick tweets about our @POTUS and anyone who stands with him now you have been cured? we the normal and descent will ask just 1 question this time next year what has SLEEPY done for you?" another wrote.
"Moving forward implies you recognize & atone for the wrong you've done. It takes time to build back broken trust. Expecting everyone to say 'oh let's forget you called me a Nazi, let's hang ou' is both hypocritical and immature. Sorry, you don't get the moral high ground here," tweeted another.
Although, Milano's tweet did result in a number of her followers disagreeing with her stance. Some claimed there should be no room for reconciliation.
"Nah, there is no unity with people who are racist, believe children should be caged, ani maskers, or believe in Trump period. It's not ok, no one thought we should forgive and befriend the Nazi's," one person claimed on the platform.
ALYSSA MILANO BLAMES TRUMP FOR CORONAVIRUS DISHONESTY, CALLS FOR GOP TO BE 'TRIED FOR TREASON'
"Unfortunately, until I am sure trumpers won't try to smite us with the olive branch, I refuse to extend it. Some of these people have cheered the violence against protestors. Have urged civil war. Trust is not something easily mended," another claimed.
Prior to the election, Milano's comments joined a chorus of Hollywood stars this year who slammed the president for his response to the coronavirus pandemic as well as his comments about migrant children separated from their parents at the U.S. and Mexico border.
In September, she called for the Republican Party to be tried for treason in light of revelations made in Bob Woodward's new book.
"Trump knew the virus was deadly when he called it 'the Democrat's new hoax.' He politicized a f--king pandemic because he knew taking it seriously would mean closing down the economy which would hurt his rich friends," she wrote on Twitter at the time. "We must elect Joe Biden. He is our only hope. #BuildBackBetter."
"The entire @GOP should be tried for treason. #TrumpKnewVoteBlue," she continued.
ALYSSA MILANO BLASTS DONALD TRUMP'S DRIVE-BY TO FANS OUTSIDE WALTER REED MEDICAL CENTER
Milano also followed every major event leading up to the election in 2020 closely, often taking to her social media accounts to urge voters to vote against Trump. On the night of the first presidential election, she tweeted, "This debate is about good vs. evil."
She went on to write: "Trump needs to answer for his lies and failures."
In July, Milano also blasted Trump and Dr. Fauci for a lack of a national shutdown as COVID-19 continued to surge. The actress would later contract the virus herself and became candid about her lingering symptoms.
"Trump doesn't care how many people die. He only cares about the economy and his re-election," she wrote in July. "Why else would he be ignoring every doctor and specialist in the world?"
CLICK HERE TO GET THE FOX NEWS APP
"Dr. Fauci might be great and a national treasure, but please let us not forget that he just sat there as Trump made ridiculous uneducated public health claims," she wrote. "He has also allowed the White House to silence him as things continued to spiral out of control."