Zetas Cartel Leader 'El Taliban' Extradited To U.S.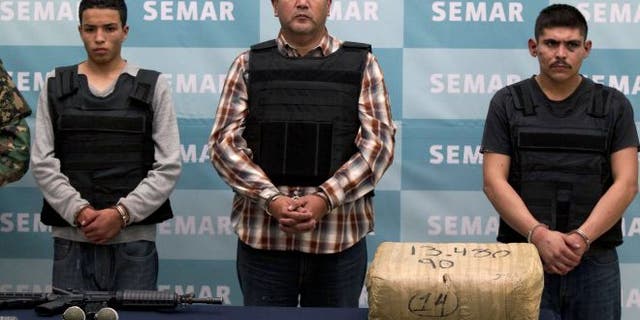 Mexican authorities extradited one of the country's top drug suspects to the United States on Thursday to face drug trafficking and money laundering charges in Texas, a former Drug Enforcement Administration official said.
Speaking to the San Antonio Express News, former DEA chief of international operations Mike Vigil said that a top Zetas drug cartel member, Iván "El Taliban" Velázquez Caballero was sent to the U.S. Officials at both the U.S Marshals Service and the U.S. Attorney's Office in Texas neither confirmed nor denied Vigil's claim.
Velázquez is part of a group of 30 cartel members indicted in the U.S. on conspiracy charges for allegedly smuggling large amounts of cocaine across the border from Mexico and committing murders in Texas as part of their drug smuggling operation. The cartel leader, however, is not accused of taking part in the murders, but is suspected to have been a supervisor in the Zetas under Miguel "El 40" Treviño Morales, the accused leader of the organization who was arrested earlier this year in Mexico.
Velázquez was arrested in September, shortly after Treviño was captured and the duel arrests were seen as a major blow to Mexico's second most powerful drug cartel.
Both U.S. and Mexican officials have been closely investigating the cartel and they have been locked in bloody battles with the Gulf Cartel and with Mexico's most powerful criminal organization, Joaquín "El Chapo" Guzmán's Sinaloa Cartel.
The capture earlier this year of Treviño was a major coup for the government of President Enrique Peña Nieto, who preached during his campaign last year and during his first few months in office that his administration would focus more on reducing violence in general than on going after members of the major cartels.
Former President Felipe Calderón advocated the so-called "kingpin" approach to the drug war, which has been blamed by many critics for the escalating body count in the conflict. Since 2006, when Calderón declared war on the drug cartels, an estimated 70,000 people have been killed.
Calderón's approach was championed by both the U.S. government and American law enforcement agencies that work with counterparts in Mexico to combat the drug trade.
Follow us on twitter.com/foxnewslatino
Like us at facebook.com/foxnewslatino