Yemen's neighbors warn of action if world fails to intervene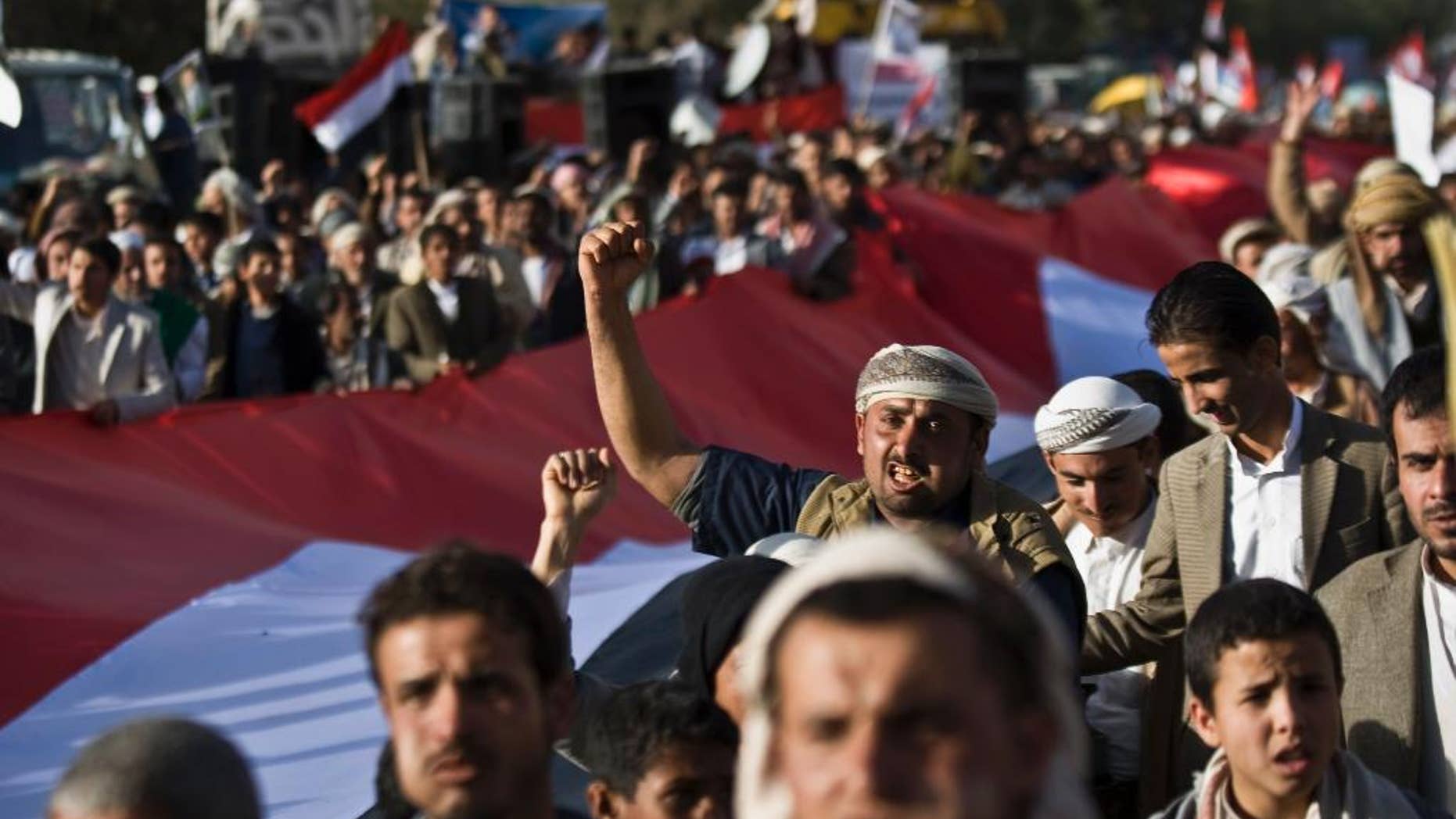 UNITED NATIONS – Yemen's Gulf Arab neighbors warned on Sunday that if the world fails to act against the Shiite rebels who have toppled the Yemeni government, the six-nation Gulf Cooperation Council will take whatever actions it deems necessary to maintain regional security and stability.
The foreign ministers of the GCC did not elaborate on what measures the group might take, but called specifically on the United Nations Security Council to intervene. The Shiite rebels, known as Houthis, control the capital, Sanaa, and recently forced the resignation of the president and dissolved the parliament.
The Security Council was scheduled to discuss a draft resolution on the Yemen issue Sunday evening in New York.
The GCC ministers warned that if the Security Council fails to adopt a resolution that would allow for the use of military force "over the Houthis' illegitimate' seizure of power," then the GCC states of Saudi Arabia, Kuwait, Qatar, Bahrain, Oman and the United Arab Emirates might essentially intervene on their own.
"In the case of failure to reach an agreement... the GCC member states will take measures which enable them to maintain their vital interests in the security and stability of Yemen," the foreign ministers said in a joint statement following their emergency meeting late Saturday in Saudi Arabia.
They also demanded the implementation of a U.N. resolution that imposes sanctions against anyone "hampering the process of peaceful transition of power" and called for urgent action to ensure the safety of Yemeni President Abed Rabbo Mansour Hadi, who resigned last month after the Houthis put him under house arrest.
The GCC ministers met last month in a similar emergency meeting in Riyadh and condemned the Houthi takeover, calling it a "terrorist act" and a "coup against legitimacy." The council demanded the rebels withdraw from the presidential palace, fearing the Houthi offensive could fracture Yemen, bolster Shiite-led Iran in the region and threaten the Arabian Peninsula's stability.
Yemeni officials say Saudi Arabia, a staunch U.S. ally, was sending arms and funds to tribesmen in Yemen's Marib province to bolster them against the rebels. Saudi Arabia, which shares its southern border with Yemen, has not commented about the claims it is arming or funding tribesmen there to fight the Shiite rebels.
Egypt has set up a special rapid deployment force that could intervene if the Houthis threaten shipping lanes in the strategic Red Sea, according to Egyptian security officials. The Egyptians and Saudis are coordinating a joint military response to deal with any eventuality in Yemen, including the disruption of shipping through the corridor that runs past Yemen to Egypt's Suez Canal, the officials said. The officials in both Yemen and Egypt spoke on condition of anonymity because they were not authorized to talk to the media.