Yemenis Rally, Denounce Killing of Protesters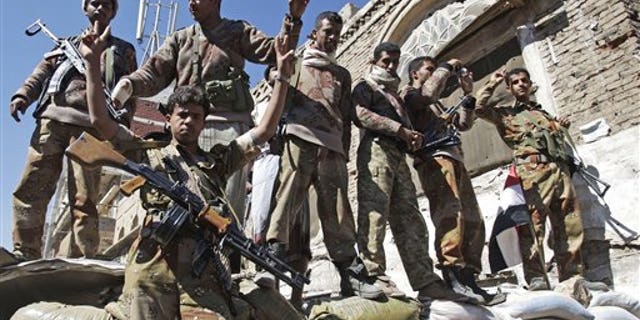 Sanaa, Yemen – Tens of thousands of people demonstrated Sunday in Yemen's capital, protesting the deaths of protesters and demanding the resignation of the vice president for failing to bring the killers to justice.
Marching past the office of Vice President Abed Rabbo Mansour Hadi, the protesters denounced him as a "tool in the hands" of outgoing President Ali Abdullah Saleh.
The march took place as Hadi was meeting with U.S. Ambassador Gerald Feierstein. A statement from Hadi's office said they discussed Yemen's crisis, and Hadi appealed for calm.
Hadi is heading a transitional government after Saleh agreed to transfer power following months of demonstrations and turmoil. Under the U.S.-backed plan, Saleh won immunity from prosecution, angering many of his opponents. Yielding to pressure to defuse the country's tensions, Saleh said Saturday he would leave for the United States.
The U.S. is concerned about months of turmoil in Yemen that has led to a security breakdown, because the dangerous al-Qaida branch in Yemen has taken advantage of the vacuum to expand its presence in the south of the country.
Troops commanded by Saleh's relatives attacked protesters in Sanaa on Saturday, activists said, killing at least nine and setting off Sunday's demonstration. They said the elite Republican Guard troops led by Saleh's son Ahmed fired at the protesters, and dozens were arrested by the National Security police led by Saleh's nephew.
"The situation will not stabilize, since Saleh's relatives and supporters are still holding sensitive positions in the army and government," said Fathi al-Rawdi, an activist at Sunday's gathering.
Activist Ahmed Ghilan criticized the power transfer deal Saleh signed in late November.
"We are fed up with this tragic farce deal that gives immunity but is impotent to force Saleh's troops out of the main streets," Ghilan said.
A military committee formed by Vice President Hadi was assigned to arrange the withdrawal of all army units and armed groups from the streets. That was supposed to be completed Saturday.
Ambassadors from the five permanent members of the U.N. Security Council and the European Union are pressing the military committee to complete its mission.
Mohammed al-Sabri, an opposition spokesman, said the ambassadors were focusing on the withdrawal issue, which he said is the main obstacle to achieving security and stability.