Yemeni president heads to US for medical treatment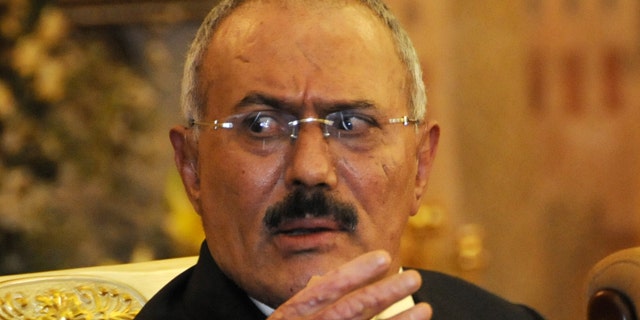 SANAA, Yemen – Yemeni President Ali Abdullah Saleh headed to the United States on Saturday for medical treatment, his spokesman said, the latest stage in an effort to distance him from his country's policies to help ease a transition from his rule.
Ahmed al-Soufi, the press officer for the presidency, told The Associated Press that Saleh had arrived in London and would leave later Saturday for New York for medical treatment in the United States for wounds suffered in a June assassination attempt in the Yemeni capital.
Saleh left Yemen for to neighboring Oman a week ago, planning to head to the United States, after weeks of talks with the U.S. over where he could go. Washington has been trying to get Saleh to leave his homeland, but it does not want him to settle permanently in the United States, fearing it would be seen as harboring a leader considered by his people to have blood on his hands.
In London, a Foreign Office spokeswoman confirmed that Saleh's plane was scheduled to land Saturday at a British commercial airport "to refuel en route to the United States." Speaking on condition of anonymity in line with government policy, she said Saleh and those accompanying him were not going to enter the United Kingdom.
Saleh was traveled on a chartered Emirates plane with a private doctor, translator, eight armed guards and several family members, an official in the Yemeni president's office said, speaking on condition of anonymity because he was not authorized to release the details.
In November, Saleh handed over his powers to his vice president and promised to step down completely after months of protests by millions across the country demanding an end to his nearly 33-year rule. A national unity government was formed between his ruling party and the opposition.
But opponents say he has continued to interfere in the work of a unity government through his allies and relatives in key posts -- particularly his son and nephew, who command the country's most elite and powerful military units. As a result, the past two months have seen persistent violence, power struggles and delays in reforms.
The U.S. and its allies have been pressured Saleh to leave in hopes of removing him from the scene will smoothen the transition.
Saleh agreed to step down in return for a sweeping immunity from prosecution on any crimes committed during his rule, a measure that has angered many in Yemen who want him tried for the deaths of protesters in his crackdown on the uprising against him. Protests have continued demanding his prosecution and the removal of his relatives and allies from authority.
It is also unclear how permanent Saleh's exile is. In a farewell speech before leaving to Oman, Saleh promised to return to Yemen before Feb. 21 presidential elections as the head of his party.
Some in Yemen suspect Saleh is still trying to slip out of the deal and find ways to stay in power, even if it's behind the scenes.
Even since the protests against his rule began a year ago, Saleh has proved a master in eluding pressure to keep his grip, though over the months his options steadily closed around him. He slipped out of signing the accord for the power handover three times over the months before finally agreeing to it.
He was badly burned in a June explosion in his compound in Sanaa. He received medical treatment in neighboring Saudi Arabia for three months. American officials had hoped he would remain there, but the Yemeni leader returned home and violence worsened anew.
His maneuvering and the turmoil on the ground left the United States struggling to find a stable transition in the country to ensure a continued fight against Al Qaeda militants based in the country, who make up the most active branch of the terror network in the world. Saleh was a close ally of Washington in the fight, taking millions in counterterrorism aid.
During the past year of turmoil, Al Qaeda-linked militants outright took control of several cities and towns in the south, including Zinjibar, the capital of Abyan province.
On Friday, government forces battled with the militants near the town of Jaar, which they also control. At least five people were killed in the fighting, Yemeni security officials said Saturday, speaking on condition of anonymity because they were not authorized to talk to the press.