Woman convicted for having sex on crowded Florida beach will avoid jail time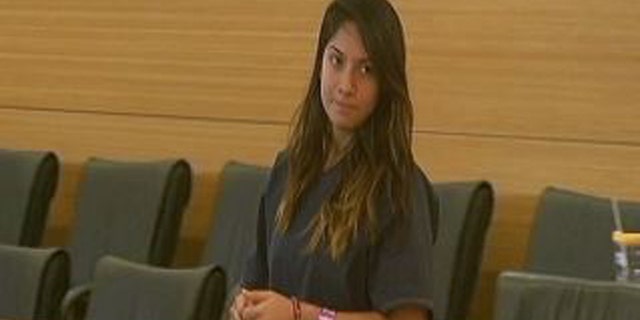 NEWYou can now listen to Fox News articles!
BRADENTON – A woman convicted of having sex on Bradenton Beach won't do any prison time.
Elissa Alvarez on Wednesday received credit for time served. She will have to pay court costs and she will be labeled a lifetime sex offender — but no prison time.
A jury convicted Alvarez and Ben Caballero of lewd and lascivious behavior when the two were caught having sex on Bradenton Beach last year.
Based on a state attorney's office recommendation, Alvarez agreed to pay $200 in Bradenton Beach Police investigative costs and $100 in court costs and to register as a lifetime sex offender.
The damning evidence against the canoodling couple was a video shot on a bystander's phone that show Alvarez – in broad daylight – straddling Caballero and moving about in sexual manner on the beach. Witnesses at the one-and-a-half day trial also said that a 3-year old girl saw the pair getting frisky.
She served 22 days in Manatee County Jail and will get credit for that time served.
With no prior run-ins with law enforcement, the court agreed to withhold adjudication meaning she will not be convicted of lewd and lascivious behavior, a charge that would've been on her record.
"To say that she's learned her lesson would be an understatement," her attorney Gregory Hagopian said. "She never ever intended for this to hurt anybody, for any children to be involved, and now she'll have to live with this for the rest of her life."
Hagopian alluded to an appeal as the next step "to rectify" the situation.
Before her boyfriend, Ben Caballero, can consider an appeal, he has to be sentenced.
Assistant State Attorney Anthony Dafonseca was ready to go with his sentencing recommendation of 2.5 years, lifetime sex offender and probation once out of prison, but Caballero's attorney, Ron Kurpiers, needed additional time.
"Two-and-a-half is fantastic," he said. "We'd be stupid not to agree to that, but there are some other factors. Sex offender is a big issue, period of probation is a big issue that we still have to talk about and see if we can work it out."
Kurpiers and Dafonseca agreed to a sentencing date of July 5 so Caballero's family can be present in court, and Kurpiers can question two character witnesses in front of the judge.
Before the trial, both Caballero and Alvarez were offered plea deals to avoid trail. Both declined.
Those deals are very similar to their current sentencing situation.
Early on, Dafonseca said he offered Alvarez a lesser charge (possibly a misdemeanor), no designation as a sex offender and probation in exchange for cooperation and a recorded statement about what actually happened.
Because of Caballero's felony conviction of trafficking cocaine – which he served about eight years for – Dafonseca said they offered him a lesser charge, 2.5 years in prison and no sex offender status (just probation).
For more stories like this visit, Fox 13 News.
Like us on Facebook
Follow us on Twitter & Instagram