William Bratton, The Incoming NYPD Chief, Says Stop And Frisk Should Be Used Judiciously, Like Chemotherapy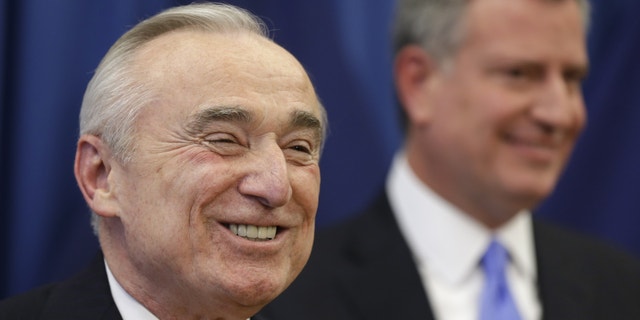 William Bratton, the newly appointed New York City police commissioner, will inherit a department that is under intense scrutiny for its use of stop and frisk — a policing tactic he has utilized in every stop in his decorated career.
Mayor-elect Bill de Blasio is giving Bratton, 66, a second shot at running the nation's largest police force. He served as commissioner under Mayor Rudy Giuliani from 1994 to 1996, a tenure widely lauded for a swift and dramatic reduction in crime in the Big Apple.
Announcing his appointment on Thursday, Bratton reiterated his support for stop and frisk, but likened it to chemotherapy, saying that it must be utilized in proper doses.
"We have a situation in this city at this time that is so unfortunate," Bratton said. "At a time when police and community should be so much closer together, that there should be a bond of legitimacy and trust between them, it's not the case in so many communities in this city. It's unfortunate. But it can be corrected."
De Blasio downplayed statistics that show that the number of stops surged during Bratton's term as head of the Los Angeles Police Department between 2002 and 2009. The mayor-elect, one of stop and frisk's most vocal critics, insisted that the new commissioner is the right man to further the city's public safety gains while improving police-community relations.
"The community came to understand that the stops that were necessary were being done for a good reason," de Blasio said. "There was that communication, that sense of legitimacy, and an appreciation."
To illustrate his commitment to improving relations with the community, Bratton displayed the children's book "Your Police," which he said he began checking out regularly from the Boston Public Library as a youth.
"I've taken this book everywhere I've ever gone, every department. It's always proudly displayed, because it had such profound influence on me," he said. "On the last page of this book, it reads, 'We must always remember that whenever you see a policeman, he is your friend.'"
The stop-and-frisk tactic allows police to stop anyone acting suspicious. Its supporters, like outgoing Mayor Michael Bloomberg and Police Commissioner Raymond Kelly, believe it has driven down crime, while its critics believe it unfairly targets minorities and has splintered relations between police and communities of color.
"The overuse of stop and frisk, the unconstitutional use of stop and frisk, the targeting of young men of color regardless of whether they had done anything wrong, that's going to end," said the mayor-elect, a Democrat, who takes office Jan 1. "We're not going to proceed with a policy where hardworking, law-abiding young men of color are singled out."
Last year, New York City reported 414 murders, a record low, and this year is on pace to be lower still.
Based on reporting by The Associated Press.
Follow us on twitter.com/foxnewslatino
Like us at facebook.com/foxnewslatino