Michael Phelps Shoots Commercial With Pelé In Brazil; Rumors Swirl Of Olympic Comeback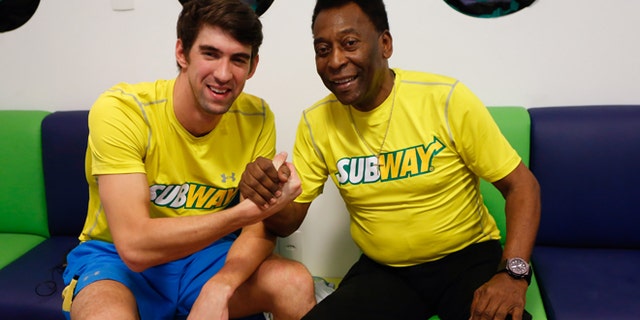 Swimming legend Michael Phelps, winner of the most medals in Olympic history, made his way this week to São Paulo to shoot a commercial with Brazilian soccer legend Pelé, fueling more rumors of his return to competitive swimming in the 2016 Rio games.
While Phelps took time to shoot a commercial for Subway and conduct a fitness clinic alongside Pelé, the media following his South American sojourn hounded the swimming icon about buzz over his potential return to the pool.
Phelps coyly deflected a question from French news agency Agence France-Press about his alleged return, saying that it was "the million dollar question."
"I've said 100 times if I feel like coming back ... I could," he added. "But I'm not saying I am going to."
If Phelps plans to get back into the sport, he has certainly lined up his prospects. Long-term coach Bob Bowman fueled speculation of a comeback for the star last month by revealing the multiple champion signed up for drug-testing in May, which would allow Phelps to return to competitive swimming in March.
For his part, Phelps has said that he is only looking to get back in shape and not back into the competitive arena.
The trip to shoot the commercial for Subway was the American swimmer's third trip to Brazil in 14 months. On his last trip – eight months ago – he gave swimming tips to children from the Rocinha favela in Rio de Janeiro.
This time, while in São Paulo, Phelps said he was happy to see all the young fans come to meet him and Pelé.
"I always enjoy interacting with kids, and to be with a legend like Pelé makes it even better. The kids were so engaged when Pelé walked into the room," he said. "Being healthy and staying active is very important to me and I want to teach the kids the same message."
Follow us on twitter.com/foxnewslatino
Like us at facebook.com/foxnewslatino