Wenger fears slow progress on transfers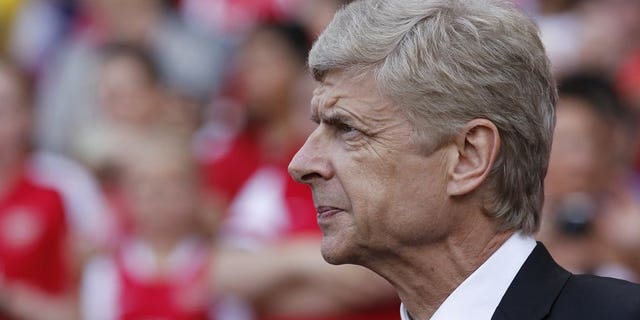 LONDON (AFP) – Arsene Wenger admits Arsenal may be forced to go into their crucial Champions League qualifier without further additions to the squad.
Wenger has experienced a frustrating close season in the transfer market with France under-20 international Yaya Sanogo the only new arrival at the Emirates Stadium.
Wenger's interest in Luis Suarez, his principal target, is ongoing but so far Arsenal have failed to persuade Liverpool to part with the striker with a bid of over ??40 million (46,038,504 euros) falling short of the Anfield club's valuation.
The start of season is less than two weeks away with the Gunners set to face a testing Champions League qualifier first leg on August 20 or 21, a handful of days after the Premier League opener against Aston Villa on August 17.
Any new signings must be registered by August 12 if they are to be eligible to play in the Champions League qualifying round, but Wenger concedes that is unlikely at present.
Speaking after his side had lost 2-1 to Galatasaray in the Emirates Cup on Sunday, Wenger said: "Let's count first on what is here and if we can add something, we will do.
"But it's very difficult to predict if something will be sorted out before we play in the Champions League qualifier.
"I think we have enough quality to achieve it with the players we have in at the moment and if we can have some more in before then, it's even better."
The Champions League draw could pitch Arsenal against a number of strong sides including PSV Eindhoven and Real Sociedad.
And Wenger added: "It's difficult. It's a stressful situation but we did fight very hard to be in that situation and now it's time to take advantage of the fact we finished fourth and we have an opportunity to qualify.
"Of course it's always very tricky to qualify but we have the experience of having done it before."
Wenger will continue to target new signings but he played down talk of a move for former captain Cesc Fabregas.
A clause in the player's contract gives Arsenal first refusal should he opt to leave Barcelona but Wenger denied this was likely, insisting he had no knowledge of reports Barca coach Gerardo Martino had said the player's future lay in his own hands.
"I haven't heard that comment at all, and I haven't read it so I'm always a bit cautious to answer what a manager is supposed to have said," Wenger said.
"What I know is Fabregas will stay one more year at least in Barcelona. That's the information I have. If that changes, I don't know. But that's what I have been told."
Wenger also confirmed Gervinho was close to sealing a move to AS Roma, while Marouane Chamakh is expected to tie up a permanent switch to Crystal Palace.
Arsenal's pre-season plans were disrupted by Didier Drogba who scored twice to secure a 2-1 win and the Emirates Cup for Galatasaray after Theo Walcott had put the Gunners ahead.
Drogba's first came from the penalty spot after the striker had fallen easily under a challenge from Ignasi Miguel and Wenger added: "I think honestly the penalty was very, very soft. It was a classic Drogba.
"We had a contrasting performance. In the first half we had a good performance. We were in control.
"They didn't look dangerous and we were not capable of maintaining physically that pace and control.
"In the second half we dropped. It's a long time since I have seen two such different halves. But it was a good preparation."
Galatasaray coach Fatih Terim was delighted with Drogba's contribution, saying: "Hopefully Drogba will continue scoring goals for us. He's a very important player and we need his goals.
"We are happy we scored this goal in a Galatasaray shirt. Hopefully he will continue to improve."