Villagers in Nepal return to homes after river gets unblocked after landslide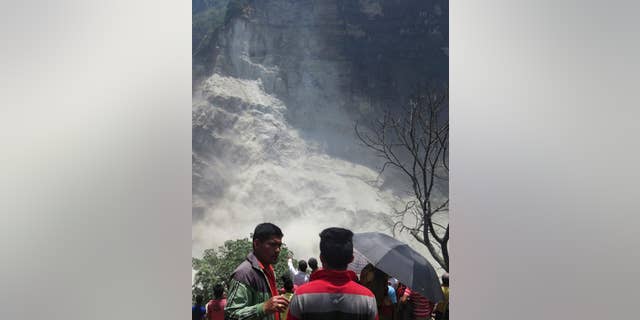 KATHMANDU, Nepal – Thousands of villagers in northwestern Nepal were able to return to their homes Monday after a mountain river swept away debris from a landslide that had blocked it, allowing waters to flow normally again.
The landslide before dawn Sunday dammed up the Kaligandaki River and created a lake 2 kilometers (1.2 miles) long. Thousands of villagers fled their homes, fearing flash floods. It happened in an area north of Beni Bazaar, about 200 kilometers (125 miles) northwest of the capital, Kathmandu.
Overnight, the river washed away rocks and other debris, and by Monday morning, river was flowing at its normal level, said government administrator Tek Bahadur K.C.
The landslide was not caused by an aftershock to major earthquakes that struck Nepal on April 25 and May 12, which together killed nearly 8,700 people and injuring 16,800 others.
In 2012, dozens of people were killed when an avalanche held back the nearby Seti River, which then burst through the snow blockage and sent water gushing through villages along its banks.