Video of Latina cop goes viral with heartfelt post on why she goes to work every day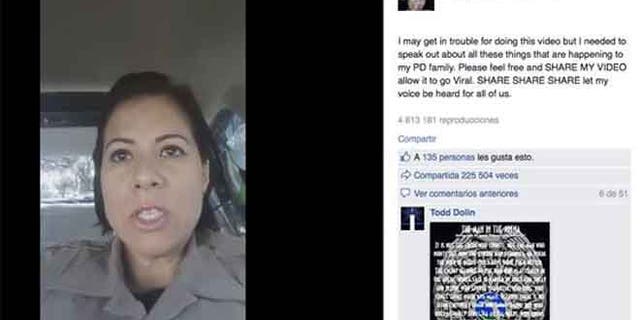 Miami-Dade Police Officer Lydia Marquez, who became an overnight sensation after her Facebook video telling her 4-year-old son why she goes to work, says it took her days to gather the courage to come out and speak on behalf of the police officers around the country.
"I spoke for those of us who couldn't and I'm proud of that," she told CBS News over the weekend. She said she realized that even if other officers couldn't speak their minds, she had to.
As of Tuesday morning, nearly 11.5 million people had viewed her emotional yet articulate four-minute video recorded with her phone while seated in the driver's seat of her patrol car.
"Thank you so much for everyone's support. It's been phenomenal," she told CBS on Friday, a day after the video was first posted.
Marquez, a 20-year-veteran of the Miami Dade Police Department, has two sons ages 2 and 4. She was nearly in tears when she related how her oldest had asked her that morning "the glorious why" she was going to work.
"Because mommy cares," she said she responded. "Mommy cares. I care."
From there, she went on to explain she understands the risks her job involves and that she does it regardless of who is in need.
"When you call 911, the person who answers the phone doesn't stop you and ask you any of those questions [about ethnicity, race or gender]," she said. "No. They ask you, 'What is your emergency? How can we help you?' And you tell him what the issue is because if you call 911 it's because you need help. "
Marquez acknowledged she could get into trouble for the video it but said she needed to speak out about "all these things happening to my PD family."
Marquez is referring to officers recently shot dead while on duty, the latest of which was 52-year-old cop Charles Joseph Gliniewicz, from Fox Lake County, Ill.
"I swore an oath," she said. "I swore that I was going to protect and serve all people, not blacks, not whites … the oath is color-blind."