Venezuela's Chavez fights to stay in power amid tough re-election campaign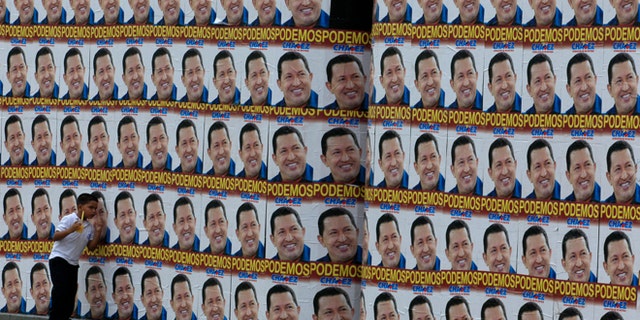 Venezuelan President Hugo Chavez is rallying crowds to give him a crushing victory in weekend elections, while rival Henrique Capriles says he is confident of pulling an upset, AFP reports.
In what may be the toughest re-election campaign of his 14-year socialist rule, Chavez has said he would accept defeat, although he views that possibility as less likely than -- in a Biblical passage he loves to quote -- "a camel passing through the eye of a needle," Reuters reports.
Capriles says he trusts the president's willingness to step down if he loses, but more radical opposition activists believe Chavez would do anything to stay in power, from rigging the vote to sending armed supporters into the street, Reuters reports.
There is not an official international monitor system to prevent fraud in the election, but the UNASUR group of South American nations is sending an observer team, and Capriles' Democratic Unity coalition will be placing witnesses at almost all the voting booths, as will the government.
The race has tightened as 40-year-old Capriles, a state governor, is energizing large crowds as well and becoming increasingly aggressive in his attacks on Chavez's policies.
Victory would allow Chavez to continue a wave of nationalizations and consolidate control over the economy, though a recurrence of his cancer would weaken his leadership and possibly give the opposition another chance, Reuters reports.

"We've never had a candidate like him," gushed shopkeeper Andrea Gomez, 42, screaming at Capriles like a teenage girl at a pop concert as he went by, blowing kisses during an open-top cavalcade along the Caribbean coast north of Caracas.
"It's like Chavez in 1998, when he won the presidency. But Henrique has surpassed that. He is closer to the people."
Capriles has clearly made big inroads among the working class, where Chavez has his power-base, but he still faces suspicions -- gleefully stoked by the government -- that he will end Chavez's popular welfare programs and is too much of a rich kid.
Chavez, 58, is still a formidable campaigner and even his opponents admit he has a genuine emotional connection with many Venezuelans, especially the poor.
Yet while a majority of big pollsters still put Chavez in front, two -- Consultores 21 and Varianzas -- have Capriles just ahead, and his numbers have inched up in others.
Opposition activists insist the poll numbers are distorted by a "fear factor" -- for instance, government employees wary of reprisals if they show support for Capriles -- and therefore underestimate their man's real popularity.
Either way, Capriles seems certain to have the best tilt at Chavez that anyone has managed during his 14-year rule.