Venezuelan protests propelled mostly by dropout students who can't afford college
CARACAS, VENEZUELA – People are dying every day on the streets of Venezuela and yet protesters continue to come out in Caracas and other cities to demand an election that they say would oust President Nicolás Maduro.
So far, 50 people have died since April 1st, when a Supreme Court ruling strapping the legislative body of most of its constitutional powers triggered an unprecedented wave of protests.
On Saturday, the Venezuelan opposition marked its 50th consecutive day of protests.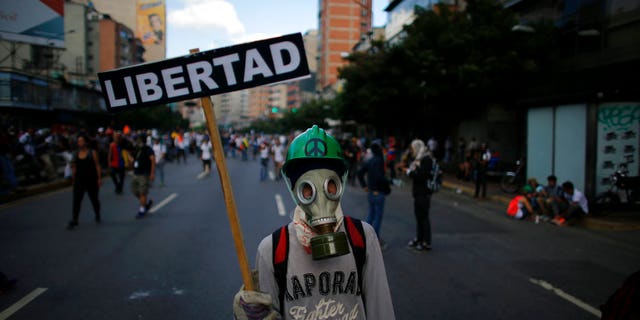 "The only way they get me off the street is dead," said Johan Guerra, who has not missed a protest since April 6, to Fox News.
Guerra is one who regularly comes out to the west side of Caracas equipped with a wooden shield and a helmet, thick gloves and mouth and nose covered with a bandana to repel the National Guard's tear gas bombs.
He is among the hundreds who have been injured in the past 50 days: he has been hospitalized twice with injuries in his foot and his head.
VENEZUELA GENERAL ORDERS SNIPERS TO PREPARE FOR CLASH WITH PROTESTERS
Guerra first came out to protest against the socialist government two years ago, when he was 16. He was there, he said, when on February 12, 2014, opposition leader and now emblematic figure Leopoldo López was arrested. Guerra was locked up too.
His mother found out about her son in a telephone call.
"My mother did not know that I was protesting, she thought I was in school," Guerra said. "She learned that day because she was called from jail."
Guerra spent most of his four-month imprisonment term in a cell of the national intelligence service, Sebin, but for two days he was put in a high security prison where his parents had to pay to keep him safe, fed and clean.
VENEZUELAN 'DAUGHTERS OF CHAVISMO' EXPOSED LIVING LAVISHLY OVERSEAS
Those 48 hours are etched in his mind.
"They tortured me, they rolled me up in mattresses so that I would not turn purple when they beat me," he recalled. "But I did break two ribs."
He held off protesting for the next two years, but now he says his fears have dissipated as he realizes something needs to be done to save his country from its worse crisis in history. His mother is not happy.
"My mom does not support me, but she knows I'm doing it for her," he said, resolutely. "She suffers from hypertension and she doesn't have access to medication," said Guerra, who dropped out of college because of high tuition prices.
Mostly students, the young men have put academic work on hold and say they are determined to stay in the street until Maduro allows a general election.
TRUMP ADMIN TIGHTENS GRIP ON VENEZUELA
"We are from humble families. We have nothing to lose," said Alfredo, 28, to Reuters. "I don't even have enough for a bus fare or food. That tyrant Maduro has wrecked everything."
Alfredo said he stopped studying to man barricades and says he runs a unit of 23 "resistance" members.
Others are less politically motivated and are joining the protests to complain about the street crime — with 21,752 murders in 2016, Venezuela is now one of the world's deadliest countries.
After the murder in early May of musician Armando Cañizales, a violist with the National System of Orchestras, a group of young musicians took to the streets with their instruments in hand.
"I am here so that musicians do not fear that they will get killed just to have their instrument stolen," said Manuel Sanchez, 17. "The government is not only killing us in the protests, they are also killing us by allowing this kind of insecurity."
The opposition has an agenda of daily protests that includes citizen assemblies and more street demonstrations. The street clashes engulfing the country appear to be growing increasingly violent, with both security forces and youth protesters looking more unruly.
Miguel Verde, 52, said the street resistance seeks to wear out the government.
"They have the weapons, but we have the people," he said. "All they have left is to kill us all, but there are not enough bullets for that. "