Venezuelan consumers embrace all-natural, eco-friendly alternatives amid store shortages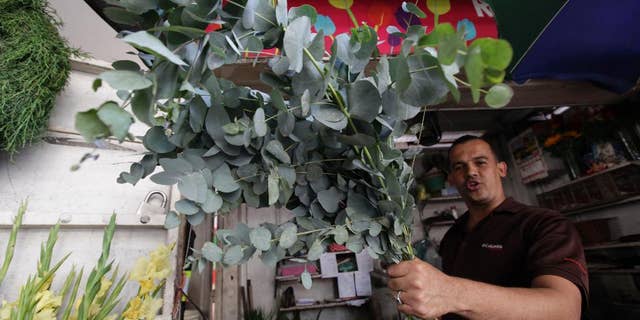 CARACAS, Venezuela – Cloth diapers, baking soda to make deodorant and vinegar to mop the floor. That's not the shopping list of an eco-friendly hipster, it's how an increasing number of resourceful Venezuelans are making do in a time of severe shortages.
With the South American country entering what looks to be a third year of empty store shelves amid a deepening economic crisis, Venezuelans are turning to old-timey, all-natural methods to replace their favorite products.
At a smog-choked makeshift market under a downtown overpass, street vendors compare their preferred method of keeping the insects away, now that DEET bug spray is all but extinct here. The matter has taken on new urgency as a painful mosquito-borne illness, chikungunya, sweeps the country.
One peddler says she cooks up a clove-scented oil and puts it near her windows. Another uses Vitamin B lotion as repellant. And a bank attendant doing a bit of shopping chimes in that she burns citronella candles.
Lilian Ribas, who makes a living selling loudly colored tank-tops and hot pants, burns a coil of chrysanthemum incense to protect herself and her two sons. It's not a question of health or environmental concern, but of making do.
"Here, you just have to use what you find. There's no more question of choice," she said.
Home to the world's largest proven oil reserves, Venezuela is nothing if not a consumerist culture, despite the anti-materialist ideology proffered by the nation's 14-year-old socialist revolution. In the 1970s, Venezuelan shoppers in Miami earned the nickname "dame dos," Spanish for "give me two." And with the highest per-capita gas consumption in Latin America, the country isn't about to win any recognition for its environmentalism.
But that same oil-dependence has led to a cycle of booms and busts that make Venezuelans especially adept at improvising during tough times.
"You have had a century of ups and downs, and instability. People get used to certain products. When they are not available they figure out a different way," said David Smilde, a senior fellow at the Washington Office on Latin America who has spent decades researching in Venezuela.
To get the creative juices flowing, blogs and newspapers have begun running instructions for making everything from vinegar-based cleaning products to condensed milk using ingredients that are still available, either because they're made locally or an importer has worked out a deal.
Alicia Colmenarie, a retired preschool teacher, blends baking soda with lemon to make a deodorant stand-in for herself and her teenage daughter. She reminisced about her nice-smelling, quick-drying Dove antiperspirant while clutching a half dozen eucalyptus stalks she'd bought at the market to burn at home as a mosquito repellant.
A few blocks away, a saleswoman in a children's store had just re-stocked a display of cloth diapers. Clerks say the diapers sell out every month lately, as the disposable alternative becomes harder to find.
"People are having to go back to the old ways," saleswoman Eufrocena Meneses said.
"I had my daughter 32 years ago, and I always used cloth diapers and washed them," replied co-worker Carmen De Leal, arms crossed. "Now the women have gotten lazy."
In Cuba, Venezuela's closest ally, making do has become second nature. There, a population that has been grappling with shortages since the 1960s substitute lard for olive oil, punch holes in water bottles to make showerheads, and keep their vintage cars running with surprisingly functional homemade batteries.
Such hardships have not yet arrived in Venezuela. Those with the means to travel abroad still bring back as many scarce items as excess baggage fees will permit. Others circulate pleas through Twitter or turn to one of the courier services that have sprung up Miami.
But everyone is also learning to do without.
In some ways, the turn toward home remedies is the fulfillment of the late President Hugo Chavez's dream to bury mindless consumerism — a key, albeit largely ignored, element of his revolution.
Last year, state-run TV aired a segment promoting an "organic" re-usable cloth sanitary napkin of the kind now in vogue on many U.S. liberal arts campuses. The presenter urged women to reject "the savage commercial cycle of capitalism."
The strong negative reaction to that now-infamous television spot speaks to Venezuelan's continuing attachment to modern, industrial-made products. But pads are still easy to find on drugstore shelves. Should they go missing, the "socialist sanitary napkin" may too have its day.
___
Reporter Andrea Rodriguez contributed from Havana
Follow Hannah Dreier on Twitter: https://twitter.com/hannahdreier