Venezuela, Russia cement ties during high-profile Moscow meetings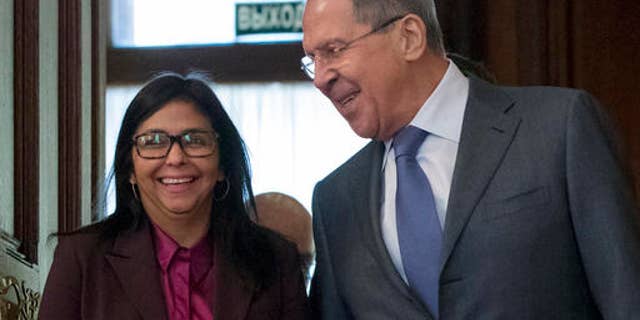 The Venezuelan government received a pat on the back from Russia Monday, with its foreign minister expressing the Kremlin's strong support for Nicolas Maduro's socialist rule and a willingness to expand the existing bilateral cooperation.
In a meeting with his Venezuelan counterpart Delcy Rodriguez, Serguéi Lavrov also spoke against foreign interference in the country's internal affairs and reiterated Russia's commitment to a 2016 deal to reduce oil production.
IN VENEZUELA, WOMEN SELLING HAIR TO MAKE ENDS MEET
"Foreign pressure is unacceptable," Lavrov said during a joint press conference after the Moscow meeting. "It is very important to avoid artificially-fueled tensions and protests which violate Venezuela's laws and may lead to dangerous consequences for both Venezuela and its neighboring countries," he added, as reported by Russian news agency Tass.
Rodriguez said President Maduro is open to dialogue in an effort to heal the deeply divided country, as opposed to the "extremist opposition that only listens to Washington's mandates."
Russia's top diplomat expressed full support to Maduro's socialist government and the Chavista cause.
"We reaffirm our solidarity with the friendly people of this country [and] our strong support for the government's course of action to prevent a destabilizing situation and establish a national dialogue," Lavrov said.
'ANTI-COUP SQUAD' IN VENEZUELA MONITORS, HUNTS OPPONENT
The two ministers lauded last year's agreement between OPEC and non-OPEC, including Russia, to limit the extraction of oil to stabilize prices.
"We share the view that this agreement will help stabilize the market situation," said Lavrov, who stressed that "Russia has already begun to reduce production gradually."
The Venezuelan foreign minister said Russia's commitment to cut its production to 300,000 barrels a day is "decisive" in the deal's success.
Both officials highlighted the ongoing cooperation in various fields, including nuclear medicine, agriculture and the production of vaccines and drugs in Venezuela.
"Our relations are on the rise, the presidents communicate regularly and confidentially," Lavrov said. "The high-level commission, which oversees the entire array of multifaceted trade, economic and investment cooperation between Russia and Venezuela, is working," he added.
Rodríguez , who is traveling with oil minister Nelson Martínez, was scheduled to meet Monday afternoon with Russian Energy Minister Alexand Novak.
EFE contributed to this report.