Venezuela rules out recall vote in 2016, locking in Chavismo in power until 2019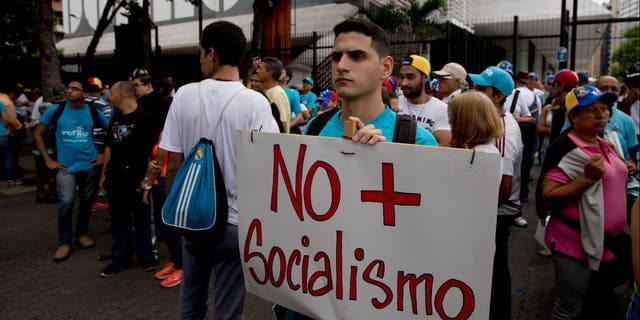 CARACAS, Venezuela (AP) – Election officials on Wednesday quashed the opposition's hope of holding a recall referendum that could wrest Venezuela's presidency from the ruling socialist party.
Officials said a national vote on removing President Nicolas Maduro could take place if the opposition gathers enough signatures over the course of three days at the end of October, but add that a referendum would be held in the first quarter of 2017.
That timing is crucial. A successful vote to oust Maduro this year would trigger a presidential election and give the opposition a shot at winning power. If Maduro were to be voted out in 2017, though, his vice president would finish the presidential term, leaving the socialists in charge.
With Venezuela's economy in crisis, with soaring inflation and widespread shortages, polls say a majority of Venezuelans want Maduro gone.
Critics of Venezuela's 17-year left-wing administration have made the recall their central political issue. The opposition staged its largest street demonstration in years Sept. 1 with a rally in Caracas demanding a referendum against Maduro be held in 2016.
The spokesman for the opposition coalition, Jesus Torrealba, said at a news conference Wednesday night that the opposition would continue to demand a recall vote this year.
"The government is scared to face the people in elections, in the street, in any civic arena," he said.
Socialist party leaders have been saying all along that any recall vote would not take place this year.
Other conditions laid out by elections officials Wednesday were also unfavorable to the opposition.
Maduro's opponents will be allowed to gather voter signatures Oct. 26-28, with 20 percent of Venezuela's registered voters needed to call a referendum. The opposition previously gathered signatures from 1 percent of the electorate, which allowed them to go to the second phase of signature collection.
But in a blow to the recall effort, officials said that for the campaign to succeed it must get signatures from 20 percent of the electorate in each of Venezuela's 23 states. Opposition leaders say they should only have to gather signatures from 20 percent of the voter roll nationwide, since some states are very remote and sparsely populated, and it's the popular vote that determines who wins the presidency.
The opposition asked the government to provide 20,000 voting machines that are used to register and verify signatures, but officials will provide only 5,400.
The campaign also wanted to use the machines all day. Instead, the government will open polling stations for just seven hours daily.
Even if the election is delayed until next year, the three-day signature gathering process could be the opposition's best chance at getting supporters into the streets for a show of strength.
Opposition leader Henrique Capriles, who has led the recall campaign and is considered to have a strong shot at winning a presidential election, responded to Wednesday's announcement by pointing to opinion polls that suggest 80 percent of Venezuelans would vote against Maduro.
"They are the 20%! We are the great majority, the 80%! We are millions and we are going to make them feel it!" he wrote on Twitter.
Like us on Facebook
Follow us on Twitter & Instagram