US warships sail near disputed islands in South China Sea, officials say
NEWYou can now listen to Fox News articles!
Two U.S. Navy warships sailed near South China Sea islands claimed by China after Beijing landed a nuclear-capable bomber and deployed missiles there, defense officials told Fox News on Sunday.
The U.S.S Higgins, a guided-missile destroyer, and the U.S.S. Antietam, a missile cruiser, conducted "freedom of navigation" operations near the Paracel Island chain, including Woody Island, where Beijing has operated an airbase since the 1990s.
"U.S. forces operate in the Asia-Pacific region on a daily basis, including in the South China Sea. All operations are conducted in accordance with international law and demonstrate that the United States will fly, sail, and operate wherever international law allows," Pentagon spokesman Lt. Col. Chris Logan said in a statement to Fox News.
China's Defense Ministry said Chinese ships and aircraft were sent to urge the U.S. warships to leave Chinese territorial waters, Reuters reported. It added the warships entered without permission.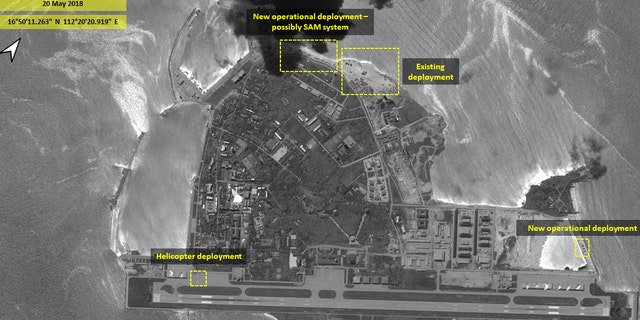 The patrol near the contested island came days after the Pentagon disinvited Beijing from participating in a large multinational exercise next month following reports the country was again secretly beefing up its military operation and during an ongoing trade dispute.
China last took part in the bi-annual Rim of the Pacific (RIMPAC) exercise in 2014 and 2016, which dates back to the 1970s.
US DISINVITES CHINA FROM MILITARY EXERCISES AFTER COUNTRY CONTINUES 'MILITARIZATION' OF DISPUTED ISLAND
The move came after Fox News exclusively reported that the Chinese military had deployed another advanced surface-to-air missile system to one of its contested islands in the South China Sea.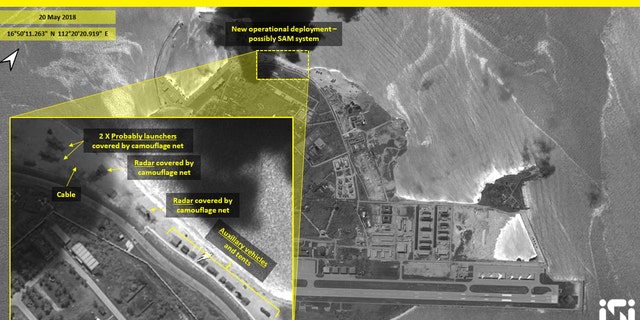 Satellite images taken last Sunday by ImageSat International show two new launchers on the northern shore of the Island, next to a radar system, all covered by a camouflage net.
The net is usually used to conceal stealthy activities that might interest other armies or security teams. It also makes it harder to identify what surface-to-air missile system it is. But ISI analysts think it's similar to the HQ-9 system that was deployed back in February 2016, and was first reported by Fox News. The HQ-9 air defense system, has a range of 125 miles, which would pose threat to any airplanes, civilians or military, flying close by.
The U.S. vessels' maneuvering operations on Sunday were carried out near the islands of Tree, Lincoln, Triton and Woody, according to Reuters.
Woody Island and the Paracel Islands are not part of China's man-made islands built atop former reefs in the Spratly chain further south.
CHINESE LAND BOMBER IN SOUTH CHINA SEA, POTENTIALLY ESCALATING TENSIONS OVER DISPUTED ZONE
The South China Sea remains a contested area, with surrounding countries – Brunei, Malaysia, the Philippines, Taiwan and Vietnam – disputing China's territorial claims.
Earlier this month, China riled Vietnam and the Philippines by landing bombers on a disputed set of islands in the South China Sea.
Pentagon officials told Fox News that U.S. forces operate in the region on a daily basis.
"We conduct routine and regular Freedom of Navigation Operations (FONOPs), as we have done in the past and will continue to do in the future," Logan said.
Fox News' Yonat Friling and Jennifer Griffin contributed to this report.