US skater Rippon wants Pence spat to take backseat to games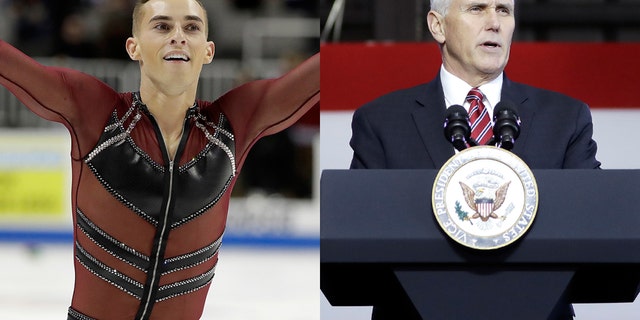 Openly gay U.S. Olympic figure skater Adam Rippon doesn't want his disagreement with Vice President Mike Pence to distract from his ultimate goal: performing at his best and making his country proud at the Winter Olympics in Seoul.
Rippon, who is one of two openly gay men competing for the U.S. at the Winter Olympics, took aim at Pence in January for what the skater said were the vice president's anti-gay views. However, the figure skater recently said that he wants to focus on the games.
"I don't want to make this too much for my competitors and for my teammates," Rippon said after an afternoon practice session Thursday. "I'm just kind of focused on the competition. The opening ceremony is tomorrow. I don't mind talking about it but I don't want to distract my teammates."
What Rippon jokingly referred to as "brouhaha" began with an interview with USA Today last month in which he called Pence, among other things, a hypocrite for espousing Christian virtues while standing by some of the divisive and inflammatory statements made by President Donald Trump.
"If he's OK with what's being said about people and Americans and foreigners and about different countries," Rippon said, "I think he should really go to church."
The Olympian also refused an invitation to meet with Pence, USA Today reported, although the vice president's office later denied that Pence had sought to meet one-on-one with Rippon.
Rippon decried Pence's support for funding conversion therapy after USA Today informed him that he could meet the vice president.
During his successful 2000 congressional run in Indiana, Pence's website stated his support for directing resources "toward those institutions which provide assistance to those seeking to change their sexual behavior" – a plank that critics have said referred to conversion therapy, rather than safer sex practices.
Conversion therapy, which has the goal of changing a person's sexual orientation, has been widely discredited by most mainstream medical organizations and has been banned by eight states.
On Wednesday, Pence took aim at that story.
"Headed to the Olympics to cheer on #TeamUSA," Pence tweeted. "One reporter trying to distort 18 yr old nonstory to sow seeds of division. We won't let that happen! #FAKENEWS. Our athletes are the best in the world and we are for ALL of them! #TEAMUSA."
Pence, who was sent by the White House along with his wife, Karen, to lead the U.S. delegation at the Olympic Games in Pyeongchang from Feb. 9-25, then addressed Rippon directly.
"@Adaripp I want you to know we are FOR YOU," Pence wrote. "Don't let fake news distract you. I am proud of you and ALL OF OUR GREAT athletes and my only hope for you and all of #TeamUSA is to bring home the gold. Go get 'em!"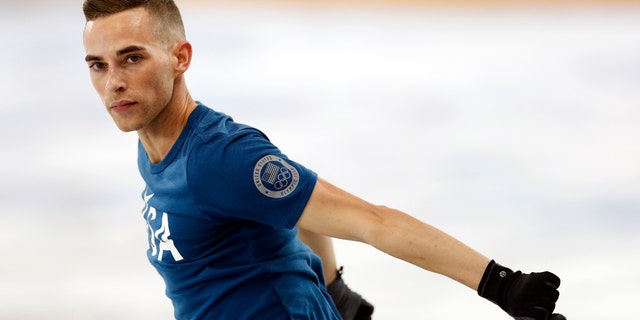 However, the vice president has not publicly condemned the practice of conversion therapy.
"I personally have nothing to say to Mike Pence," Rippon wrote in January. "Given the chance to talk after the Olympics, I would want to bring with me people who's [sic] lives have been hurt by legislation he has championed."
Pence has been considered an opponent of the LGBTQ community after the conservative vice president signed the Religious Freedom Restoration Act while serving as governor of Indiana.
Still, the figure skater left the door open to having a post-Olympics chat with Pence.
"I mean, after the competition I'll have an open conversation," Rippon said, "but the opening ceremony is tomorrow. I'm really focused on the competition. I've waited 28 years to get here. I'm trying to stay focused. It's my opportunity show the world what I've got and represent my country."
The 28-year-old American will make his debut Monday in the free skate portion of the team event for the medal-contending U.S. squad, then he'll compete later this month with teammates Nathan Chen and Vincent Zhou in the individual competition.
Rippon and U.S. skier Kenworthy, who is also openly gay, both say they would skip a White House visit if Team USA is invited.