US, Russia agree on 'steps' in Syria; won't say what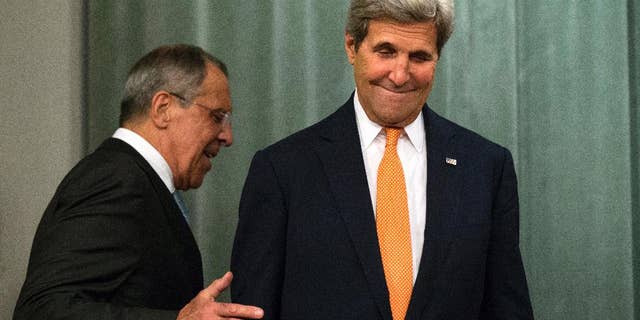 NEWYou can now listen to Fox News articles!
MOSCOW – U.S. Secretary of State John Kerry says the United States and Russia have agreed on "steps" that will reduce violence in Syria. But he wouldn't detail those steps.
Kerry spoke to reporters as he finished more than 10 hours of negotiations with Russian Foreign Minister Sergey Lavrov.
They have been discussing possible military cooperation against the Islamic State and particularly al-Qaida in Syria.
Russia backs Syrian President Bashar Assad. U.S. supports rebels fighting against him.
But Kerry on Friday struck a conciliatory note.
He said both Assad's forces and the Nusra Front, al-Qaida's Syrian franchise, have been responsible for a deteriorating truce. He said other opposition forces, too, have sometimes been culpable in violations.