US, partners to push for global sanctions on Assad, but need Russian, Chinese help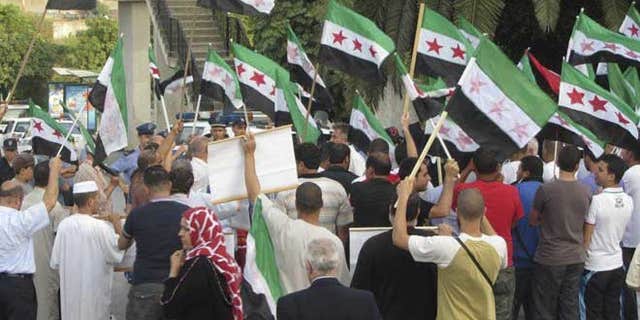 PARIS – The United States and its European and Arab partners will threaten the Assad regime with global sanctions if it fails to quickly implement a Syrian peace plan that includes the appointment of a new interim government, U.S. officials said Thursday on the eve of an 80-nation conference.
The threat isn't new but officials believe it may carry added bite due to Russia and China's recent willingness to discuss Syrian transition strategies after 16 months of brutal crackdowns and civil war. The minimum hope is that the two veto-wielding U.N. Security Council powers might back elusive international economic sanctions if President Bashar Assad ignores the call for peace.
Diplomats at the United Nations already are working on a document that would demand restrictions on oil and other commercial business with Syria's government if it refuses to abide by U.N. mediator Kofi Annan's plan for a cease-fire and the creation of a caretaker government.
A U.N. resolution could be introduced next week, according to American officials who previewed Friday's "Friends of the Syrian People" gathering in Paris on condition of anonymity. But with neither Moscow nor Beijing in attendance, much will remain dependent on persuading the two reluctant powers to pressure Assad into action.
They've twice stood in the way of U.N. condemnations of Assad's government. And Moscow, whose sole naval base in the Mediterranean Sea is in Syria, maintains close military cooperation with Damascus.
The objections of Russia and China also effectively watered down Annan's blueprint for transition at a conference in Geneva last weekend. It grants Assad an effective veto over any interim government candidate he opposes. The opposition would gain the same power.
The formula could lead to a stalemate that plays into Assad's hands, leaving him in power while his security forces persist in what Western nations and human rights groups have described as gross human rights violations. Activists reported at least 26 people killed across Syria on Thursday in clashes between troops and rebels and government shelling across the country. They say more than 14,000 people have been killed since the revolt began.
The path to a post-Assad Syria is complicated and treacherous.
A year after President Barack Obama and many European and Arab leaders issued blanket statements calling for an end to the four-decade Assad dynasty, they now are left looking for piecemeal advances against a regime continuing to command sufficient support — at least to hold on to power, if not snuff out the rebellion — among Syria's minorities, business elite and military.
Syrian opposition groups who gathered with Arab countries earlier this week in Cairo have struggled to find unity. They are hoping their six-page "vision" for transition, complete with details on a new parliament and constitution, will allay fears that the Sunni militants leading the fight against the regime mean to grab all the power.
International sanctions form the second part of the strategy, but the Syrian opposition has been asking for military support. The Obama administration says it won't intervene militarily or provide weapons to the Syrian rebels for what it considers to be an already too militarized conflict.
"I think that we have had 12 kinds of sanctions so far and none of them affected or stopped the killings in Syria," complained Adib Shishakly, a member of the opposition Syrian National Council. "Obviously it is not working," he told The Associated Press. "A different solution needs to be discussed."
Shishakly repeated the opposition's demand that any transition begin with Assad's departure. "We cannot negotiate with the killer," he said.
Trade embargos from the U.S. and others have caused sharp inflation in Syria, but Assad's government still can rely on oil from friendly governments such as Venezuela and cash from Iran, its close ally. Such assistance remains legal, even if Washington and its allies regard it as evidence of complicity in Assad's crimes.
If Russia and China agree, the U.N. Security Council could issue a global ban on these forms of economic assistance, which Assad needs to press on with what he claims is a military battle against criminals and terrorists. Friday's meeting in Paris likely sets the stage for more tough diplomacy ahead.
___
Associated Press writer Sohrab Monemi contributed to this report.