US Navy helicopter crashes in Pacific near Guam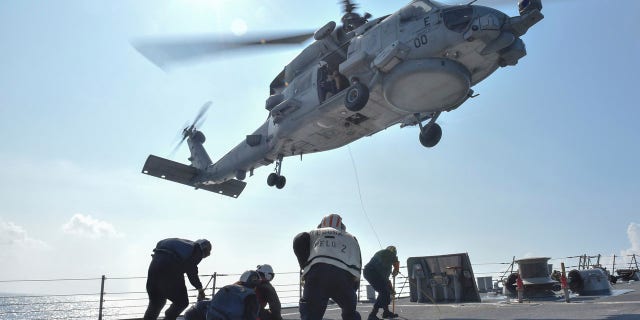 A U.S. Navy helicopter crashed in the Pacific Ocean Thursday while conducting flight operations just 24 miles east off the coast of Guam.
The entire crew, which included two pilots and one air crewman, was safely recovered by USS Dewey after their MH-60R Sea Hawk helicopter went down. The crew did not sustain any serious injuries in the crash.
It is not immediately clear what caused the helicopter to crash. There is an investigation underway.
The incident comes less than a week after a Navy F/A-1 Super Hornet crashed while attempting to land aboard USS Carl Vinson while heading north to waters off the Korean Peninsula. The pilot of that jet suffered only minor injuries.
Fox News' Lucas Tomlinson contributed to this story.