US Marines recall final hours before Saigon fell, reflect on life 40 years later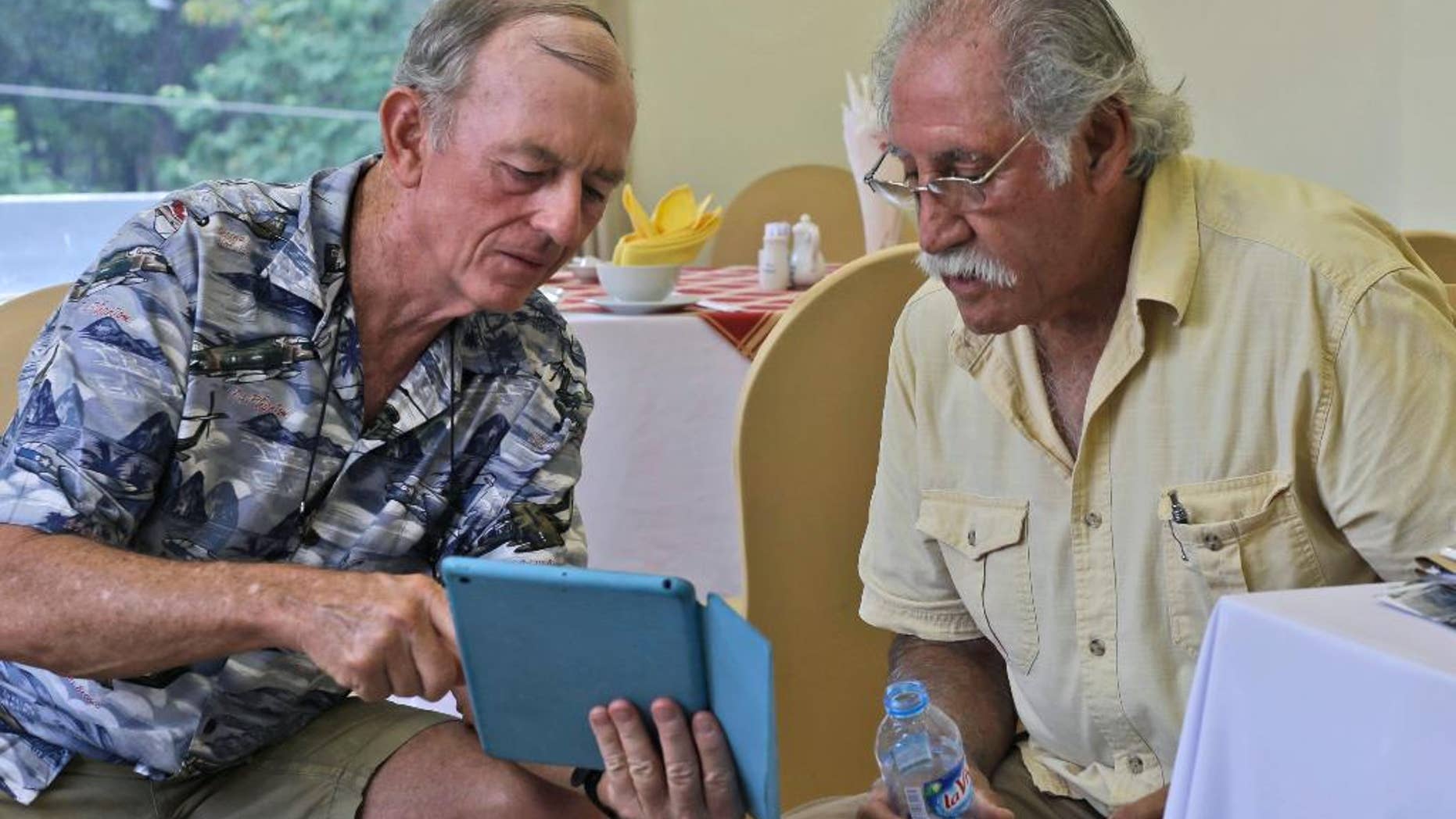 HO CHI MINH CITY, Vietnam – Snapshots of the Vietnam War, from three U.S. Marines who were among the last to leave Saigon as it fell on April 30, 1975:
___
NAME: DON NICHOLAS, 62.
HOMETOWN: Green, Ohio.
EXPERIENCE WHEN SAIGON FELL: Nicholas was sent to the attache office to guard millions of U.S. dollars before the cash was burned and the compound blown up by the Americans to keep the enemy from raiding it and obtaining classified documents. He later stood watch at the embassy and was shocked when a Vietnamese man, desperate to get into the compound, ran a spike from the gate into his foot as he climbed over the wall. Others began offering "anything and everything" to get inside.
AFTER THE WAR: Nicholas became a doctor, but then joined the Army in 2004 and went on to fight in both Iraq and Afghanistan.
ABOUT RETURNING: "I didn't want to come back," Nicholas said, lowering his head as tears filled his eyes. "My daughter sent me.
"You know, the people seem to be the same. I don't really notice any cowering because the communists are here or the police are going to beat me in the head if I say the wrong thing. I think 58,000 people (U.S. dead in the war), for what? That part angers me."
___
NAME: KEVIN MALONEY, 62.
HOMETOWN: Hollywood, Florida.
EXPERIENCE WHEN SAIGON FELL: Early April 29, 1975, Maloney found the bodies of two fellow Marines killed in a rocket attack at the defense attache compound — the war's last U.S. casualties. Later he helped load buses with Americans looking to get out of Saigon. Vietnamese tried to get on, and he let in one little boy with light brown hair and his mother, thinking the child's father was a GI.
AFTER THE WAR: Maloney became a commercial pilot.
ABOUT RETURNING: "I wanted to come back. There was a before-and-after moment in my life. When you go through an event like that, you're never quite the same as you were before."
___
NAME: DOUGLAS POTRATZ, 60.
HOMETOWN: Fullerton, California.
EXPERIENCE WHEN SAIGON FELL: Potratz also helped guard the embassy and was on the second-to-last helicopter out.
AFTER THE WAR: Potratz went on to practice law.
REMEMBERING THE LAST DAY: "We had no exit from the roof. The only way that we were going to go out was up. It was just dead silent for literally hours — about two hours — and when the sun came up, and you looked around and there were no helicopters, we didn't know what was going on."