US Marines ground all Ospreys in Japan after crash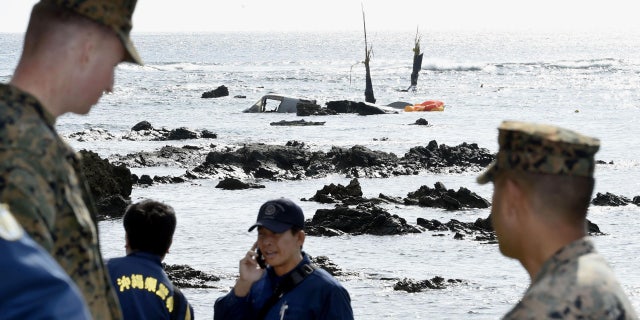 The U.S. Marine Corps announced Wednesday it would temporarily ground all Japan-based MV-22 Osprey aircraft after a crash Tuesday six miles off the coast of Okinawa.
RUSSIA, JAPAN COULD SOLVE 70-YEAR TERRITORIAL DISPUTE, PUTIN CLAIMS
The Osprey, which can take off like a helicopter and fly like a plane, was conducting a nighttime mid-air refueling operation over the Pacific when the rotor blades struck the refueling line, damaging the aircraft, Lt Gen. Lawrence D. Nicholson, the Commanding General of III Marine Expeditionary Force, said at a news conference.
"After the aircraft was unhooking, it was shaking violently," Nicholson said. "The pilot made a decision to not fly over Okinawan homes and families. He made a conscious decision to try to reach Camp Schwab and land in the shallow water to protect his crew and the people of Okinawa."
UNITED STATES, SOUTH KOREA, JAPAN VOW COOPERATION OVER NORTH KOREA SANCTIONS
All five crew members aboard were rescued but two remain in the hospital, Nicholson added. He said U.S. Marine Ospreys would return to the skies over Japan once he was "satisfied that we have reviewed our checklists and safety of flight procedures."
The crash came less than a week after a Marine Corps pilot died when his F/A-18 fighter jet crashed off western Japan. Marine Corps officials said another Osprey had a landing gear problem elsewhere on Okinawa during training Tuesday, although there were no injuries in that incident.
Tuesday's crash was the eighth such incident involving the Marine Corps in 2016 during a training operation. There were six Marine crash incidents in 2015 and three the previous year.
The Osprey was based at Marine Corps Air Station Futenma. The base, located in a crowded residential area in central Okinawa, is to be relocated to another site in Nago on the east coast of the island where residents oppose the plan.
More than half of the 50,000 American troops in Japan are stationed on Okinawa -- which has less than 1 percent Japan's land mass -- under a mutual security treaty.
Prime Minister Shinzo Abe told reporters the crash was extremely regrettable, and said safety must be guaranteed.

Fox News' Leonard Balducci, Lucas Tomlinson and The Associated Press contributed to this report.