Uproar in Chile after economy minister poses with inflatable doll at dinner party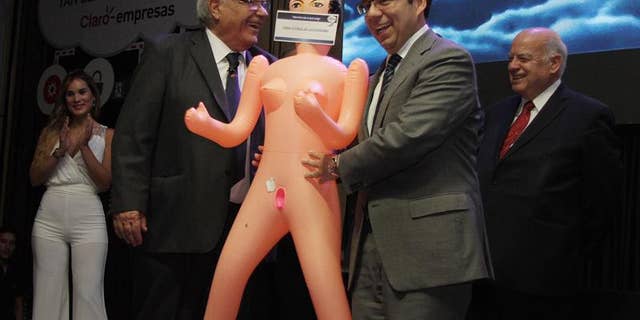 SANTIAGO – Social media lit up Wednesday after a business leader presented an inflatable doll to Chilean Economy Minister Luis Felipe Cespedes at a formal dinner.
Roberto Fantuzzi, president of the Manufacturing Exporters Association (ASEXMA), made the guests at the year-end dinner laugh Tuesday night when he said that the economy, like women, needs to be "stimulated" to become more dynamic.
Over the years, Fantuzzi has made a name for himself for giving government officials "creative gifts" with some kind of allusion to the economic situation.
"Efforts to respect women have been a major principle in my two administrations," President Michelle Bachelet said in a Twitter post. "What happened at the ASEXMA dinner cannot be tolerated."
Former President Sebastian Piñera, a conservative who may seek another term at the La Moneda palace, tweeted that "the ASEXMA's gift to the economy minister: an inflatable doll to stimulate the economy shows unacceptable vulgarity and crudity."
Former President Ricardo Lagos, another possible future candidate, deemed the gift "disrespectful and offensive to all Chileans. Women's dignity was assaulted and that is not acceptable."
The main actors involved in the drama hurried Wednesday to apologize, but it was not enough for critics.
"We apologize. I have a wife, daughters and granddaughters," Fantuzzi said. "It was not the intention to promote violence against women."
Cespedes, for his part, said the gift surprised him but also apologized.
"What happened is not in line with respect for women's dignity," the minister said.
Sen. Carolina Goic, president of the Christian Democratic Party, said the gift was "in bad taste and of unacceptable male chauvinism."
"Women are persons, not objects," the senator said.
"We regret the present," Women's Affairs Minister Claudia Pascual said. "Yes, the economy must be boosted. But women cannot continue to be used as objects for male chauvinist jokes."