UN meeting draws US, Russia, Iran, China leaders to tackle Syria, extremism
World leaders-- including President Barack Obama, Russian President Vladimir Putin, Chinese President Xi Jinping, and Iranian President Hassan Rouhani gathered at United Nations headquarters in New York Monday for an historic meeting, seeking to find a solution for the conflict in Syria and the spread of extremism in the Middle East and Africa.
In a morning speech to the General Assembly, President Obama said the U.S. is willing to work with any nation, including Russia and Iran, to solve the Syrian conflict, but an end to the four-year civil war means Syrian President Bashar Assad must go. Obama said Assad responded to peaceful protests with repression and killing and wouldn't be able to satisfactorily bring peace to the nation.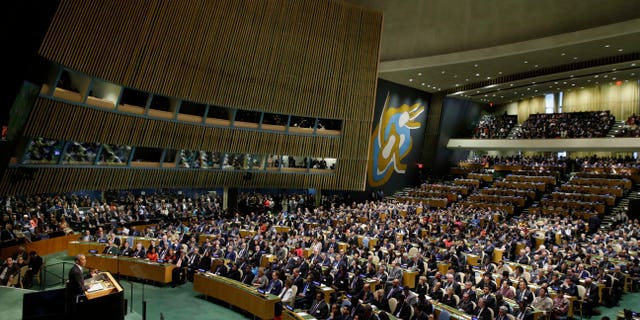 Putin had a different view, urging the creation of a broad anti-terror coalition that would include Syrian government troops. Speaking after Obama, the Russian president said it was a "huge mistake" not to engage the Syrian army in the fight against the Islamic State group. He also criticized the West for arming "moderate" rebels in Syria, saying they later come to join ISIS.
On the crisis in Ukraine, Obama insisted the world cannot stand by while Russia violates the European republic's integrity and sovereignty. If there are no consequences for Russia's annexation of Crimea, it could happen to any other U.N. country, the president said in his speech. The U.S. doesn't want to isolate Russia, but engage the Kremlin diplomatically and resolve the crisis in a way that lets Ukraine determine its own future, Obama told the crowd.
Iranian President Hassan Rouhani said Tehran is ready to help bring democracy to Syria and Yemen and blamed the U.S for the spread of terrorism in the Middle East.
"We are prepared to assist in the eradication of terrorism and in paving the way for democracy," Reuters reported Rouhani said in his speech. "As we aided the establishment of democracy in Iraq and Afghanistan, we are prepared to help bring about democracy in Syria and also Yemen."
He blamed the current crisis in the Middle East on what he called the U.S. occupation of Afghanistan and Iraq, and Washington's support for Israel against Palestine.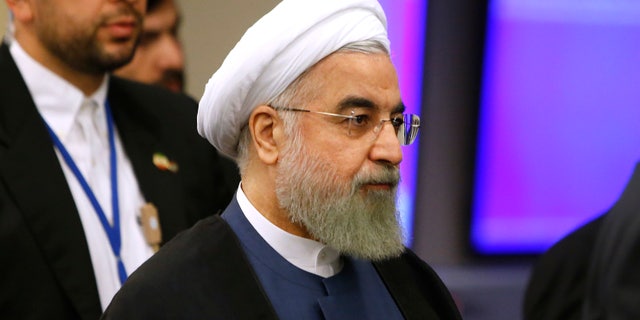 U.N. Secretary General Ban Ki-moon's state of the world address to leaders from the U.N.'s 193 member states came shortly before Obama, Putin, Xi, and Rouhani spoke to the U.N. General Assembly in the morning session.
The U.N. chief for the first time Monday called for the situation in Syria to be referred to the International Criminal Court, insisting on a political solution to the conflict, now well into its fifth year with more than 250,000 people killed. Ban said five countries "hold the key" to a political solution to Syria: Russia, the U.S., Saudi Arabia, Turkey and Iran. He said "innocent Syrians pay the price of more barrel bombs and terrorism" and there must be no impunity for "atrocious" crimes.
The Syrian conflict is "driven by regional powers and rivalries," Ban said. On the sidelines of this week's meeting, leaders and diplomats from the major players are trying to address them.
The U.N. meeting also touched on the question of how to counter the spread of extremism in the Middle East and Africa, and how to deal with the upsurge in migrants fleeing from Syria and other conflicts including in Iraq, Yemen and Afghanistan.
Jordan's King Abdullah II defended the kinder side of Islam in the face of "the outlaws of Islam that generate globally today." In his address to the meeting, the king quoted the Koran: "And my mercy embraces all things." He called the rise of extremist groups like ISIS in his region, and the crisis they have caused, "a third world war, and I believe we must respond with equal intensity." Jordan borders both Syria and Iraq, and Syrian refugees now make up 20 percent of Jordan's population.
A busy morning at the U.N. also included Chinese President Xi-- the leader of the world's second largest economy-- pledging $1 billion over the next decade to support U.N. efforts to further international cooperation and global peace and development.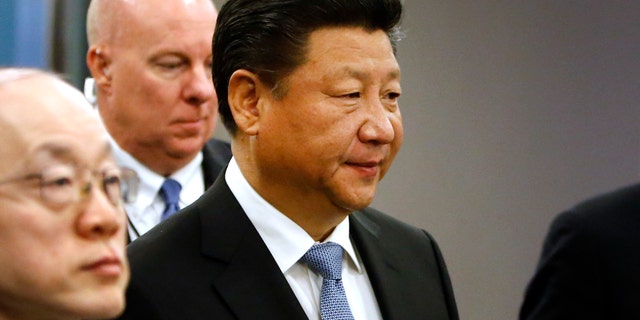 Xi also said China would also set up a permanent peacekeeping standby force of 8,000 troops to be deployed whenever necessary. China is already the biggest contributor of peacekeeping troops among the five permanent members of the U.N. Security Council, having sent more than 30,000 on 29 separate missions.
In the afternoon session, South Korea's president said the international community needs to pay attention to resolving the stand-off over North Korea's pursuit of atomic weapons, after reaching a successful deal reached over Iran's nuclear program. President Park Geun-hye said the North's nuclear weapons pose a threat to peace and security and the international nuclear nonproliferation regime.
Park also criticized North Korea for threatening provocative actions that would violate Security Council resolutions and undermine efforts to resume inter-Korean dialogue and long-stalled six-nation talks on its nuclear program.
Turkey's Prime Minister Ahmet Davutoglu urged the international community to increase efforts to address the refugee crisis which has uprooted thousands from their homes and caused them to risk their lives fleeing to Europe. Speaking with journalists at the U.N. Monday, Davutoglu said the world is not doing enough to tackle waves of refugees and migrants streaming out of Syria, Iraq, Afghanistan and Libya.
Nearly two million Syrians have fled to Turkey this year, prompting the country to stop cargo ships from taking Syrians and others to Italy. The Turkish action drove those migrants to try the shorter but dangerous Aegean Sea crossing to Greece. Davutoglu said the only way to prevent new waves of refugees is to stop the violence of the Syrian regime and ISIS and create safe areas for Syrians within their country.
The annual U.N. General Assembly ministerial meeting is always a major event, but this year's is extraordinary. The 70th anniversary of the U.N. is bringing an unusually large number of presidents, prime ministers, kings and rulers to U.N. headquarters in New York. It could bring a record number of world leaders, including Putin, who hasn't attended in years. About 160 world leaders are expected to attend this year's ministerial meeting, U.N. officials say.
Other crises at the center of discussions include the related refugee and migrant crisis, the largest since the upheaval of World War II.
Ban warned that resources to address these crises are dangerously low. "The global humanitarian system is not broken; it is broke," he said. The U.N. has just half of what it needs to help people in Iraq, South Sudan and Yemen, and just a third of what's needed for Syria.
The U.N. chief, in unusually hard-hitting words, also urged the world to unite against the "blatant brutality" of extremist groups including the Islamic State. He blamed "proxy battles of others" for driving the fighting in Yemen, and he warned against "the dangerous drift" in resolving the Israeli-Palestinian conflict, saying it is essential for the international community to pressure both sides to re-engage.
Meanwhile, Palestinian President Mahmoud Abbas has threatened to drop a "bombshell" in a speech to the U.N. this week -- prompting speculation that he will sever ties with Israel over its settlement expansion and other hardline policies.
Abbas' hopes of setting up a Palestinian state through negotiations with Israel have been derailed, and a new poll shows that a majority of Palestinians want the 80-year-old to resign and dissolve his self-rule government, the Palestinian Authority. Many no longer believe a two-state solution is realistic and support political violence.
Abbas could try to align himself with a frustrated public by shifting to a more confrontational policy, including ending security cooperation with Israeli troops against a shared foe, the Islamic militant Hamas group. It's a risky move that could cost him vital foreign aid, trigger chaos and end his 10-year rule. Abbas aides have suggested in recent days that despite his threats, he will make do with a general warning to Israel at the U.N.
Monday's address by Putin, who has showed up the U.N. gathering for the first time in a decade, was one of the most highly anticipated. The Russian president also was set to meet Obama on the sidelines Monday afternoon.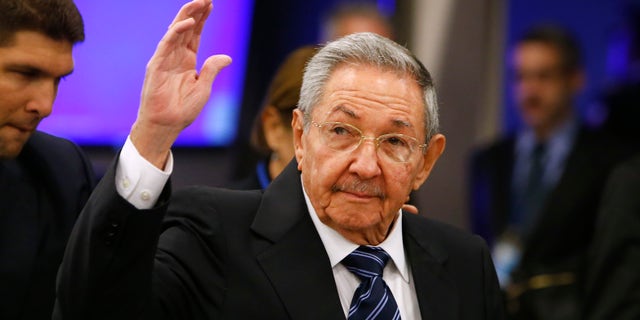 Others set to speak Monday included French President Francois Hollande and Cuban President Raul Castro, who also has a meeting planned with Obama.
This week's high turnout is also a result of the three-day U.N. summit that ended Sunday-- called by Ban-- to adopt new U.N. development goals for the next 15 years to eradicate poverty and preserve the planet.
The General Assembly is the global body that represents all 193 U.N. member states. It meets throughout the year and is the forum where any global issue can be discussed, including those related to international peace and security. While it can make recommendations, its resolutions are not binding. It does have power over the U.N. budget, which it must approve, and it can and has adopted many global treaties.
The Associated Press contributed to this report.