UN investigators head back to Iran hoping to restart probe on suspected nuclear weapons activity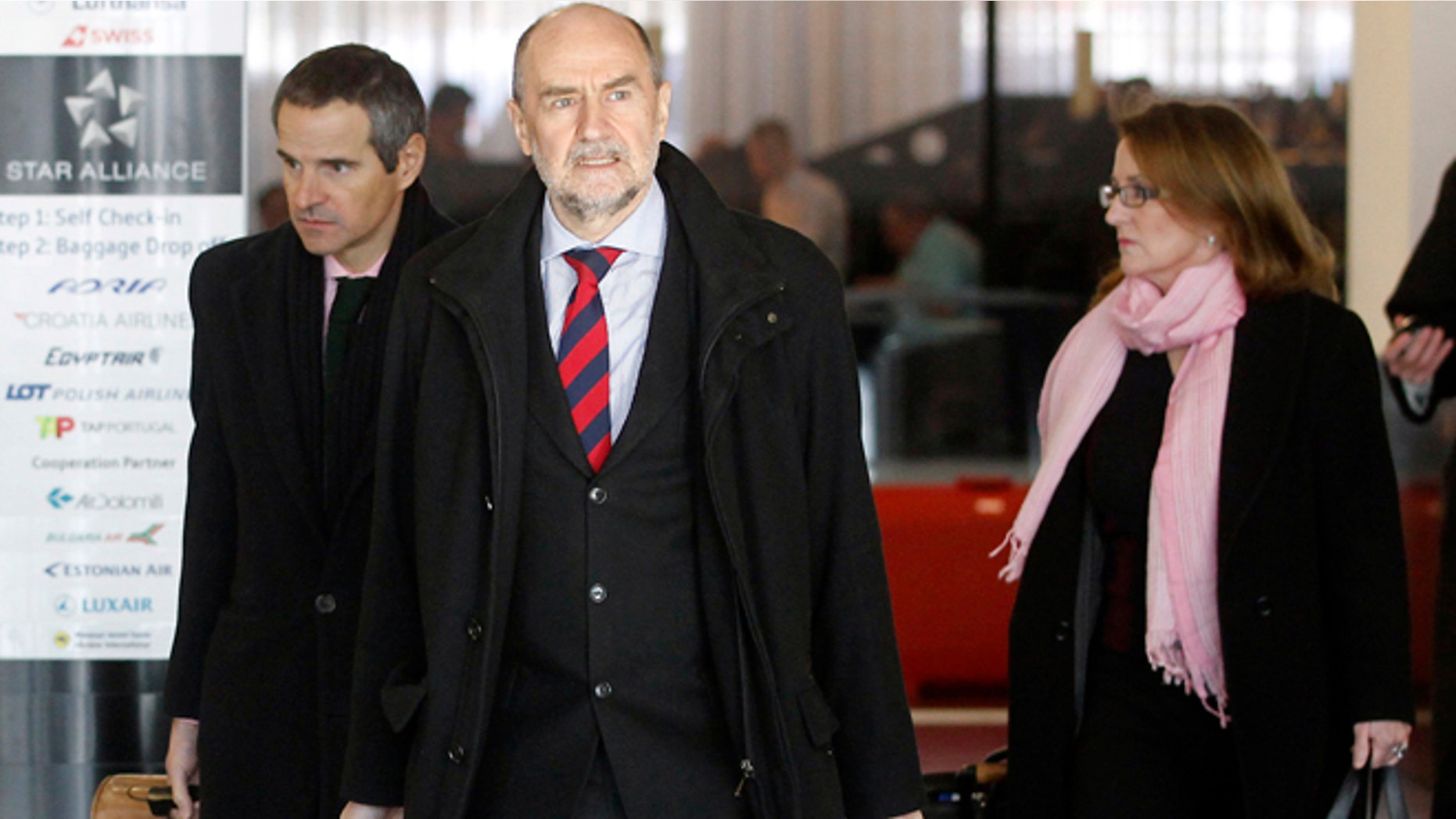 VIENNA – Senior U.N. investigators trying for more than a year to restart a probe into Iran's alleged work on nuclear arms chose their words carefully Tuesday about hopes for success as they left for Tehran on a trip that sets the stage for separate talks between six world powers and the Islamic Republic.
Iran insists it has never tried to develop nuclear arms — an assertion underlined by the Foreign Ministry in Tehran as the U.N. team of International Atomic Energy Agency experts prepared to board the flight bound for the Iranian capital.
Ministry spokesman Ramin Mehmanparast said a religious decree issued by Iran's supreme leader banning nuclear weapons is binding for the Iranian government, suggesting the edict should be enough to end the debate over whether Tehran is pursuing atomic arms.
"There is nothing higher than the exalted supreme leader's fatwa to define the framework for our activities in the nuclear field," he said. "When the highest jurist and authority in the country's leadership issues a fatwa, this will be binding for all of us to follow."
Iran's supreme leader, Ayatollah Ali Khamenei, who has the final say on all state matters in Iran, said last year that Tehran is not seeking atomic arms. He called possessing such weapons a "sin" as well as "useless, harmful and dangerous."
But Washington and dozens of other countries accuse Iran of using its civilian nuclear program as a cover to develop nuclear weapons — an allegation the Vienna-based IAEA is trying to investigate.
Iran ended cooperation with the probe several years ago, saying it had answered all relevant questions. It says the allegations are based on doctored intelligence from America, Israel and their allies.
While signaling readiness to resume cooperation last year, Iran insisted that it has to be based on a plan that precisely outlines what the IAEA can and cannot do and numerous meetings between Iranian and IAEA officials since then have failed to finalize an agreement.
Agency officials say they are willing to continue negotiations but some privately have described the delay as a tactic to further stall the investigations. They are particularly concerned that such delays can hurt their efforts to investigate the military site known as Parchin.
The IAEA suspects that Iran has conducted live tests of conventional explosives at the site southeast of Tehran that could be used to detonate a nuclear charge and have cited satellite photos indicating a cleanup there.
But critics of the investigations contend that apparent demolition at Parchin is due to a major construction project by the Iranians and does not mean Iran is sanitizing the area.
The agency already visited Parchin twice, the last time in 2005. But back then, it did not have access to satellite imagery that it now uses to pinpoint its search.
IAEA team leader Herman Nackaerts spoke of progress upon return last month from Tehran, saying the investigation could be restarted by early next year. But since then IAEA chief Yukiya Amano — who also said success was near earlier last year — has expressed doubt that Tuesday's trip would result in a deal, and Nackaerts, too was cautious ahead of departure.
"We are aiming to finalize the Structured Approach," Nackaerts told reporters Tuesday, using the formal name of the proposed agreement with Iran. "We hope to be allowed to go to Parchin."
Amano's announcement of a nearly done deal in May came just days before the two sides met in Baghdad for a new round of negotiations meant to defuse tensions over Iran's nuclear program before leaving the negotiating table with little progress made.
This trip also comes as Iran and six world powers prepare to meet, tentatively later this month. The six nations —the United States, Russia, China, Britain, France and Germany — hope the talks will result in an agreement by the Islamic Republic to stop enriching uranium to a higher level that could be turned relatively quickly into the fissile core of nuclear arms.
Iran denies such aspirations, insisting it is enriching only to make reactor fuel and to make isotopes for medical purposes.
The trip and the planned Iran talks are formally separate but both IAEA officials and diplomats involved in the talks privately acknowledge an informal link.
By compromising on the IAEA probe, Iran could argue that the onus was now on the six powers to show some flexibility, temper their demands, and roll back U.S. and European sanctions that have hit Iran's critical oil exports and blacklisted the country from international banking networks.