UK woman may face death for Indonesia drug trafficking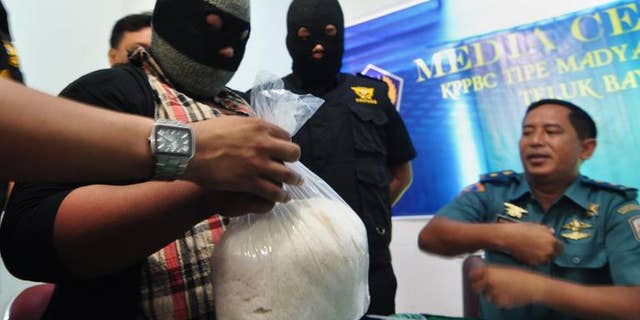 Surabaya (Indonesia) (AFP) – A British woman has appeared in an Indonesian court charged with trafficking around 1.5 kilograms (three pounds) of crystal methamphetamine, an offence punishable by death, prosecutors said Wednesday.
Andrea Waldeck, 43, was arrested in late April at a hotel in the city of Surabaya in East Java province, according to her indictment.
She had arrived a day earlier at the city's airport from China and allegedly managed to get past security with the drugs concealed in four plastic packages inside her underwear, the indictment said.
Two members of a drugs gang had been en route to the hotel to pick up the narcotics -- but police knew about the plan and managed to get there first and arrest Waldeck, it said.
"The defendant could face the death penalty," prosecutor Deddy Agus Oktavianto told AFP. Prosecutors did not estimate the value of the drugs.
The trial started on Tuesday at Surabaya district court and resumes next week.
Her case comes after British grandmother Lindsay Sandiford was sentenced to death in January after she was caught trying to bring $2.4 million worth of cocaine into Indonesia's resort island of Bali.
In the latest case, the two drugs gang members were arrested several days after Waldeck, the indictment said. Their cases are being dealt with separately.
Waldeck claimed that her boyfriend in the southern Chinese city of Guangzhou had asked her to traffic the drugs in exchange for $5,000, it said.
The indictment said Waldeck and the middlemen "engaged in an evil conspiracy to commit a narcotics offence" by bringing 1.47 kilograms of crystal methamphetamine into the country.
It listed her place of residence as Guangzhou, and said she was from Rustington, a seaside resort on England's south coast.
A spokesman for the British embassy in Jakarta said: ???We can confirm the detention of a British national in Surabaya. We are providing consular assistance.???
Foreigners are regularly charged with drugs offences in Indonesia, which has some of the world's toughest anti-narcotics laws, but most are caught in Bali.
Sandiford, 57, last month lost an appeal to the Indonesian Supreme Court.
She now has two more chances to get the death sentence overturned -- a judicial review of the Supreme Court's decision or a presidential pardon.
But death row convicts in Indonesia rarely manage to get their sentences lifted. Most spend years in jail before being taken to an isolated location at night and executed by firing squad.