UK Parliament to vote on expanded airstrikes against ISIS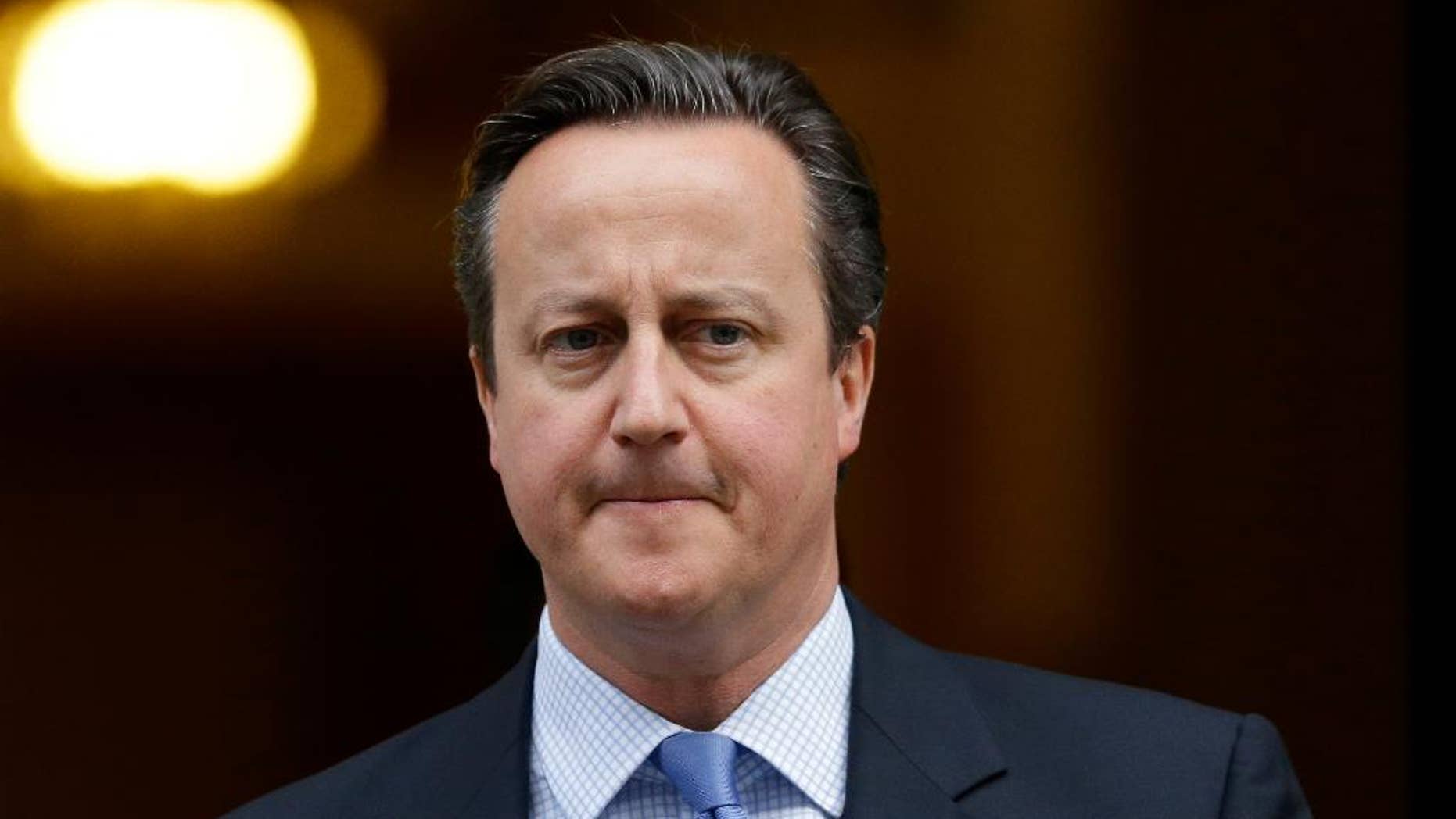 LONDON – Prime Minister David Cameron appealed to lawmakers Wednesday to authorize the military to take part in airstrikes in Syria, insisting that Britain should help degrade and destroy the threat posed by the Islamic State group.
But on a day meant to convey national unity, Cameron struggled to even get through his opening remarks, as outraged opposition Labor Party lawmakers demanded he retract remarks reportedly made at a closed-door meeting in which he branded opponents a "bunch of terrorist sympathizers."
Lawmakers demanded an apology as the 10 1/2-hour debate got underway in the House of Commons, arguing the comment showed a lack of respect to those who disagreed with Cameron's policies.
"Everyone in this House should make up their mind on the arguments in this House. ... There's honor in voting for, there's honor in voting against," Cameron said, stopping short of saying he was sorry.
The last-minute dispute threatened to erode the comfortable majority Cameron was relying on when he sought to authorize the Royal Air Force to launch airstrikes against suspected positions in Syria held by the Islamic State group, also known as ISIS, ISIL and its Arabic acronym, Daesh. Britain is already part of the U.S.-led coalition, but has restricted its actions to Iraq.
"This is not about whether we want to fight terrorism, it's about how best we do that," Cameron said. "The question is this: Do we work with our allies to degrade and destroy this threat and do we go after these terrorists in their heartlands, from where they are plotting to kill British people? Or do we sit back and wait for them to attack us?"
Besides the work of the highly regarded RAF, Britain brings to the table an arsenal that includes the Brimstone missile, whose technology enables it to ensure accuracy against moving targets, such as gun trucks used by Islamic State militants. British officials say this could reduce civilian casualties.
But any measure is politically loaded in Britain because many lawmakers fear revisiting the chaotic situation that occurred in the Iraq war, in which 179 U.K. service personnel died. The stain of that conflict weighs particularly heavily on Labor lawmakers, many of whom blame their party's former prime minister, Tony Blair, for rushing the country into war on false claims that Iraq had weapons of mass destruction and without a firm plan for its future.
"The logic of an extended air campaign is in fact mission creep, and Western boots on the ground -- whatever the prime minister may say now about keeping British combat troops out of the way -- are a real possibility," opposition Labor Party leader Jeremy Corbyn said.
The British debate comes as U.S. Secretary of State John Kerry said NATO members were ready to step up military efforts against the Islamic State group -- and held out hope of improved cooperation between the West and Russia to end Syria's protracted civil war.
"There are a number of things countries can do," Kerry told reporters after two days of talks at the alliance's headquarters in Brussels.
U.S. Defense Secretary Ash Carter said the American military will deploy a new special operations force in Iraq to step up the fight against the militants. President Barack Obama had previously announced he was sending fewer than 50 special operations forces to Syria, but Carter said Tuesday the new expeditionary force will be larger.
Even as Kerry argued that no peace in Syria would be possible while President Bashar Assad remains in power, he expressed optimism in an international mediation effort that now includes Assad's backers -- Russia and Iran.
The British vote represents another step in building an international consensus against the Islamic State group -- something that had not been possible before the recent bombing of a Russian jetliner in Egypt and the attacks on Paris, said Jill Sargent Russell, an expert on warfare, politics and strategy at King's College London.
"We haven't had a broad political consensus on Syria, which is why no one has been able to act effectively," she said. "If there is a wide political consensus, there is a real chance that something sensible can be done and achieved."
Despite talk of increased cooperation, there were signs of serious fault lines and tensions between Russia and Turkey following the shooting down of a Russian military jet by Turkish forces -- and between Russia and the United States, which disagree about tactics in Syria.
On Wednesday Russia's top military brass accused Turkish President Recep Tayyip Erdogan and his family of benefiting from illegal oil trade with Islamic State militants.  Deputy Defense Minister Anatoly Antonov showed foreign defense attaches based in Moscow satellite images purporting to show IS transporting oil to Turkey.Erdogan flatly denied the claim in remarks at Qatar University.
"No one has the right to make such a slander as to suggest that Turkey buys Daesh's oil," Erdogan said. "Turkey has not lost its moral values as to buy oil from a terror organization."
Meanwhile, the top NATO commander in Europe, U.S. Air Force Gen. Philip Breedlove, has cautioned that the bulk of Russia's air operations in Syria are still directed against the moderate opposition and other forces that oppose President Bashar Assad, not Islamic State positions.
U.S. officials had hoped Russia would change its bombing focus in light of the Oct. 31 attack on the airliner.
Breedlove said Wednesday there has been some shift in Russian tactics lately but that the "vast majority of their sorties" are targeting moderate groups, not Islamic State extremists operating there who are the main target of U.S. raids.
Syrian President Bashar Assad dismissed the effectiveness of the bombing campaign being waged by the U.S.-led coalition against IS in his country, saying the airstrikes by his longtime ally, Russia, that started Sept. 30 have accomplished more.
"Since the beginning of that (U.S.-led) coalition ... ISIS has expanded and the recruiting from around the world has increased, while since the participation of Russia in the same fight, so-called against terrorism, ISIS has been shrinking," Assad said in an interview with Czech television.
The U.S. and other Western countries allege that the Russian campaign has been targeting groups that want to oust Assad, rather than IS militants.