U.S. to Chávez: Oliver Stone? Sean Penn? No Thanks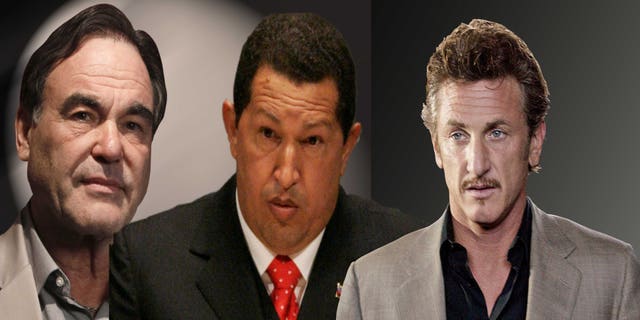 It was a joke, sort of.
It was a possibility, never.
The State Department is rejecting Venezuelan President Hugo Chávez's joking suggestion that Washington consider naming film director Oliver Stone or actor Sean Penn as the next U.S. ambassador to Caracas.
"I hope they name Oliver Stone ... Sean Penn," said Chavez, laughing during a televised Cabinet meeting Tuesday night. "We have many friends there."
Both Stone and Penn have visited Venezuela and have expressed admiration for the leftist president.
The love story between Stone and Chávez has long been documented. Just take a look at the acclaimed American director's "South of the Border," a documentary in which he visits seven South American presidents.
"I favor the underdog, America seeks out enemies and America has a paranoia that seems to get worse and worse," Oliver said of his relationship with Chávez, in a 2009 CBS interview.
Chávez made his sarcastic suggestions after a weekend meeting with U.S. Secretary of State Hillary Rodham Clinton. During the same press conference, he also said more seriously that he views the announcement that the U.S. may nominate a new candidate for ambassador as a positive step.
State Department spokesman P.J. Crowley said Wednesday that the Obama administration has not dropped support for its original candidate, Larry Palmer, whom Chávez has refused to accept.
On Monday, Crowley indicated that the administration was considering nominating someone else for the Caracas post, in light of Chávez's stance against Palmer. But on Wednesday, Crowley said the U.S. still thinks Palmer is the best choice and that there is no active search for another candidate.
The Associated Press contributed to this article.
Follow us on twitter.com/foxnewslatino
Like us at facebook.com/foxnewslatino