U.S. economy slows, adding only 150K jobs – unemployment stays level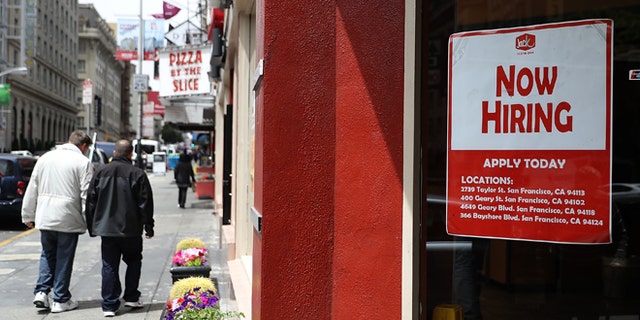 NEWYou can now listen to Fox News articles!
After two months of blockbuster growth, with U.S. employers adding more than 270,000 jobs in both June and July, the economy slowed dramatically in August, adding a modest 150,000 new jobs and barely raising wages for workers.
The slowdown in job growth reduces the likelihood that the Federal Reserve will raise interest rates when it meets later this month.
The unemployment rate remained 4.9 percent for a third straight month, the U.S. Labor Department said Friday in its monthly jobs report.
Despite the lower level of job creation in August, over time, the current pace of hiring is enough to lower the unemployment rate over time.
Job gains slowed across most major industries, and employers cut workers in manufacturing, construction and mining.
Hourly wages barely increased in August and have risen just 2.4 percent in the past year.
Among Hispanics, the unemployment rate rose from 5.4 to 5.6 percent, but that is still 1 full percentage point lower than it was in August 2015.
The only segment of the Latino population that lost jobs between July and August were teenagers, who, according to Bureau of Labor Statistics data lost 13,000 jobs, with unemployment for those 16 to 19 rising from 14.5 to 15.0 percent.
Even with last month's overall deceleration, hiring has been strong for the past year, and economists are unlikely to be particularly concerned by one month's figure.
The August jobs report has typically come in below economists' expectations and is usually revised higher in the following months. Over the past five years, it has typically been revised higher by about 70,000.
Fed officials have noted the economy's improvement and the decline in the unemployment rate to nearly healthy levels. Fed Chair Janet Yellen said in a speech last month that "the case for an increase ... has strengthened in recent months."
Still, inflation remains far below the Fed's target of 2 percent, potentially delaying higher rates.
Other recent economic data has been mixed, though most analysts forecast a pickup in growth after a sluggish start to the year.
Employment at food and drinking establishments continued to surge, adding 34,000 jobs in August and 312,000 year to date.
The other sectors that added the most jobs in August were social assistance (22,000), professional and technical services (20,000), financial activities (15,000) and health care (14,000).
The mining industry continues to bleed jobs, losing 4,000 positions in August and 223,000 in the last two years.
Consumers are more confident and have been spending at a steady clip. The Conference Board said this week that its measure of consumer confidence reached an 11-month high in August.
Americans are particularly optimistic about the job market, the Conference Board's survey found, with the percentage of Americans saying jobs are "plentiful" reaching the highest level in nine years.
Yet businesses remain cautious and are not investing in new plants, equipment or computers, dragging down factory output. A private survey found that manufacturing shrank in August as new orders and production plummeted.
Americans are willing to make big purchases, such as homes and cars, but sales of both may have plateaued. Sales of existing homes slipped in July, after reaching a nine-year high in June. And auto sales have leveled off this year after reaching a record high in 2015.
The Associated Press contributed to this report.
Like us on Facebook
Follow us on Twitter & Instagram