Report: Hispanics spend 10% more on back-to-school shopping than other groups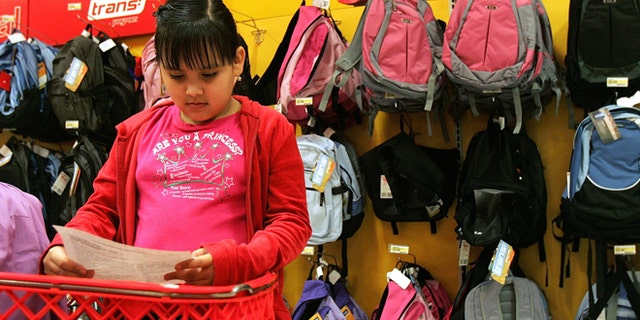 NEWYou can now listen to Fox News articles!
It's that time again. Kids across the country are either back in school or sulking because their summer vacation is almost over. Parents are secretly (or vocally) are cheering.
For Hispanic families, back-to-school means spending big-time – over 10 percent more than non-Hispanic families. And they've likely checked all the necessary items off their list months ago, according to a new study.
The global marketing giant, Mintel, surveyed Latino families' shopping habits and found that 47 percent of Hispanics plan to spend more money on back-to-school shopping vs. 35 percent of the rest of the population.
Hispanic moms also overwhelmingly shop with friends or family – 72 percent vs. 52 percent for non-Hispanics.
Back-to-school spending (which averaged $68 million in sales in 2015) is the second-largest shopping event in the U.S. – only following the Christmas shopping season.
In a July Pew Research study, roughly 83 percent of Hispanics cited education as very important to their vote in the 2016 election, ranking it along with the economy, health care and terrorism as top issues.
Also in the survey are stats that show that brand awareness is important for Hispanics when shopping. In fact, 36 percent reportedly said it was the most important driver.
"When bilingual and Spanish-language dominant consumers buy, they really buy," said Marshal Cohen, chief industry analyst of the NPD Group, in a news release. "Their shopping behaviors don't conform to the patterns of other Americans. And it's important for retailers and marketers to understand the differences."
When it comes to online shopping, according to NDP, a global information company, bilingual Hispanics spend 20 percent of their money online, 3 percent higher than other Americans. When buying online, bilingual Hispanics spend roughly $72 compared to $68, the total market average.
U.S. retailers are now vying for this very important and fast-growing consumer with a buying power of $1.2 trillion in 2015, according to Nielsen.
"Retailers and manufacturers can't afford to ignore multicultural consumers such as Hispanics," said Eva Gonzalez, exec director-diverse consumer intelligence at Nielsen. "They are transforming the U.S. mainstream."
A Think Now survey showed big differences between Hispanic shoppers who are more or less assimilated to U.S. culture.
For example, 95 percent of highly-assimilated Hispanics planned to by school supplies vs. 81 percent for those who were less assimilated.
For text books and athletic gear the numbers were reversed, with less assimilated Hispanics clamoring to buy those items.
Every new school year comes with the usual excitement and a bit of anxiety, but having the right tools helps everyone feel more prepared and less stressed – and retailers are banking on Hispanics to open their wallets and shop, shop, shop.
Like us on Facebook
Follow us on Twitter & Instagram