U.S. diplomats visit Utah newlywed jailed in Venezuelan prison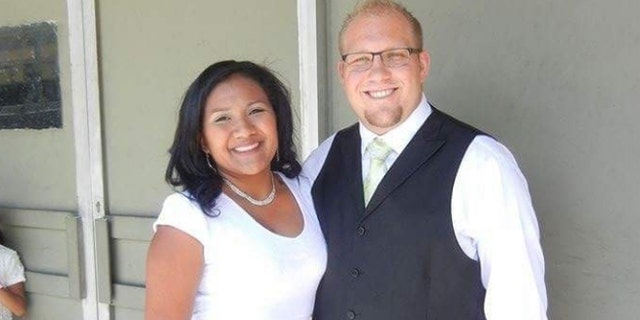 NEWYou can now listen to Fox News articles!
CARACAS, Venezuela (AP) – A 24-year-old American man jailed in Venezuela has been allowed to meet with U.S. diplomats two weeks after he and his new bride were arrested on weapons charges, a United States official said Wednesday.
Representatives of the U.S. Embassy in Caracas met with Holt on Tuesday, according to a U.S. government official who spoke on condition of anonymity because he was not authorized to speak on the record. Details of the meeting were not immediately available.
Josh Holt had traveled on a visa to Venezuela in June to marry a fellow Mormon he had met on the internet. At the time of the arrest, Holt's new wife, Thamara Caleano, was waiting for an American visa so the pair could travel together to the United States, where he had been living in a Salt Lake City, Utah suburb.
The couple was being held together in a Caracas jail run by the Venezuela intelligence police.
They were arrested when police the raided government housing project where they staying while awaiting Caleano's visa, and said they found at an assault rifle and a grenade at her home.
Holt had returned to the United States in January after a two-year mission with The Church of Jesus Christ of Latter-day Saints in Washington state. His mother, Laurie Holt, said by telephone from Utah that she believes Venezuelan authorities were confused about the nature of the religious mission, and thought her son had been working for the government in Washington, D.C.
The mother also said she believes that the weapons were planted at the home where her son and his wife were staying.
Holt learned to speak Spanish while working with Latino immigrants during his time in Washington state, his mother said. She said her son was looking for a Spanish-speaking Mormon to help polish his Spanish, and the couple fell in love during their sessions online.
They met in person for the first time in May in the Dominican Republic, and he proposed to her on the lawn of a Mormon church there. He traveled in June to marry her in her hometown of Caracas, one of the most violent cities in the world.
"I pleaded with him not to go. I heard how bad it was and how some Venezuelans hate Americans," Laurie Holt said.
Venezuela is currently holding 11 other American citizens. One, opposition activist Francisco Marquez, was arrested in June as he was traveling to assist in a signature validation process for a nationwide presidential recall petition. Prosecutors say Marquez, a dual Venezuelan-U.S. citizen, was trying to foment violence.
Venezuela is in the midst of a severe social and economic crisis, with President Nicolas Maduro railing daily in televised addresses against what he called U.S. imperialist meddling.
Laurie Holt says there are no indications that the couple has been mistreated behind bars, but worries her son has been caught up in an international misunderstanding that will be hard to resolve.
"He was set up," she said. "People thought that he was doing a mission and that it was for Washington, D.C. They don't realize it was a church mission in Washington state."