U.S. bank issues first credit card that can be used in Cuba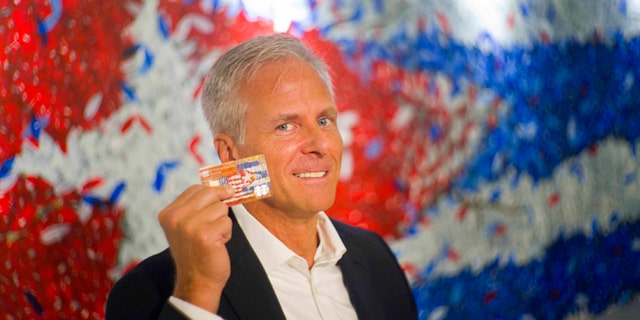 The first U.S. credit card specifically intended to be used in Cuba will hit the market on Wednesday in an attempt to make it easier for Americans to work and travel in a country that has been cut off from the U.S. financial system for more than 50 years.
Stonegate Bank – based in Pompano Beach, Florida – said its MasterCard will let U.S. travelers charge purchases at state-run businesses in Cuba and a handful of private ones, mostly high-end private restaurants equipped with point-of-sale devices. Until now, Americans have generally had to bring cash to Cuba and change it either at state institutions that impose a 10 percent penalty or in informal exchanges with locals.
"This is going to be huge for American companies trying to do business down here," Stonegate president David Seleski told the Associated Press.
The card's utility will be limited for the moment, however. Cuba is preventing cardholders from using them for cash advances. And while the bank says there are 10,000 point-of-sale devices across the island, cashiers in state-owned stores often say they are out of service.
The 54-year-old U.S. trade embargo has barred nearly all U.S. financial transactions with Cuba, including direct bank transfers and the use of American debit and credit cards on the island.
A series of exemptions carved out by President Barack Obama after the declaration of detente with Cuba in late 2014 allows American companies to unblock debit and credit card use and open direct links to Cuban banks that permit financial transfers between the two countries.
Stonegate opened an account for the Cuban government and last year became the first institution to issue a U.S. debit card for use in Cuba. The bank says the debit card allows point-of-sale purchases and was briefly authorized for ATM withdrawals before Cuba shut down that capability in order to implement new security measures.
About 100 American individuals and businesses have opened Stonegate accounts with debit cards approved for Cuba, nearly half of them educational institutions and travel companies that organize hundreds of trips a year to the island.
The Cuban government is exempting the cards from the 10 percent penalty on dollar transactions, making them the cheapest legal way for travelers to move dollars to the island.
Cubans receive hundreds of millions of dollars a year in remittances from relatives living in the United States and other countries.
Havana has said it will eliminate the 10 percent penalty altogether once banks allow the country to carry out international transactions in dollars. The Obama administration has lifted a block on Cuban government dollar transactions, but banks are still declining to process them due to liability fears generated by the trade embargo, which can only be lifted by Congress. Similar fears have stopped other banks from authorizing the use of their credit cards in Cuba.
Cubans can open Stonegate accounts in the United States but are barred from accessing them from the island.
Despite the thicket of regulations, Seleski said he is heartened by the fact that his bank is now issuing both credit and debit cards authorized for Cuba.
"It puts pressure on other financial institutions to come to the table," he said. "If you really look at the last 14 months, a lot has happened."
Based on reporting by the Associated Press.
Like us on Facebook
Follow us on Twitter & Instagram