Twisted trend: Palestinian soccer teams named for suicide bombers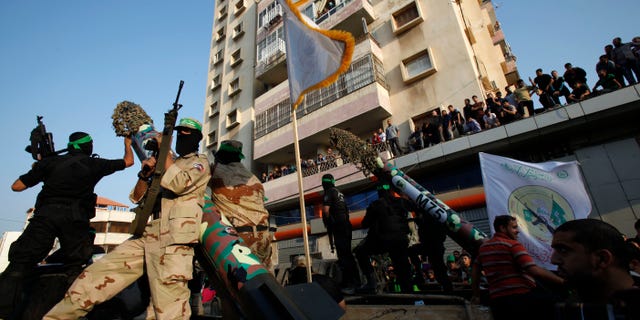 NEWYou can now listen to Fox News articles!
A bizarre new trend in the Palestinian territories has soccer teams taking on the names of infamous jihadists, including one suicide bomber who led an attack that killed 37 people, including 12 children, according to a watchdog group.
Two soccer tournaments at universities in the Palestinian Territories Authority last month showcased teams named after terrorists, PALwatch.org reported. The team names are the latest illustration of what critics say is unabashed and deeply ingrained admiration for people who kill civilians.
[pullquote]
Among the teams who participated in a tourney at Al-Quds University in the Abu Dis section of the West Bank, were squads named for:
Yaha Ayyash, widely credited with being the father of Palestinian suicide terror attacks. Ayyash is often referred to as, "The Engineer."
Ghassan Kanafani, a former leader of terror group, The Popular Front for the Liberation of Palestine (PFLP) who has planned and carried out numerous attacks against civilians on Israel since 1967.
Dalal Mughrabi, a female suicide bomber revered for leading a 1978 attack in Israel in which a public bus was hijacked and 37 civilians were killed, including 12 children.
A second tournament in the Palestinian Territories had a team named after Ziyad Da'as, a commander of Fatah terror faction Tanzim who was responsible for planning a terror attack at a Bat-Mitzvah in the Israeli city of Hadera, in which a gunman killed six people and injured dozens more.
Other teams were named after Martyrs who were killed in various clashes.
"The fact that Palestinians name their football teams after terrorists and mass murderers should come as no surprise," David Horowitz, Director of the Horowitz Freedom Center told FoxNews.com. "The Palestinian Authority declares the killers of Jewish children national heroes and calls for the elimination of the state of Israel.
"If we were not so cowardly and described these monsters in the terms they deserve, no one would be surprised about the names they give their football teams," Horowitz added.
Various reports by the official media agency of the Palestinian Authority, the PA Daily, boasted about the tournament.
"At the end of the special tournament, the heroic Martyrs who fulfilled their duty to the homeland were honored... Muhammad Tamouni, the Martyr's brother, dedicated the big win and the tournament's success to the souls of his brother and all of Palestine's Martyrs, who are more honorable than all of us. Tamouni said that this tournament will continue to take place annually in order to remember the heroes whom we will never forget," read one report.
Another proudly acknowledged the team names.
"[The teams] were named after martyrs and divided into two groups," the report stated. "The first group included [teams named after] Mu'tasim Adwan, Amer Nassar, Ghassan Kanafani, and Dalal Mughrabi. The second group included [teams named after] Younes Jahjouh, Amer Nawfal, Khaldoun Shouman and Yahya Ayyash."