Twin 5.8-Magnitude Earthquakes Hit Near Christchurch, New Zealand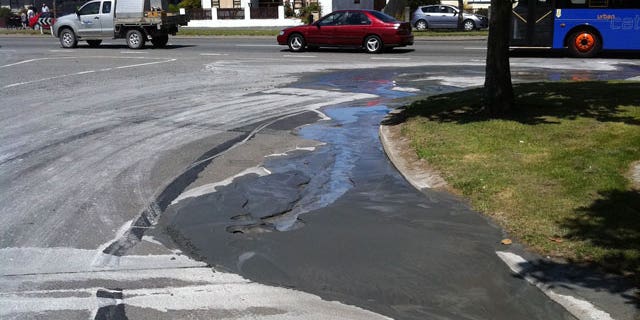 CHRISTCHURCH, New Zealand – A pair of 5.8-magnitude earthquakes struck near the New Zealand city of Christchurch Friday afternoon, causing widespread damage and sparking evacuations of the city's international airport and major shopping centers.
The United States Geological Survey (USGS) reported the first quake hit at a depth of 2.9 miles about 16 miles east-northeast of Christchurch at 1:58pm local time.
The second quake was reported at the same location, at a depth of three miles and followed a series of strong aftershocks that included a 5.3-magnitude tremor.
There was no tsunami warning issued after either quake.
Qantas flight QF45 from Sydney was diverted to Wellington following the evacuation of the Christchurch International Airport.
The series of shakes were the largest to hit the region in about three months and come 10 months after more than 180 people were killed when a large quake hit the South Island city in February. That earthquake followed a 7.0-magnitude earthquake which struck in September, 2010.
A police statement issued after Friday's second 5.8-magnitude quake said reports indicated that had been no serious injuries as a result. However, one person was hospitalized after being injured at a suburban shopping mall.
Other shopping centers were evacuated after items fell off shelves during the quake.
Police said reports of damage included the collapse of two buildings -- a vacant house and a partly-demolished building -- and major holes opening on Broadhaven Avenue in the city's northeastern suburbs.
A floodbank on the Avon River also collapsed and significant rockfalls were reported in the seaside suburbs of Redcliffs and Scarborough.
Power was cut to thousands of city customers and police said phone networks were under extreme pressure, prompting a request that residents send text messages rather than call their friends and family.
Liquefaction of the ground, where soil loses its strength, was reported across the city's eastern suburbs, police said.
The New Zealand National Crisis Management Center was activated in response to the quakes and Prime Minister John Key's office said he would be briefed on the situation as it unfolded throughout the afternoon, news website stuff.co.nz.com reported.
Newstalk ZB radio reporter Jo Scott said Friday's quake was "absolutely frightening."
"My husband was outside the Catholic Cathedral on Barbados [Street] and there were big bits of rubble falling down on that again so there will certainly be damage to those buildings," Scott said
"It's absolutely frightening. My children are literally shaking and sobbing in my arms. That's the worst bit. But we're tough and we have a strong house and we'll be OK."