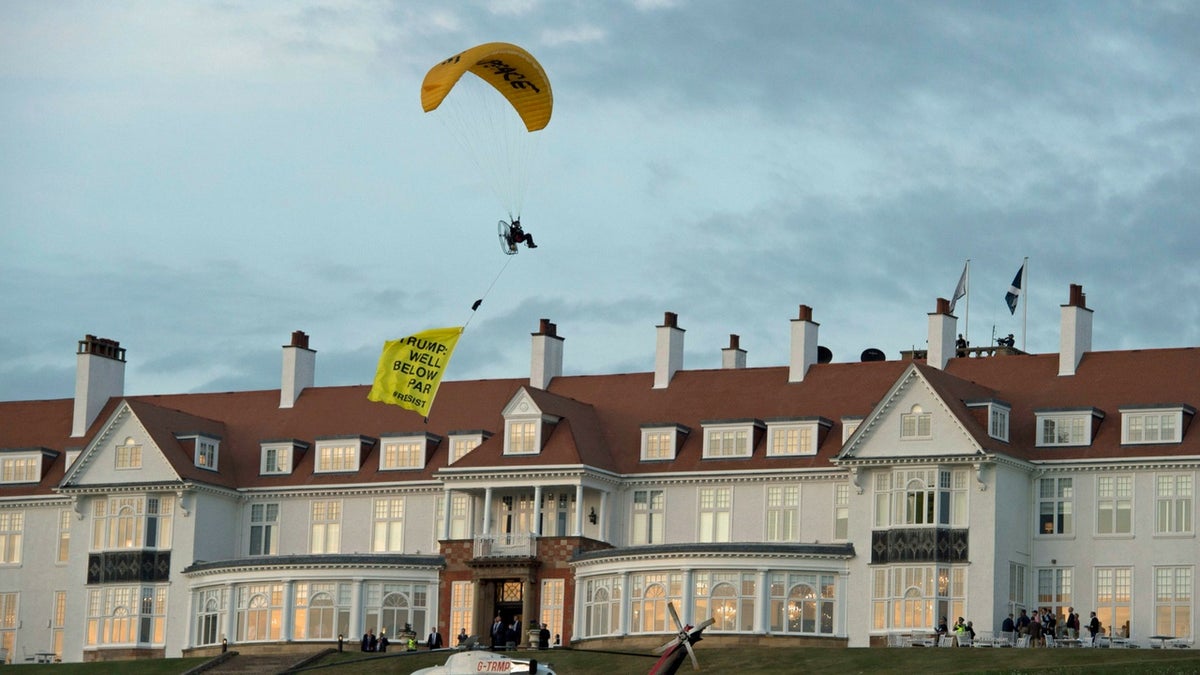 President Trump hit his Turnberry golf course on Saturday, the morning after a protesting paraglider flew over the Scottish hotel.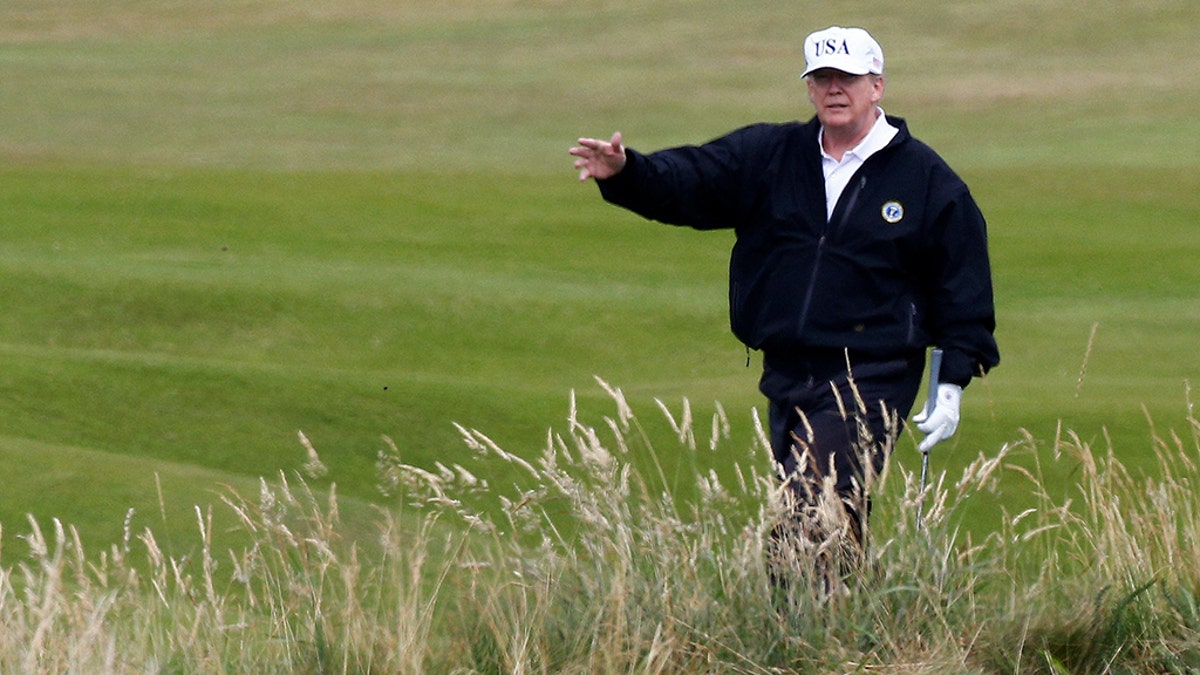 Detective Inspector Stephen McCulloch said the Greenpeace protester breached a no-fly zone over Trump Turnberry golf resort and committed a criminal offense. Trump is staying at the resort during his visit to Scotland.
Greenpeace said the protester carried a banner reading: "Trump: Well Below Par" on Friday night to protest his environmental and immigration policies. The group claimed in a tweet that the protest forced Trump to take cover: "Watch as Donald Trump tries to hide from our message flying over his head." The tweet contained a video of the glider flying past the resort.
WOMAN DISAPPEARS AFTER SHE RECORDED HERSELF THROWING INK ON POSTER OF CHINESE PRESIDENT, REPORT SAYS
Greenpeace said it alerted police about the stunt about 10 minutes before the glider arrived. Ben Stewart, the group's spokesman, said, "Theresa May should not have dignified Trump with a visit to the UK. The vast majority of British people are appalled by his words and deeds. He is, simply, the worst president ever. That's why we flew over him with a message branding him well below par."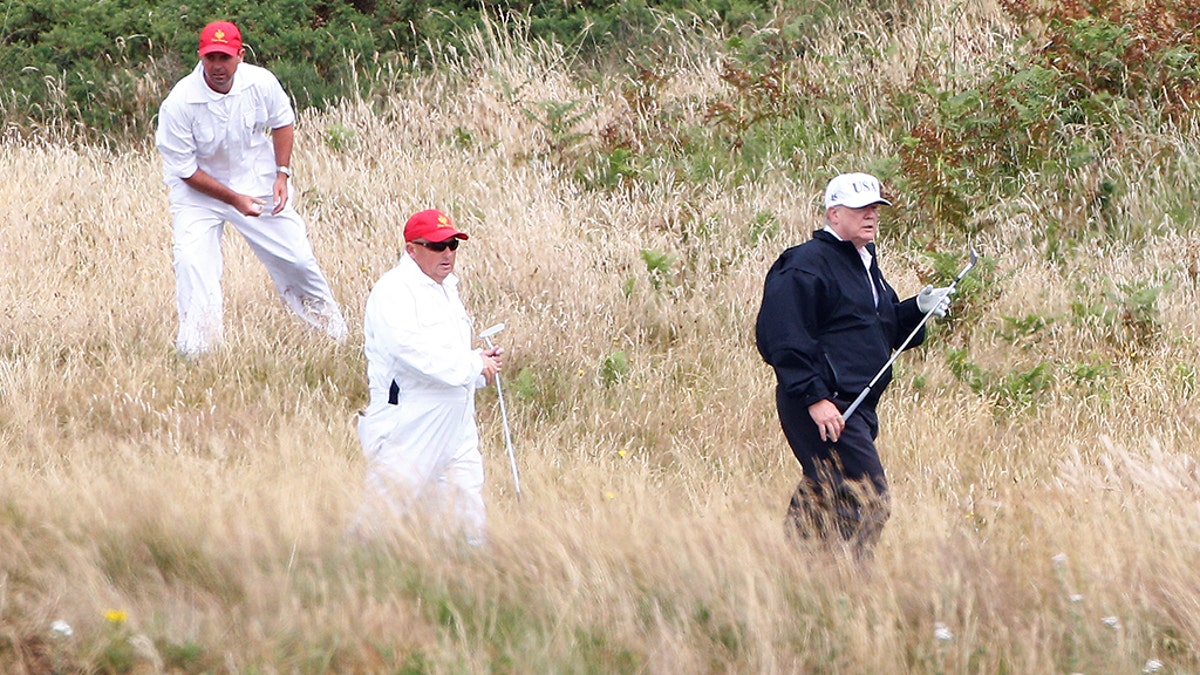 Thousands of people protested Trump in Scotland on Saturday but it didn't stop the President from a round. Earlier he tweeted that he was looking forward to his visit. Later on Saturday, photographers captured the commander in chief hitting the course.
MCCAIN SAYS HELSINKI SUMMIT 'SHOULD NOT MOVE FORWARD' UNLESS TRUMP TAKES FIRM STAND AGAINST RUSSIAN MEDDLING
"I have arrived in Scotland and will be at Trump Turnberry for two days of meetings, calls and hopefully, some golf – my primary form of exercise! The weather is beautiful, and this place is incredible! Tomorrow I go to Helsinki for a Monday meeting with Vladimir Putin," Trump tweeted.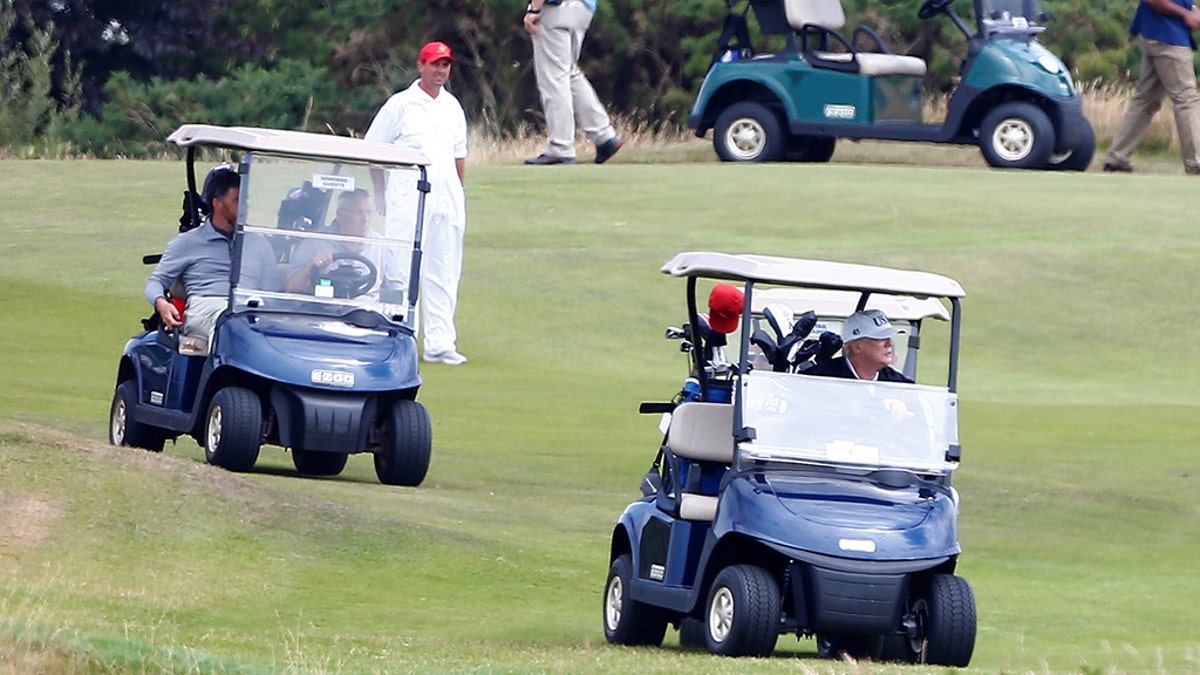 On Friday, Trump met with May and Queen Elizabeth II in the United Kingdom after an interview with The Sun which criticized the prime minister's handling of Brexit. Thousands of people gathered in London on Friday to protest Trump's visit and more protests are expected Saturday in Scotland.
The Associated Press contributed to this report.