Trump endorsement by Border Patrol agents union draws fire on both sides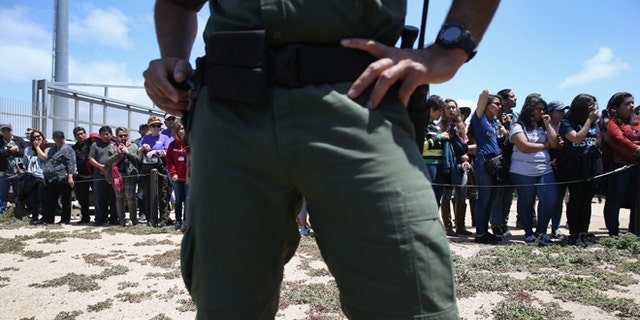 Since the National Border Patrol Council, the union that represents Border Patrol agents, endorsed the Republican candidate Donald Trump for president back in March, many agents haven't stopped getting blowback.
"Trump is correct when he says immigration wouldn't be at the forefront of this presidential campaign if months ago he hadn't made some bold and necessary statements," read the union's statement endorsing the real estate mogul, according to the Los Angeles Times.
"And when the withering media storm ensued he did not back down one iota," it added.
When he announced his candidacy last summer, Trump suggested that Mexico purposely sent "rapists" and criminals into the U.S. illegally. He also proposed building a border wall and the mass deportation of millions of undocumented immigrants.
But according to the Los Angeles Times, rank-and-file NBPC members seem just as divided about the presumptive GOP nominee as the rest of the country is.
Don McDermott, a former supervisor of a Border Patrol anti-smuggling unit in San Diego, noted that endorsement vote involved only 11 union leaders, and he feared that it reflects negatively on all agents.
"It is probable that the endorsement of Mr. Trump would expose both the union and the individual members to accusations of xenophobia and even racism," McDermott told the Times.
"The reputation of the agency and of every agent is called into question," he said.
NBPC vice president Shawn Moran dismissed such concerns. "I think Border Patrol agents will be tough on enforcement but very generous in terms of empathy and how they take care of those that are in their custody," he said.
Some agents in El Paso, Texas, did ask their local to issue a statement against the endorsement.
"One of the reasons that El Paso is the safest city in the United States is because of the trust developed between law enforcement and the El Paso community," a statement by law enforcement and city officials from the area read.
"This trust is undermined by the [union] endorsement of a candidate for president who demeans and degrades immigrants and who has lied about the threats that exist at the U.S.-Mexico border to advance his bid for president."
The matter of whether to disavow the union's endorsement failed by one vote.
About half of the nation's 18,000 Border Patrol agents are Latino, the Times reported.
"The Border Patrol has changed tremendously in the last 10 to 20 years," David Shirk, associate professor of political science at the University of San Diego, told the L.A. Times. "It has more than doubled in size and has brought in a lot of new recruits from all over country. That has increased the diversity."
He added, "They don't reflect some of the more traditional stereotypes of the Border Patrol as a bunch of white guys chasing Mexicans."
Like us on Facebook
Follow us on Twitter & Instagram