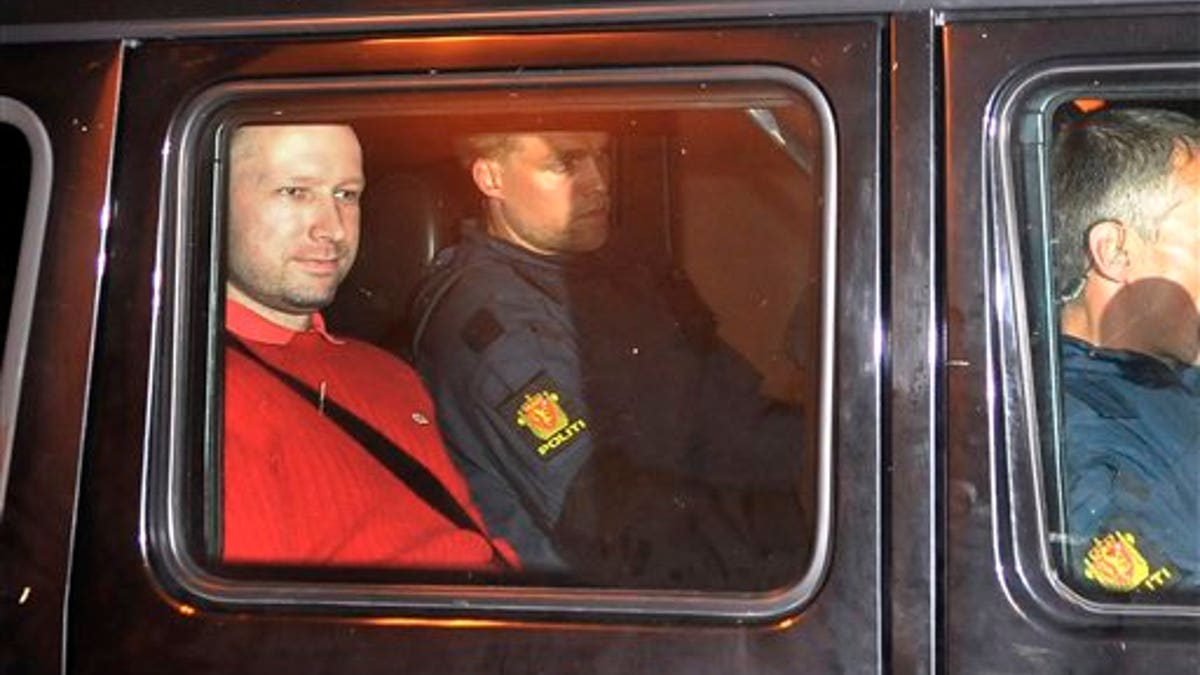 OSLO, Norway – The terror trial against an anti-Muslim fanatic who confessed to killing 77 people in Norway starts Monday amid worries that he will use the proceedings to showcase his radical views.
After opening statements, Anders Behring Breivik is set to testify for five days, explaining why he set off a bomb in downtown Oslo, killing eight, and then shot to death 69 people, mostly teenagers, at a Labor Party youth camp on Utoya island, outside the Norwegian capital.
Since Breivik has confessed to the July 22 attacks -- claiming they were necessary to protect Norway from being taken over by Muslims -- the key issue that remains unresolved is his mental health.
The 33-year-old Norwegian was found insane in one examination that recommended committing him to compulsory psychiatric care, while a second assessment found him mentally competent to be sent to prison. It's up to the judges in Oslo's district court to decide which diagnosis they find most believable.
If deemed mentally competent, he would face a maximum prison sentence of 21 years or an alternate custody arrangement under which the sentence is prolonged for as long as an inmate is deemed a danger to society.
Those who survived the shooting massacre are bracing for the horror to return during the trial.
"I do not know how I will react, I do not think you can prepare for it," said Stine Renate Haaheim, a 27-year-old Labor Party lawmaker who survived the Utoya massacre by swimming away from the island.
Haaheim said she is concerned that Breivik will use the intense media focus during the trial to draw attention to his extremist views. Although she is curious about what snapped inside Breivik to turn him into a mass killer, she said "I don't think it will give any meaning to what has happened."
Police will seal off streets around the court building, where journalists, survivors and relatives of victims can watch the proceedings in a 200-seat courtroom built specifically for the trial. Thick glass partitions have been put up to separate victims and their families from the defendant.
Norway's NRK television will broadcast parts of the trial, but is not allowed to show Breivik's testimony.
In a manifesto he published online before the attacks, Breivik wrote that "patriotic resistance fighters" should use trials "as a platform to further our cause."
Breivik surrendered to police 1 hour and 20 minutes after he arrived on Utoya. The police response was slowed by a series of mishaps, including the lack of an operating police helicopter and the breakdown of an overloaded boat carrying a commando team to Utoya.
Breivik claims he targeted the government headquarters in Oslo and the Labor Party youth camp to strike against the left-leaning political forces he blames for allowing immigration in Norway.
Breivik told investigators he is a resistance fighter in a far-right militant group modeled after the Knights Templar medieval crusaders, but police have found no trace of the organization and say he acted alone.
Anxious to prove he is not insane, Breivik has called right-wing extremists and radical Islamist to testify during the trial, to show that there are others who share his view of clashing civilizations.
His defense lawyer, Geir Lippestad, said Breivik's only regret is that the death toll wasn't higher.
"It is difficult to understand, but I am telling you this to prepare people for his testimony," Lippestad said.