Toronto mayor dodges questions about alleged crack cocaine video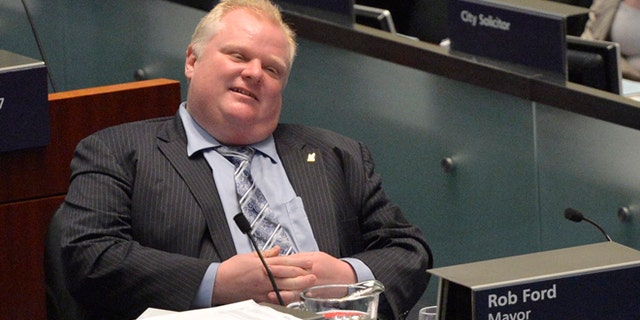 TORONTO – Toronto Mayor Rob Ford continued to duck questions Tuesday about a video that purportedly shows him smoking crack cocaine despite calls by allies and rivals for further comment.
The video has not been released publicly and there is no way to verify whether it is authentic. Reports Thursday night on the gossip website Gawker and in the Toronto Star claimed it was taken by men who claimed they had sold the drug to Ford. The Associated Press hasn't seen the video.
The mayor of Canada's largest city has refused to take questions. In brief comments Friday, he called it "ridiculous" and "another story with respect to the Toronto Star going after me. And that's all I've got to say for now."
Ford avoided a throng of reporters on Tuesday in his first public appearances following a long holiday weekend in Canada. He made a speech in council on Tuesday, but only spoke about a casino issue.
The Star reported that two journalists watched a video that appears to show Ford, sitting in a chair, inhaling from what appears to be a glass crack pipe. The Star said it did not obtain the video or pay to watch it. Gawker and the Star said the video was shown to them by a drug dealer who had been trying to sell it for a six-figure sum.
The Star also reported that Ford allegedly made an anti-gay slur against the leader of the federal Liberal Party of Canada, Justin Trudeau. In Ottawa on Tuesday, Trudeau decried Ford's alleged use of an anti-gay slur against him, calling it "reprehensible and unacceptable."
Ontario Premier Kathleen Wynne expressed concern over the ongoing firestorm surrounding the mayor, saying it is getting in the way of governing. Wynne said the "issues need to be dealt with as quickly as possible so that the council and the leadership of the council can get on with dealing with the business of governing the city."
Ford has been embroiled in controversies about his behavior since being elected in 2010, but these are the most serious allegations he's faced yet. The Toronto Star reported earlier this year that he was asked to leave a gala fundraiser for wounded Canadian soldiers because he appeared intoxicated.
During his campaign for mayor, Ford vehemently denied a 1999 arrest for marijuana possession in Florida, but later acknowledged it was true. He pleaded guilty to driving under the influence and failing to give a breath sample to police.
While in office, he has been accused of flouting conflict of interest rules and making obscene gestures at residents from his car.
The controversy has drawn comparisons to the 1990 arrest of then-Washington Mayor Marion Barry, who was videotaped smoking crack cocaine in a hotel room during an FBI sting operation. Barry served six months in federal prison on a misdemeanor drug possession conviction and later won a fourth term as mayor in 1994.